This article is dedicated to all gourmets and simply people who appreciate fine cuisine and to those who want to enjoy unique dishes in the best restaurants in Barcelona. Tourists claim that tasting food in the Catalan capital is a real gastronomic holiday, and connoisseurs agree. We made a selection for you with the best Michelin star restaurants in Barcelona.
Restaurants with one Michelin star:
*Hofmann
How does the signature calamari of chef  Maya Hoffman sound with Catalan blood sausage and praline sauce? "Simple and not too thoughtful" would answer herself Hoffman without even thinking. This is the place where the chefs use the philosophy of cooking, which consolidates style and methods, conventional and cutting-edge food with articulated Mediterranean roots, and with accents of Catalan cooking. Situated in the focal point of Barcelona, the Michelin star restaurant has a primary room and 2 separate rooms for 7, 10 individuals. Vanguard stylistic layout, where the embodiment of May is extremely present in everything about, HOFMANN an uncommon place to appreciate an exceptional night.
Address: Carrer de la Granada del Penedès, 14
Phone: +34 932 18 71 65
*Céleri

The personal restaurant of the chef Xavier Pelicher, Celeri was granted with one Michelin star, in spite of the numerous challenges through which he needed to experience. Presently this comfortable space with an open kitchen beside Diagonal Avingudy and Piazza Francesca Machia offers a menu that rouses with its sensitivity and dishes arranged just from solid elements of local origin. In this restaurant, each dish is with vegetables – organic and seasonal – has an interpretation with a vegan, carnivorous or sea touch. Xavier Pelicher conceives that occasionally you have to leave your sense of self aside and let the item talk with your "words." His modesty can be felt when he cooks his specialties in the kitchen like green beans with potatoes, or chicken breast with potatoes, which can not be portrayed in words but rather simply need to try to understand.
Address: Passatge de Marimon, 5
Phone: +34 932 52 95 94
*Caelis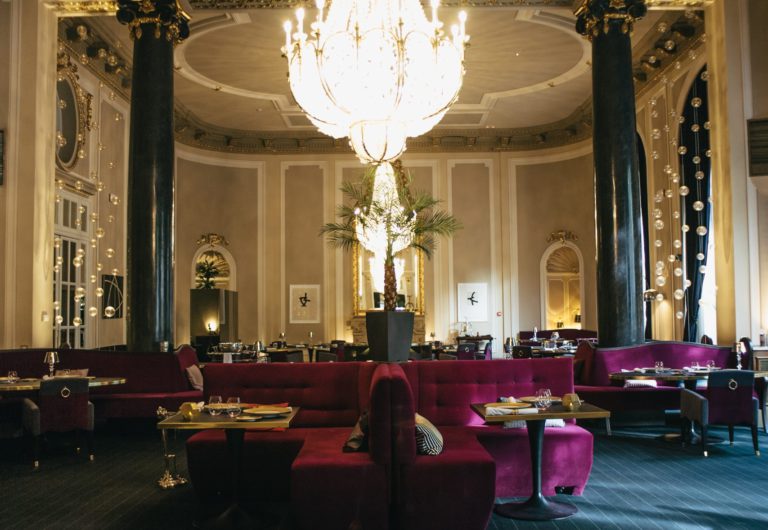 Romain Fornell is the only French chef in Barcelona with the Michelin star. Caelis is where you can find a bold kitchen, yet with an immaculate classic spirit, passed on in two tasting menus. The culinary style of Romain Fornell and his team is modern cooking, a custom of evaluation and vanguard in his own particular creations. He is known for his intensity, passion, and balance. It's great to realize that during the week you can order a lunch menu for € 39 with a drink, pastry and espresso – very generous for such a renowned place, and amazing Michelin star restaurant.
Address: Via Laietana, 49
Phone: +34 935 10 12 05
*Dos Cielos

This distinct Michelin star restaurant in Barcelona offers high-quality dishes created by the siblings, Javier and Sergio Torres, on the top floor of the Melià Barcelona Sky hotel. An exceptionally unique Michelin kitchen with flavors from distant countries, including dishes, for example, cream of Amazonian inception with caviar sago. Champs of an exceptional 2009 jury grant. The gastronomic offer is a compound of Catalan and Mediterranean food. Their motto is to achieve the maximum return of the product with minimal manipulation with a very accurate representation. Dos Cielos has two distinct levels. They have a primary square, and on the second floor, there is a reserved place with a capacity of more than 20 individuals. Perfect for an intimate atmosphere and private dinners.
Address: Carrer de Pere IV, 286
Phone: +34 933 67 20 50
Restaurants with two Michelin stars:
**Moments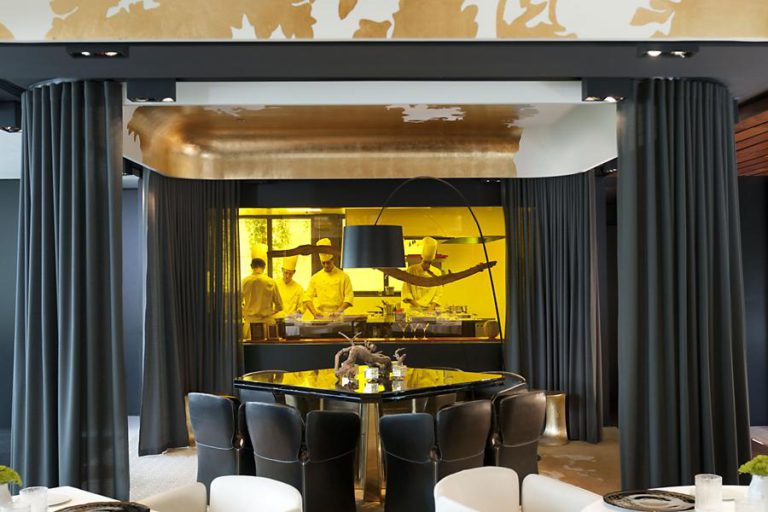 As of now with two Michelin stars, the Moments restaurant keeps on winning new honors and new fans as to its inventive, fresh and healthy food inspired by the Catalan culinary culture. Managed by chef Karma Ruskaleda and her son Raul Balam, this enchanting place offers one of the most outstanding gastronomic experiences in Barcelona. Having won seven Michelin stars for their restaurants in Spain and Tokyo, Ruscalleda is one of the most well-known culinary specialists in the country. The brilliant and golden shades of the Moments Michelin star restaurants lounge area, improved with the excellence of Patricia Urquiola's elite outlines, make an unwinding, mysterious atmosphere for enjoying a gastronomic experience, an à la carte menu and a tasting menu.
Address: Passeig de Gràcia, 38
Phone: +34 931 51 87 81
**Enoteca
Open your complete self to the present day Mediterranean cooking in Enoteca Paco Pérez, in Barcelona, which is granted with two Michelin stars. At Enoteca, the gourmet specialist Paco Pérez offers innovative cooking in light of the freshness of the sea and the essence of farm and mountain products. Elucidation of present day kitchen with conventional and inventive strokes.
Inspired by the cuisine and fresh products of the Mediterranean, the creative cooking of Paco Pérez contains the essence of local ingredients. His theory of cooking depends on quality raw ingredients, simplicity and class, and in addition on the innovativeness of each dish. This Michelin star restaurant is definitely worth a try.
Address: Carrer Marina, 19-21
Phone: +34 932 21 10 00
Restaurants with three Michelin stars:
***Lasarte

Lasarte has turned out to be one of the primary fine-dining places in the city, as well as in all Catalonia and Spain, where individuals rush to appreciate the innovativeness of the Michelin star chef. The sampling menu is a delight that everybody ought to have the chance to appreciate, at least once in a lifetime, or better, once per year. This greatness brought Lasarte the best prize in the restaurant world, and as of November 2016, the restaurant is the first in Barcelona, which boasts three Michelin stars. In addition to Berasategui, the individual in charge of day to day activities is Italian gourmet specialist Paolo Casagrande. His style and imagination are visible in dishes, for example, apple mille-feuille, foie gras and European eel, and the astonishing aesthetics of dishes never surpass the mix of stunning tastes.
They write about themselves: "Nature knows best, and we follow its rules. Our obsession is to work with the best products offered by nature, the sea and seasons, and turn it into a gastronomic experience. Each dish is created with passion, respect and care."
Address: Carrer de Mallorca, 259
Phone: +34 934 45 32 42
We hope that you will have the opportunity to try one of the best restaurants in Barcelona. On the site Barcelona-Home you can find where to stay next to the listed places in the article!
Placement of the Michelin star restaurants: