Barcelona is a city where there's a lot to see and a lot to do, however, with a limited amount of time during the day and the distances between districts, it gets pretty difficult to discover all the different section of the Catalonian capital. Renting motorbikes is a popular option with tourists who aim to visit as much of Barcelona as possible and want to save time and energy from the constant travel. Motorcycles are one of the most used methods of transports in Barcelona as they are much easier to drive around narrow roads and reduces the level of congestion in the city.
Aside from that, it is also a fun way to move around and explore the city and its surroundings and you can choose  many different types of motor vehicles; from ciclomotors to megascooters. You can find a lot of low price motor rental around Barcelona, in districts such as Eixample, Plaça Catalunya, Poble Nou and many more; some, in fact, are a walking distance from some of our RENTAL APARTMENTS.
To help you chose the most economical, good-quality motor
 we give you here 5 of the best Motorbike rentals:
#1 Cooltra Rentals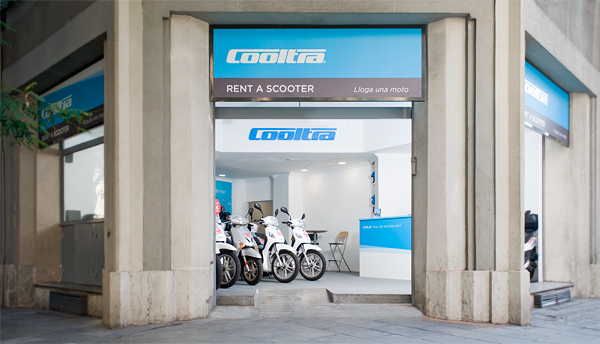 For those who have no experience in a motorbike before and prefers a simpler mode of transportation, go for a scooter.  Cooltra is a leading company in motorbike rental industry. They provide excellent quality scooters, bikes, and rollerblades in all sizes and brands, with protective gear included. Scooters can be delivered to your hotel or apartment after booking to make things easier for you. See its website to find the closest Cooltra near you.
Address: Via Laietana, 6, Barcelona
Telephone:+34 932 214 070
Email: [email protected]
Opening hours:Mon-Fri 10:00- 14:00 & 16:00-20:00; Sat: 10:00- 15:00
#2 Moto-rent.com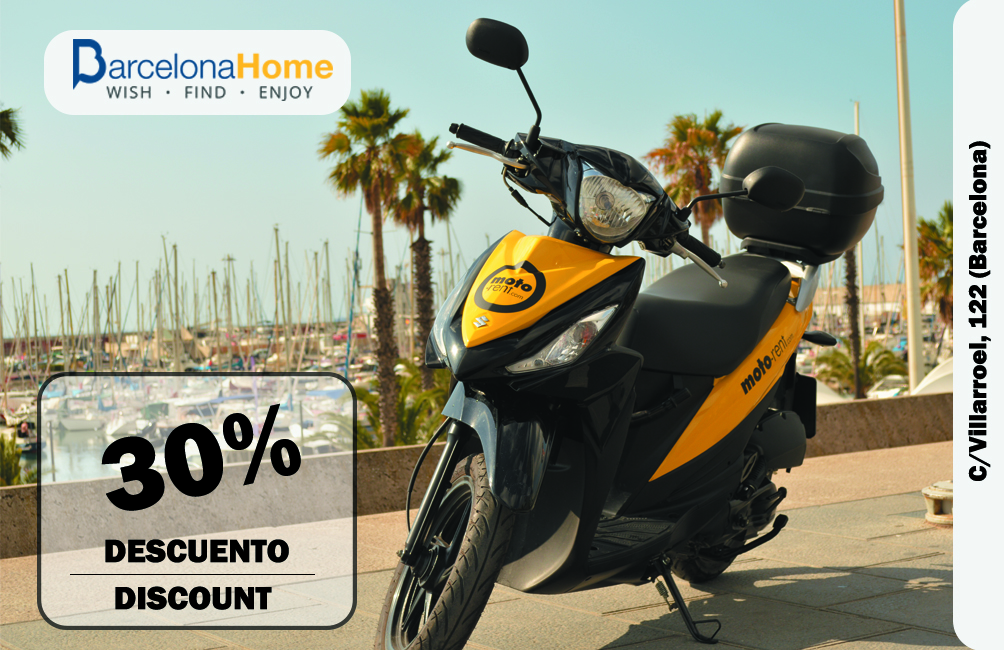 Moto-rent.com offers you a wide range of different motorcycle ready to use. With an upgraded and fully equipped motorbike at your side you'll only need to focus on one thing: having fun and enjoy their time! There's great news for Barcelona-Home customers! Moto-rent.com is offering 30% off for everyday you rent a motorbike with them!  What's more is that, if you rent a scooter for 3 days you get 1 day free!
Address: Calle Villarroel, 122, Barcelona
Email: [email protected]
Telephone:+34 902 10 11 54
Opening hours: Mon-Fri 9:00-14:00/ 16:00-20:30
Sat: 10:00- 14:00/ 16:30- 20:00
If you want to stay nearby, check our apartments in Eixampla!
#3 Rental Moto Barcelona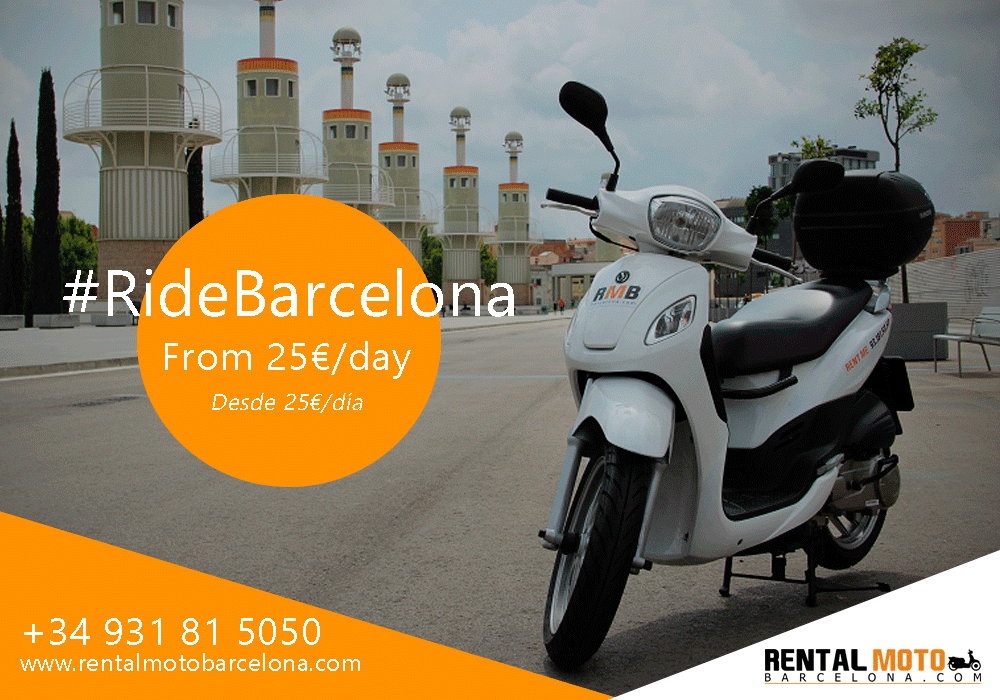 Rental Moto Barcelona is giving you the choice to pick from their large variety of high-quality scooters, all of different structures and colours. This is a great choice for wandering around the city and have a great time as well as not spending too much money on transport.
Address: Carrer del Rector Triadó, 98, 08014 Barcelona
Telephone: +34 931 815 050
Email: [email protected]
Opening hours: Mon-Fri 10:00-14:00/
15:00- 20:00;Sat Sun: 9:00- 14:00
If you are looking for the accommodation nearby, check our apartments in Plaza Espanya!
#4 Via Vespa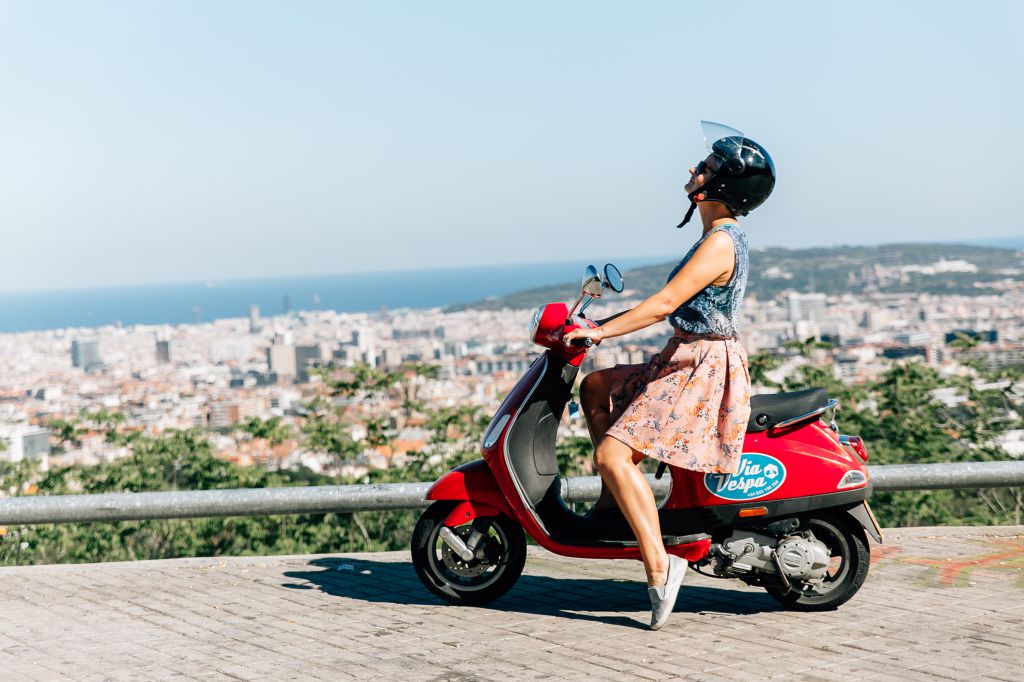 In the city centre of Barcelona, you will find a store full of the world famous Vespa motorbikes called Via Vespa. With a selection of brand new beautiful Italian vespas and offers such as Vespa tours around Barcelona, you'll have  a  guaranteed great day around the city!
#5 Barcelona Moto Rent
If you urgently need a motorbike, Barcelona Moto Rent has a good reputation for its fast and easy online procedure and the store's fast and friendly service. If you do rent with Barcelona Moto Rent, you would be provided with 2 helmets, unlimited kilometres of travel, insurance and a lock.
Address: Calle Roger de Lluria, 31, 08009, Barcelona
Telephone: +34 935 325 925
Opening hours: Mon-Fri 10:00- 20:00
Sat-Sun: 10:00- 19:00
Best 5 Motorbike Rentals locations