Barcelona is a city where there's a lot to see and a lot to do, however, with a limited amount of time during the day and the distances between districts, it gets pretty difficult to discover all the different section of the Catalonian capital. Renting motorbikes is a popular option with tourists who aim to visit as much of Barcelona as possible and want to save time and energy from the constant travel. Motorcycles are one of the most used methods of transports in Barcelona as they are much easier to drive around narrow roads and reduces the level of congestion in the city.
Aside from that, it is also a fun way to move around and explore the city and its surroundings and you can choose  many different types of motor vehicles; from ciclomotors to megascooters. You can find a lot of low price motor rental around Barcelona, in districts such as Eixample, Plaça Catalunya, Poble Nou and many more; some, in fact, are a walking distance from some of our RENTAL APARTMENTS.
To help you chose the most economical, good-quality motor
 we give you here 5 of the best Motorbike rentals:
# Movendoo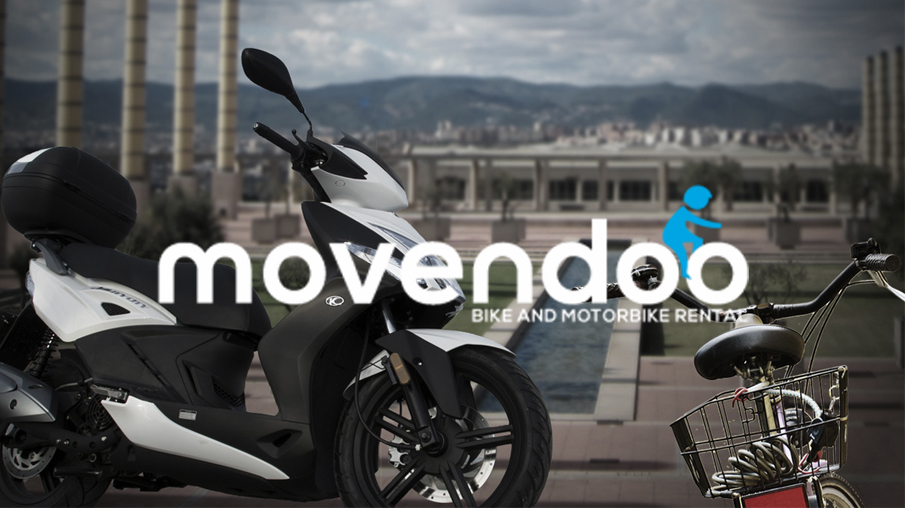 One of the first low-cost rental company in Barcelona, Movendoo allows you to rent bikes and scooters to discover or explore the city, or simply to replace yours while it's in repairs! If you need to plan ahead, you can either call them or simply book what you need online on their website!  This company is the perfect opportunity for you and your family if you plan on visiting the beautiful city of Barcelona!

In collaboration with Barcelona-home, Movendoo is offering for all our users a
SPECIAL OFFER
! Use the promo code "
10%movendoo-barcelona-home
" to get
10% off on your booking
. Don't miss it and go explore!
Opening hours
: 10:30am to 2:30pm – 4pm to 8pm (everyday)
Address
:

Ramon Berenguer el Vell, 8

,

08001 Barcelona



Price:
19.95€/24 hours for a 125cc scooter. Helmet not included 3€/day for the 1st helmet and 2€/day for the second one
Phone
:
+34 680 80 40 48

E-mail:
booking@movendoo.com
Web
:
Movendoo
# Vesping
With this amazing tour, you get to see this city in a whole different way. Vesping will show you the secrets and alternative side of Barcelona just riding a scooter! You can rent a vespa and choose the Barcelona tour you prefer; after that, let yourself be guided along the route of a Barcelona that often remains unknown to tourists and residents, but which also includes the most famous points of attraction that you cannot miss. Vesping is much more than a simple scooter rental: it offers guided and private tours, where the precious secrets of the city are shared, to make the stay unique and special. Besides the vespa tours, they also offer activities for team building, wedding, filming and much more!
Opening hours: Apr/Sept 09:30-15:30 – Oct/Mar 10:00-16:00 (everyday)
Price: The price starts from €20 per person, depending on which tour and type of scooter you prefer.
Address:  Pasaje Simó, 24, Barcelona
Telephone: (+34) 93 66 77 877
Mail:  info@vesping.com
Web:  Vesping
Interested in staying nearby? Check out our apartments in Sagrada Familia!
# Cooltra Rentals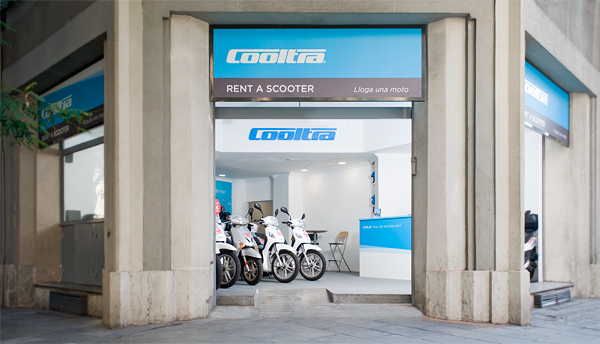 For those who have no experience in a motorbike before and prefers a simpler mode of transportation, go for a scooter.  Cooltra is a leading company in motorbike rental industry. They provide excellent quality scooters, bikes, and rollerblades in all sizes and brands, with protective gear included. Scooters can be delivered to your hotel or apartment after booking to make things easier for you. See its website to find the closest Cooltra near you, and for all Barcelona-home clients you will have 10€ of discount by using the promo code "BARCELONAHOME10"!
For those people who are thinking about staying longer in Barcelona, Cooltra gives the opportunity to rent a monthly scooter for 159€ to live Barcelona like a local. And if it's not enough, have you ever heard about E-cooltra? It is a MOTOSHARING service all around Barcelona with a fleet of electric scooters always charged and available for you in a lot of streets around the city. Rent your shared scooter through the "eCooltra motor-sharing" mobile app and locate the closest bike near you. For all Barcelona-home clients, there are 30 minutes free for your first ride with the promo code "BHOME30".
Address: Via Laietana, 6, Barcelona
Telephone:+34 932 214 070
Email: info@cooltra.com
Opening hours:Mon-Fri 10:00- 14:00 & 16:00-20:00; Sat: 10:00- 15:00
# Moto-rent.com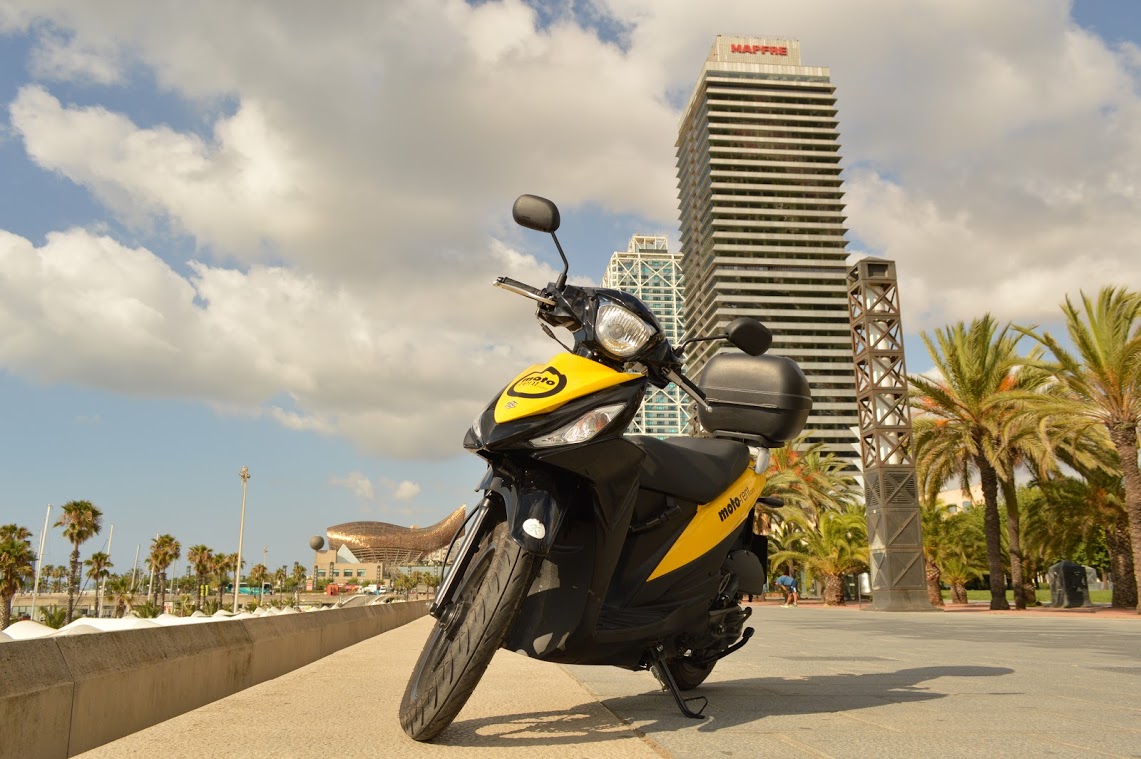 Moto-rent offers you a wide range of different motorcycle ready to use. With an upgraded and fully equipped motorbike at your side you'll only need to focus on one thing: having fun and enjoy their time! 'Drive Your Time' is the slogan of the company, and this is what you can really do with one of their vehicles. You can rent different types as of motorbikes as Ciclomotor, scooter, mega-scooter and sport touring vehicles made for long journeys. The reservation process is simple and all you need to worry about is having fun.
Address: Calle Villarroel, 122, Barcelona
Email: hola@moto-rent.com
Telephone:+34 902 10 11 54
Opening hours: Mon-Fri 9:00-14:00/ 16:00-20:30
Sat: 10:00- 14:00/ 16:30- 20:00
If you want to stay nearby, check our apartments in Eixample!
# Rental Moto Barcelona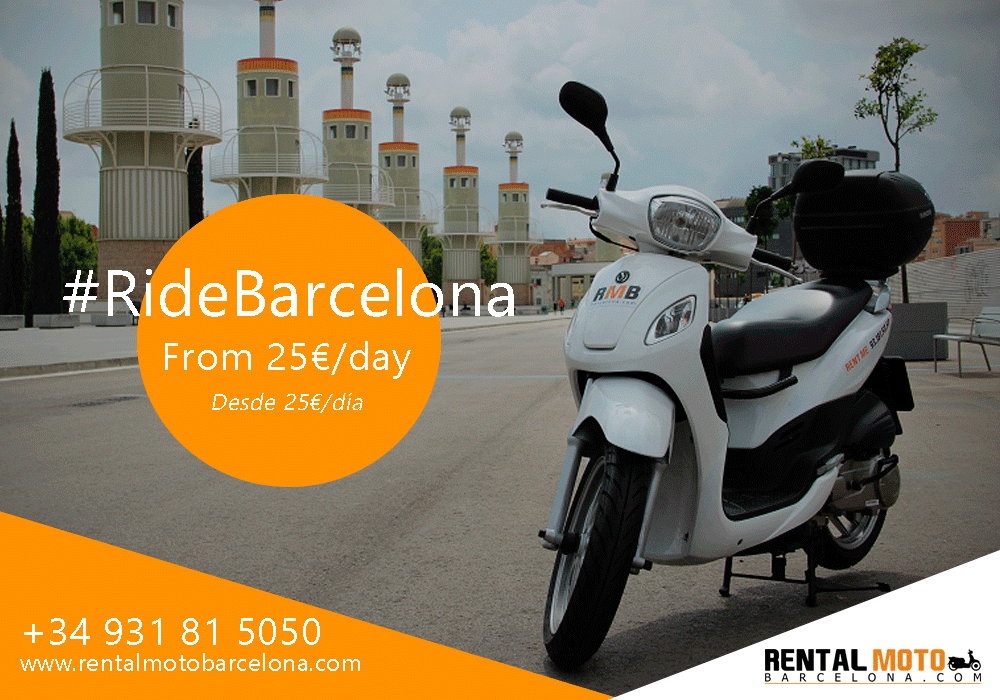 Rental Moto Barcelona is giving you the choice to pick from their large variety of high-quality scooters, all of different structures and colours. This is a great choice for wandering around the city and have a great time as well as not spending too much money on transport.
Address: Carrer del Rector Triadó, 98, 08014 Barcelona
Telephone: +34 931 815 050
Email: info@rentalmotobarcelona.com
Opening hours: Mon-Fri 10:00-14:00/
15:00- 20:00;Sat Sun: 9:00- 14:00
If you are looking for the accommodation nearby, check our apartments in Plaza Espanya!