The Nordic countries include Sweden, Norway, Finland, Iceland and Denmark and are known for their rich culture and unique traditions. Here we can show you some of our favourite Nordic food places located in Barcelona! These restaurants and bars take inspiration from the Nordic countries and serve a huge selection of food and drink guaranteed to please any Nordic expats in Barcelona or anyone else who wants to experience the delights of Nordic gastronomy. You will be able to find everything from Danish beer to Swedish meatballs, however, these Nordic restaurants also have a Catalonian influence which results in the perfect fusion of amazing Nordic food and drink combined with traditional Catalan dishes and craft beer. This article, therefore, will show you 3 of the best Nordic food places in Barcelona.
 Experience the best taste of Nordic food by visiting any of these places:
# 1 Pappa Sven
Pappa Sven is the only Swedish restaurant in Barcelona. The restaurant brings traditional Swedish food to Barcelona and offers a uniquely Nordic experience.  Some of the main dishes are the "smörgåsbord", a type of buffet with hot and cold dishes, swedish meatballs, herring and marinated salmon. The restaurant is clean and modern with a distinct Scandinavian atmosphere. It doesn't matter if you're a Swedish expat longing for Swedish food, or, on the other hand, a Barcelona local, everyone should visit this restaurant! You can find Pappa Sven in the centre of Barcelona near the Sant Antoni metro station. Be ready for a new, interesting culinary experience and enjoy the delicious taste of Sweden.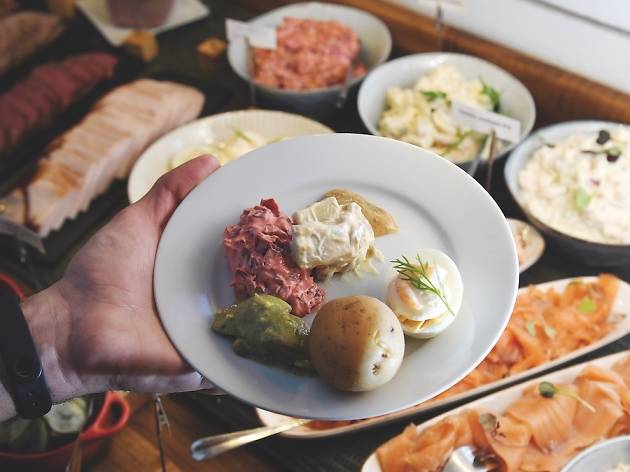 Address: Calle Villarroel, 22, 08011 Barcelona
Contact: [email protected], +34 932 928 239
Opening Hours: Lunch: Fri-Sun from 13:00pm-17:00pm Dinner: Thu-Sat, from 8:30pm-00:00
If you are looking for an accommodation nearby, check out our apartments in Villaroel!
# 2 Mikkeller Bar
Mikkeller Bar is a Danish bar that serves a wide selection of craft beer from all around Europe. Moreover, it also serves traditional Catalan food and tapas. Once you step inside you are met with the unmistakable simplicity of Nordic interior design. Among the 24 taps at the bar you can find the traditional Mikkeller brand beers along with craft beers from local and international breweries. The thing that makes Mikkeller bar stand out from other bars in Barcelona is the food which showcases everything that Barcelona has to offer. In addition to the wonderful food and drink, there are regular music nights at the bar as well as discounts whenever FC Barcelona are playing and pub quizzes. In conclusion, Mikkeller bar should be at the top of the list if you want to try a wide selection of craft beers from the Nordic countries, Spain and Europe.
Address: Carrer de València, 202, 08011 Barcelona
Contact: +34 933 232 743
Opening hours: Tue-Wed 18:00-22:30, Thu & Sun 18:00-23:00, Fri-Sat 18:00-00:00
If you are looking for accommodation, check out our apartments in Eixample!
# 3 Ølgod
Ølgod is a craft beer bar and vegetarian restaurant in the heart of Raval. Ølgod means "good beer" in Danish and that's exactly what they'll serve you. With its 30 taps, Ølgod provides a wonderful selection of craft beer from the Nordic countries, Spain and beyond. Most importantly, you can pair your drink with the great choice of food that Ølgod offers, including a fantastic vegetarian section. The restaurant hosts events nearly every week such as DJ sessions, art exhibitions and days where you can meet the brewers. To sum up, Ølgod is the perfect place to hangout with friends any day of the week, and is renowned for its excellent service and vibrant atmosphere. You can find Ølgod in Barcelona city centre near Liceu metro stop.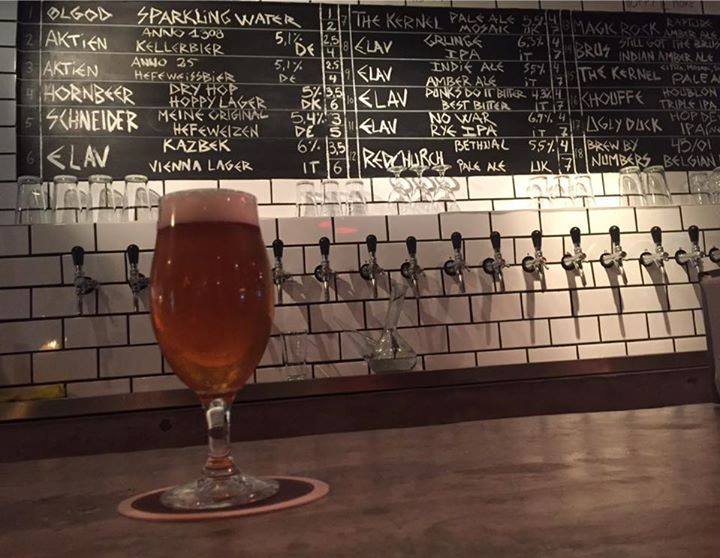 Address: C/ Hospital 74, 08001 Barcelona
Contact: [email protected], +34 934 439 082
Opening Hours: Mon-Sun 12:30–02:00 pm
If you are looking for accommodation, check out our apartments in Raval.
Are you planning a trip to Barcelona and looking for somewhere to stay? Thus, why not take a look at the AVAILABLE APARTMENT RENTALS ON OUR WEBSITE! Please feel free to contact us with any questions you may have.