It is not always easy to find apartments in Ramblas, one of the most famous areas of the city. The term Ramblas has a similar meaning to Esplanade. Las Ramblas is known to be one of the busiest streets of Barcelona with all its activities, restaurant, bars and also because it is so close to many of the main sights of the city. Just off it you can find the beautiful Plaza Reial and its amazing architecture and palm trees that give the era a touch of exotisme. Talk a walk up and down the street to enjoy the buzzing  atmosphere no matter the hour and especially during the night. Here you can find street performers, human statues, flower stands, but be careful of pick-pockets and bag snatchers , there is a small minority of individuals who like to take advantage of this tourist filled area. Also off the Ramblas you can find the infamous market of La Boqueria. The Ramblas is surrounded within the Ciutat Vella and is surround by the Raval and the Gothic quarter. Here is a selection of some of the best apartments in Ramblas.
From 1300€ / MONTH



This gorgeous apartment near Las Ramblas offers comes fully equipped and has been recently renovated. The elegant decoration is the perfect mix of modern with tasteful wooden elements making it warm and cozy at the same time. The large windows offers lots of natural light through out the flat. Even though its is minus away from Las Ramblas it is located on a small street that giving the pale some peace and quiet. The overall area of 40 square meters offer spacious spaces and a separate bedroom. Its excellent location means that you are also only minutes away from stunning site like the Cathedral of Barcelona.

From 65€ / NIGHT

This deluxe accommodation in Barcelona is in a situated next to Plaza Catalunya and
 Las Ramblas
. It is in Ronda Universitat, one of the main avenues in the center of Barcelona from which it is easy to reach 
Plaza Catalunya
, Las Ramblas and all the main tourist attractions of the old town by foot. This apartment has an overall area of about 75 square meters, which can accommodate up to 6 people.
The flat is composed of 2 double bedrooms, a modern bathroom with shower and a spacious living room equipped with 1 double sofa bed (which can accommodate 2 additional people), a dinning area and an american kitchenette  that is fully equipped. To get around in this part of the city it's very easy as 
Plaza Catalunya
 is one of the main junctions of the excellent 
public transport
 of Barcelona. Thanks to its enviable emplacement and stunning decoration, this holiday apartment in Barcelona is the best choice to spend some holidays with your family or a group of friends.
License : HUTB-001259

From 942€ / MONTH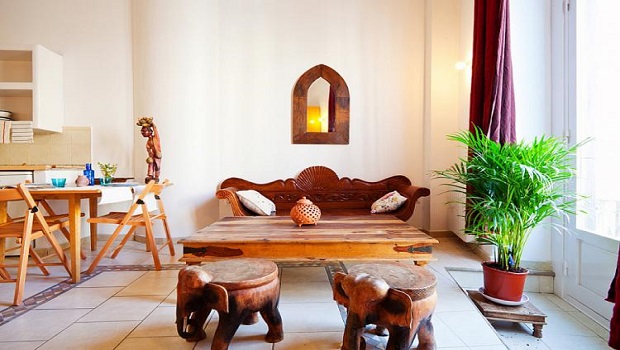 This cozy and functional studio is located right on Las Ramblas this means you will be surround by all amenities like supermarkets, restaurants, bars and much more. All integrated into a single spacious area this studio offers a fully equipped kitchenette, living and dinning room area and a bedroom area. The flat is flooded with natural light thanks too its large window. The decoration offer lots of wooden elements giving the place an exotic and inviting feel. The ideal location of this apartment means that you will have easy access to main sights and to great night life spots to which you can get free guest lists.
By staying in Las Ramblas you will get to discover all the various areas of Barcelona easily as this in one of the most connected parts of the city and you will find your self within walking distance of many sights. What better way to immerse yourself in this vibrant city!