By renting an apartment in Barceloneta you will get to discover seeing the infamous area of Barceloneta! This neighbourhood lines the coast and back in the day was the home of the fishermen of the area. Now this barrio has grown to offer lots more than just the beautiful beaches that line it. The quaint little streets that make up the area are worth strolling around in. You can try one of the numerous Chiringuitos (beach side restaurants) that have come to liven up the beaches. You can have a drink at the stunning W Hotel and catch a glimpse of the view from its rooftop bar! The aquarium located in this area provides fun for young one and adult alike and if your feeling brave you can even go diving with sharks given you have diving experience. Enjoy this beautiful are by staying in one of the many available apartments in Barceloneta.
From 730€ / MONTH



Located at the the heart of Barceloneta this apartment is ideally located only a few meters away from the beach while still remaining in a quiet street. This monthly rental is ideal for couple or small groups as it can host up to 4 people. The marine inspired decoration make for a warm and cozy ambiance while still remaining very modern as the flat has been recently renovated and the kitchen and bathroom come fully equipped. The overall area of 40 square meters are very well thought out to ensure you stay is as comfortable as possible. With this flat you will have easy access to not only Barceloneta but other parts of Ciutat Vella like the Born which are only minutes away.

From 1050€ / MONTH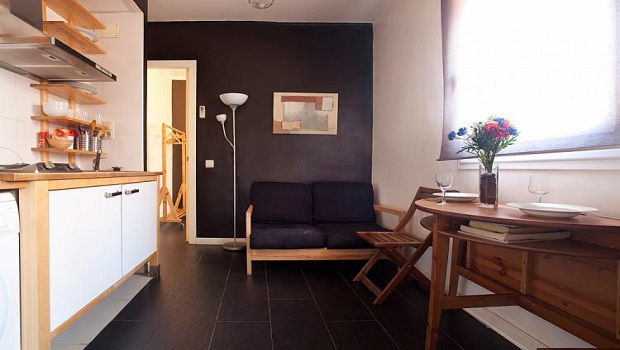 This 2 bedroom apartment is situated a few meters away from Barceloneta beach. It offers both comfort and style with its open kitchen which give onto the living room, featuring white wooden furniture, metallic details and a touch of black, a typical nordic cuisine with industrial style. This simple apartment is perfect for couples or small families who want to enjoy a pleasant stay. Located right in the district of Barceloneta, characteristic for its picturesque streets of the old town and for its proximity to the Paseo Maritimo you will be able explore all the beaches from one end to another. You can also enjoy the breeze of the Mediterranean Sea or sit down on a nice terrace while admiring the sea and taking a sunbath or try one of the many seafood restaurant of the area.

From 83€ / NIGHT



This studio is decorated with colourful tones making warm and inviting punctuated exposed wooden beams of origin on the high ceiling illustrating the historic building in which it is situated. It consists of one single space featuring the resting area, the living room and the fully equipped kitchen for your comfort. The bathroom is separated and possesses a decoration in white tones to give
 fresh and clean atmosphere.
 Other apartments with the same characteristics are available in this building so that large families or groups can be close to each other.
Also centrally located in the Barceloneta you will find your self close to the beach but all walking distance from the area of 
Port Olimpico
 which offers lots classy restaurants and a vibrant night life with world famous clubs like 
Pacha
 and 
Opium
. Barceloneta is only one of the many
barrios of Barcelona
you will get to discover during your stay in this city. No matter where you decide to rent your apartment in Barcelona you will have lots of
activities to do
and things to discover.
License : HUTB-002643