Breaking discovery! Here at Barcelona-Home we have found not one, not two, but six cities/towns/villages named Barcelona. After a conclusive study of all six Barcelonas, the Spanish city of Barcelona takes the cake for the most captivating city. Come and see for yourself!
Find an accommodation now!
French and Swiss architect, Le Corbusier, had once said,  "Allow me to state here how much I love Barcelona, an admirable city, a city full of life, intense, a port open to the past and future." He, of course, was talking about the Spanish city of Barcelona, the capital of Catalonia. There are epic legends about how Barcelona was founded and I'd like to share the one I enjoyed the most. The Greek god, Hercules, was sailing across the Mediterranean in search for one of his missing nine ships. He finds it wrecked by a small hill, however the entire crew is found unharmed. The beauty of the location overwhelmed them so, that they named it Barca Nona, "Ninth Ship". According to national geographic, Barcelona is the best beach city in the world today and the 21st most livable city. Out of the six Barcelonas around the world, this Spanish city is already a hub for food, culture, sport, fashion and tourism. I could go on forever praising this Spanish paradise and I believe that the entire world has this undeniable view that Barcelona is one of the world's greatest cities. If you only decide to visit one of the six Barcelonas in your life, make your way to Spain now for the experience of a lifetime.
A history riddled with war, bloodshed and conquest. This Venezuelan city, commonly known as New Barcelona is perhaps the most captivating after the Spanish Barcelona. It was founded as Barcelona in 1671 by Catalonian conquistadors and is worth visiting for its beaches and historical architecture. The influence of Spanish imperialism is still predominant in the city, as it has been interwoven into the culture. Like it's Spanish sister city, it is also well known for its architecture, and for those of you who are interested in learning a little about Old Spanish imperialism I'd go check out their historical museums for some gruesome stories about the fight for independence.
Brazil's gotten a lot of mention lately for hosting the FIFA World cup this summer, but it is also home to Barcelona, Rio Grande do Norte founded in 1864. Unlike some of the other Barcelonas, this town has absolutely nothing to do with the Spanish city, besides sharing a name. In fact, the name Barcelona comes from a rubber plantation in the Amazon where the mayor of this village had worked. Hence the name was changed to Barcelona in 1929. I will not bore you with their agricultural produce or their average annual rainfall. Instead I will leave you with this: I don't recommend venturing into this landlocked town when you have the rest of beautiful Brazil to experience.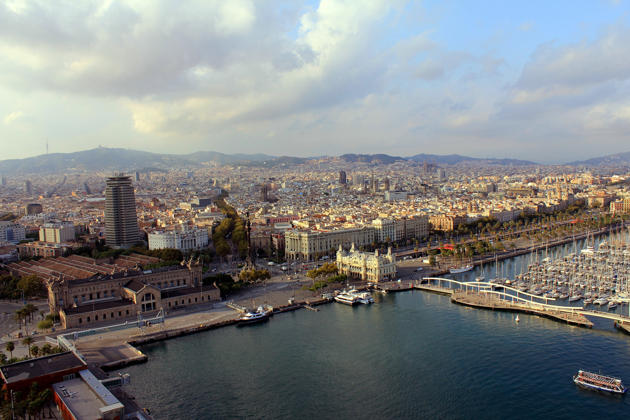 The region of Danlong in the Philippines was formally renamed as Barcelona in the late 16th century after Spain's second largest city, by homesick Spanish conquistadores. One of the ruins that can be found in this costal town is a watchtower, which served as a look out against Moro Pirates. I implore you to picture this town 300-400 years ago under Spanish rule, built up under the European influence with churches and schools and brand new parliamentary buildings. (Fun fact: Barcelona Church, still preserved today, was built with coral stones, beaten egg whites and a local wine called tuba.) Imagine the epic pirate raids and how this little fishing village was transformed into a town. If you ever get the chance to visit – as you should since it is only a 30-minute detour -visualize this town 400 years ago and imagine the life as depicted in the epic Disney Pirates franchise starring Johnny Depp. (Maybe you'll find some hidden pirate treasure too!)
For your pastoral pleasure, I have unearthed a Barcelona in Cornwall located in the southwest of England. From my exhaustive search for anything of consequence, also known as scouting out the entire area with the ever-trusty Google maps, I haven't been able to find more than an astonishing amount of farmland and a single petrol station. I'd recommend Barcelona, Cornwall if you're down for some goat watching or if you are a fugitive on the run. Really, this is the place to go, as no one will be looking in Barcelona, Cornwall. I do have a fun fact for you: the closest football stadium to the village is called the New Camp as a tribute to the Spanish city Barcelona and their football stadium Camp Nou, home of the football giants FC Barcelona.
Barcelona, Quindio, Columbia. Unfortunately I can't tell you much more about Barcelona, Qindio other than it exists, as my research was highly inconclusive, but if you're interested in knowing more about the town head over to this YouTube clip. It's more of a slideshow with an abundance of transitional effects and an extremely catchy song playing in the background.
Wherever you do decide to go, make sure Barcelona, Spain is a stop on your list and Barcelona-Home will always be here to help you with your touristic and accommodation-related needs! Happy travels!
Photo credit: lightblue – http://www.lomography.com/homes/lightblue