The Best Tapas Restaurants in Sitges
There is a great tradition of tapas in Sitges. They host the winning restaurant of "Catalonia's tapa of the year". In addition to hosting the "Tapa a Tapa" and "The Tapa of the year". These events are some of the greatest gastronomic happenings in Catalonia. Tapas is the name of different small Spanish appetizers that you can enjoy before a big meal, or simply serve for dinner.
Tapas can be small plates of food or big plates of food. Mediterranean countries like Spain have a tradition to serve a selection of many small dishes at once. And since the Spaniards and the Latin Americans are truly sociable, this place is an inherent part of the national culture.
Tapas dishes are often eaten as a light snack with beer, wine, or sherry. They can also be served as a starter enjoyed comfortably while the food is being prepared. In Spain and Sitges, many people might prefer to enjoy it with a glass of sangria or cava. They consists of several sorts of food, such as garlic tomato, baguette, olives, ham, sausages, and bruschetta just to mention a few.
As it's mainly a social affair, tapas are served during family meetings and meetings with friends. This dish often includes a glass of wine, that's why you can enjoy them when in wine bars or restaurants. But bars and nightclubs are not an exception – so as you can see, the Spanish really love this plate so you can get them everywhere!
In Sitges, you will find many restaurants serving this delicious local food. The serving is designed to encourage conversation because people are not so focused upon eating an entire meal that is set before them. Take a look at the list of the best tapas restaurants in Sitges that are worth trying!
# 1 EL POU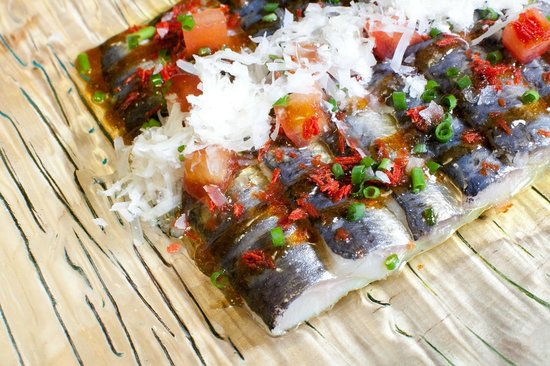 Source: www.tripadvisor.es
El Pou is situated in the very center of Sitges. Their philosophy is to serve Spanish cuisine to people with a clear commitment to quality and service, all this for affordable prices. The menu includes a wide variety of traditional tapas, original tapas, or typical Catalan «Coca» bread. What is especially worth trying is the tuna tataki and the wajyu burger. So when in Sitges, this authentic tapas restaurant is certainly a must-visit!
Address: Carrer de Sant Bonaventura, 21, 08870 Sitges
Opening hours: Monday, Wednesday and Thursday from 20:00 to 22:30; Weekends from 13:30 to 15:30 & 20:00 to 22:30
# 2 EL CABLE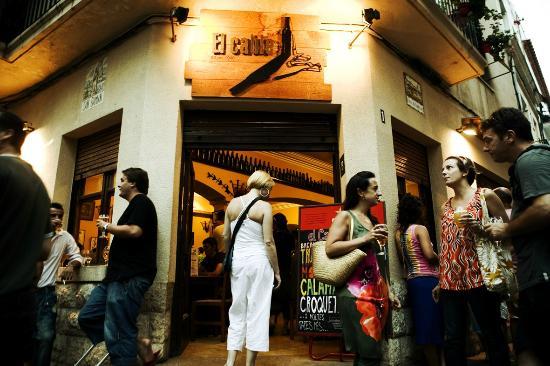 Source: www.tripadvisor.es
This tapas bar in Sitges was opened in 1940. It is currently run by the third generation of the Andreu family. What is truly remarkable is the bar's success in various competitions for the best place serving them in town – El Cable won this title four times! Moreover, in 2013, the bar won the prize for the best tapas in Catalonia with "Buscant en Nemo", tuna tartar. This place is not just a bar, it's a local meeting point for many people in Sitges who wish to enjoy a great meal in a cozy atmosphere. If you visit El Cable, you just can't miss their Patatas Bravas and the award-winning "Buscant en Nemo".
Address: Carrer Barcelona, 1, 08870 Sitges
Opening hours: Monday to Friday from 19:00 to 23:30; Weekends from 12:00 to 16:00 & 19:00 to 23:30
# 3 LA PÍCARA
Ver esta publicación en Instagram
An iconic restaurant in Sitges that preserves good cuisine. They pair fantastic food with gorgeous wines. At La Pícara you'll get a truly local and rustic feeling. You're just a step away from ordering specialties of the Spanish traditional cuisine such as a Picara Salad or exquisite Pecat de Chocolat, which is really the perfect icing on the cake to complete their delicious menu. The intimate and relaxed atmosphere is the perfect way to end your day!
Address: Carrer de Sant Pere, 3, 08870, Sitges
Opening hours: Tuesday from 19:30 to 23:00; Wednesday to Saturday from 12:30 to 15:30 & 19:30 to 23:00; Sunday from 12:30 to 15:30
Do you plan to try all of these restaurants and stay in Sitges for a couple of days? Take a look at our offer of APARTMENTS IN SITGES and find the one that suits you best. If you are you looking for great ACCOMMODATION IN BARCELONA, look no further; we have what's right for you!