All the information you need about Illegal Apartments in Barcelona!
City officials have recently started to come down hard on landlords who rent their properties as Illegal Apartments Barcelona. In this case the term "illegal" designated any property that does not have proper authorization to be a dwelling for tourist use, a property that has been rented out to a third party in exchange for a fee for a period of up to one month two times or more in a given year. These dwellings must be rented out as a single unit, meet conditions detailed on the government website and obtain an HUTB (short-name for Habitatge d'Us Turístic, roughly: 'property for tourism usage') license. The Catalan government is currently considering changing this law to facilitate sustainable, affordable tourism in Barcelona, so we expect these laws to change in the future. But for now, no HUTB means rentals of 1 month or longer.
Currently many rental agencies and websites are not in full compliance with these government regulations. We at Barcelona-Home are. Each property on our website must have a proper HUTB license in order for it to be rented out for a period under one month. Each listening available for short-term (per night) rent clearly displays the HUTB number along with other important information about the apartment below the photos. We have compiled a list of our favorite properties which do not have an HUTB license and thus can only be rented out for one month or more (monthly rentals).
From 825€ / MONTH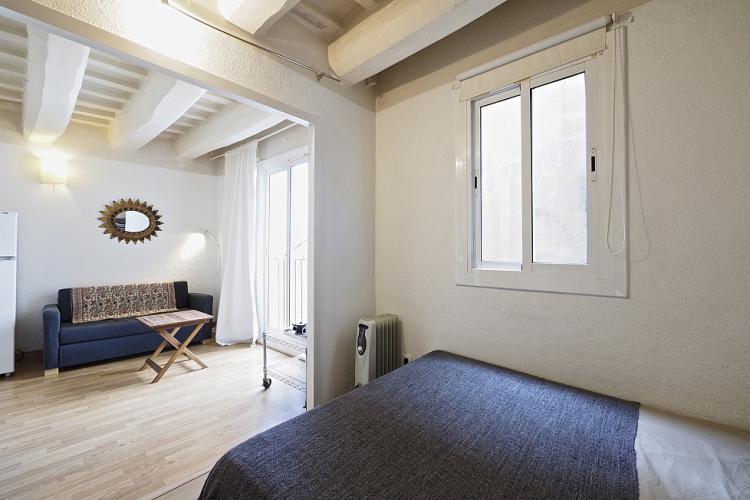 This lovely studio apartment would be just as perfect for a couple visiting Barcelona for a weekend as it is for a student or businessperson to use for a longterm stay in Barcelona. Due to the lack of an HUTB license, however, it is only available on our site as a monthly rental. The studio is divided into two functional zones. There is a spacious living area, minimally decorated and furnished with a comfortable couch, as well as a modest open kitchen with an oven and stove. The open bedroom is clean and modern, with a cozy double bed and walk-in closet to provide plenty of storage space during your extended stay. The apartment is located in a peaceful residential neighborhood near the Paral·lel (L3) metro station with quick access to all of the most popular tourist sites of Barcelona, such as Barceloneta beach and the popular el Gótico neighborhood. The apartment is also just a few minutes from the Sant Antoni (L2) metro station with quick access to Universitat, making the perfect accommodation for students.

From 2800€ / MONTH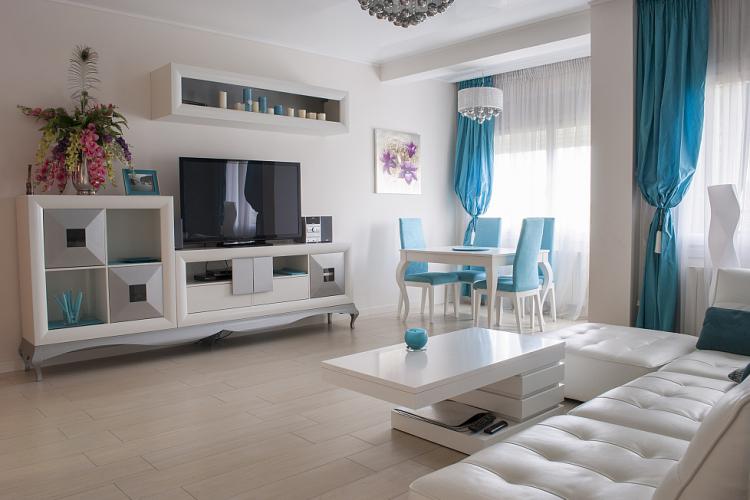 This gorgeous deluxe apartment is one of our favorite unlicensed properties, and is available as a monthly rental only for lack of an HUTB license. The interior is characterized by a colorful contemporary style, with sleek modern furniture along with intricate, unique wallpaper in each room to add a touch of regal elegance to the design. It comes with a recently renovated kitchen designed in a warm beige and white color scheme that´ll make you feel right at home. The kitchen comes with all the equipment you will need to cook many fantastic meals during your stay. The apartment also has access to a 5m2 terrace with great views of the neighborhood, furnished with a small table and lounge chairs perfect for enjoying leisurely breakfasts in the morning. With two spacious double bedrooms and a tastefully designed single this accommodation is perfect for a family or group of up to five friends to rent for an extended stay in Barcelona.

From 1200€ / MONTH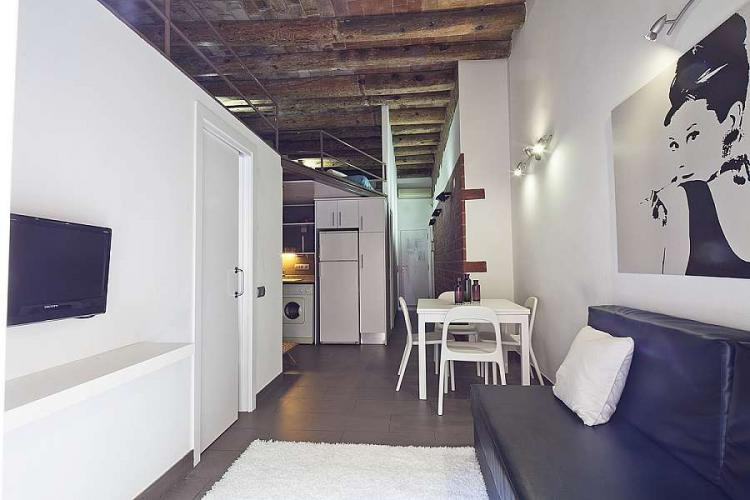 This unique and artistic duplex apartment is fantastic for a group of friends to share during their extended stay in Barcelona, and will perhaps also one day be a fabulous holiday rental if it acquires an HUTB license. From the entrance a long hallway with exposed brick walls leads past a spacious and fully equipped kitchen to the brightly lit common space, featuring a comfortable leather couch, flat screen TV, pretty white dining room table and tasteful black-and-white stencil art portraying the iconic Audrey Hepburn and Charlie Chaplin. On the first floor you will find a cozy and private master bedroom with a double bed and another bedroom with two single beds. A set of stairs leads from the dining area up to a loft furnished with two additional single beds.
Imagine a lazy weekend morning cooking brunch for your friends as they peek down from their elevated bedroom to watch you cook. During your extended stay you will also enjoy access to a balcony and a lovely community terrace with a bench and chairs, perfect for a relaxed open-air dinner. The apartment is located on a gorgeous cobblestone street in the vibrant el Born neighborhood, just steps away from many of the city´s major tourist sites, as well as one of the centers of Barcelona´s nightlife. The apartment is ideal for athletic guests, as the nearby Ciutadella park and Barceloneta promenade offer wonderful places for a morning jog.

We at Barcelona-Home are always encouraging the landlords we work with to apply for an HUTB license in order for them to be able to rent out their wonderful properties for short-term (daily or weekly) stays. While these apartments are fantastic for extended stays, they could also potentially be a great home-base for families or friends who only have a weekend to explore Barcelona. As the HUTB license is meant, in part, to protect guests from staying in an accommodation deemed "unfit" for tourist stay, we also advise tourists visiting Barcelona for periods shorter than 32 days to always check beforehand to see whether their booking is licensed. This can be done by doing a quick google search of the HUTB number and finding the corresponding address on a government website.