El Penedès: The Richness of Catalunya's Famous Wine Region
El Penedès is one of the oldest wine-making regions in Europe and is located between Tarragona and Barcelona. 95% of all Cava is produced in this region due to the unique combination of soil and sun from the Mediterranean weather.
Cava is a white sparkling wine, which could be compared to Champagne. It can suit everyones taste buds. It has so many different levels of sweetness that it is impossible for one not to enjoy drinking it. Cava varies from dry – brut nature, extra brut, brut, extra sec, seco, semisec, dulce – to sweetest.
Having said that, escape Barcelona's chaos by taking a trip to El Penedès. Lose yourself in its picturesque countryside, beautiful vineyards and enjoy tasting all of Cava's exquisite tastes.
Capitol of Cava
The capital of cava is of course Sant Sadurní d'Anoia. You can find many companies which offer tours around several wineries in a day. Most include wine tastings at each winery and some even include some traditional Catalan food. Just remember to pace yourself so that you make it through to the last one!
Sant Sadurní d'Anoia is a pretty area with lovely architecture. Over 80 wineries surround this beautiful area. It is possible to get there by train by Rodalies line C4 (Manresa – St. Vicenç de Calders, Stop Sant Sadurní d'Anoia)
Near to Sant Sadurní d'Anoia is the city of Vilafranca del Penedès known as the wine capital of Catalonia. You can visit the wine and culture museum VINSEUM dedicated to showing the culture of wine and its relationship with the town and area.
If you would like a break from the bustle and noise of Barcelona city then a visit to the region of El Penedès is just what you need. The region boasts picturesque countryside and many wineries to choose from to sample their wine and wonder through their beautiful vineyards.
Exploring the area
If you like being active, renting a bike from Vilafranca or Sant Sadurní D'anoia would help you appreciate the beautiful countryside El Penedès has to offer.
Hiking is also on the agenda for those of you who prefer to appreciate nature at their own pace. This is the perfect place to do so. There are loads of different routes all around Vilafranca del Penedès and Sant Sadurní d'Anoia. This is an excellent way of absorbing your surroundings and getting more in touch with nature.
Codorníu Cava
Codorníu is the most prestigious and oldest winery in el Penedès. The Codorniu family has been producing one of the best Cavas since 1551. With 40 million bottles sold per annum, it is the largest producer of Cava in Spain. The famous winery has now opened its doors to the public. You can visit the vineyards, the different caves, the museum and even taste some cava in 'Sala Puig'. A former pressing section has been turned into a museum, exhibiting wine-making instruments through the ages. The tours ends with a cava tasting. This winery has been classified as historical and cultural heritage.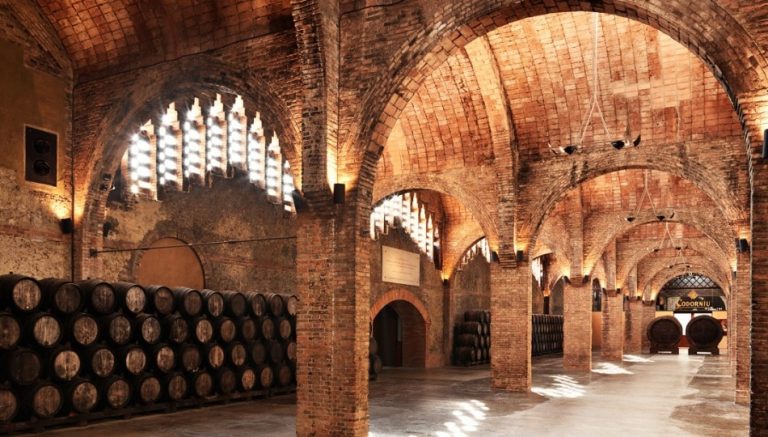 Source: www.onceinalifetimejourney.com
We find the best way to experience this tour is in groups. No need to worry about booking in advanced either. The tours last 1 1/2 hours and are available in multiple languages. You can explore some of the 16km of underground cellars by electric cart. Codorníu is ideally visited by car because of unreliable transportation. However, it's sometimes possible to get a taxi from the station at Sant Sadurní d'Anoia.
Address: Avda. Jaume Codorniu, s/n, 08770

Places worth visiting
#1 Olèrdola
The ancient village of Olèrdola was first populated during the Neolithic era. There you can have a look at ruins of the old city, you can admire Sant Miguel Church and the castle, both from the 10th century.
#2 The Castle of Subirats
From the middle of the 10th century, it was an important frontier post at the time of Marca Hispánica (a historical name for the N.E. region of Spain). The castle was a well known for being a fortified look-out post towards West. Now it offers a magnificent view over the Penedès and the Montserrat mountain.
#3 The Castle of Sant Martí Sarroca
Above is the Castle of Sant Martí Sarroca. A very prestigious monument of the Alt Penedès, along with the 13th century Santa Maria church. Both are cataloged as art-history monuments of national interest. They're definitely worth a visit!
#4 Sant Sebastià dels Gorgs
An ancient Benedictine priory of which the church and part of the cloister remain. Its Romanic bell tower of the first era stands out with its quadrangular shape, large windows and rounded arcs, unique in the Penedès. This is considered to be one of the first examples of Catalan architecture, subject to the cannons of the Gothic.
Information
Address: L'Alt Penedès, Spain.
Transport: Rodalies line C4 (Manresa – St. Vicenç de Calders, Stop Sant Sadurní d'Anoia)
Are you planning a trip to Barcelona and looking for somewhere to stay? Why not take a look at the available apartment rentals on our website! Please feel free to contact us if you have any questions.