If you are planning to do a trip to Barcelona, to improve your Spanish or just to learn it, keep reading our article to know the best languages school in Barcelona. Moreover, one of the main things that you need to know when coming to Barcelona is that Spanish (Castellano) is only one of the official language of the city, as the other one is Catalan. The latter is further preferred by locals and is learned at school. However, do not worry, Spanish is still spoken in Barcelona and most of the general information in the city is available in both languages.
A good way to recognize a good language school in Barcelona is pretty simple, for instance, you just look if the school has been approved by the Institute Cervantes. The institute has been created by the government in 1991 with the aim to promote the Spanish culture. Indeed, being accredited from the Institute Cervantes is a guarantee of quality!
Here are 3 of the best Language School in Barcelona:
# 1 Sprachcaffe-Academia Barcelona
Sprachcaffe is language school that is all around the world. They are now in 30 different places and you can take a class in one of the languages of your choice. The school have the approval of the Institute Cervantes in Spain and from all the different governmental institutions in the other concerning countries.
The School in Barcelona, Academia Barcelona plus counts with 7 modern, air-conditioned classrooms, a Bibliothèque, a cafeteria, a lounge for students and an informatic room. Their courses are for all levels from beginner to advance. Indeed, there is a program for youngsters from 12 to 21 years old and also one for people who are looking for something more intense; it is for adults and young professionals from 16+. You can choose between the level of intensity (the number of courses your want per week) so you adapt it to your schedule.
Address: Via Laietana, 15, 08003 Barcelona
Telephone: (+34) 932 681 707
Email: [email protected]
To get your discount for the adult program: sprachcaffe.com
To get your discount for the youth program: sprachcaffe.com
Interested in staying in Barcelona? Check out our apartments!
# 2 Barna House
The method of this school relies on personal assistance within small groups or private tutoring with flexible hours. They teach English, French, German, Italian, Chinese, Catalan, Spanish and Japanese. You will have the opportunity to learn from native speaker teachers. Besides the courses, the school is the responsible for the organization of the activities.
As a student of Barna house, you can access to the library with free internet as much as you want. The school can also propose to you a "language partner" with who you will be able to practice the language you choose to learn, outside the classroom.
Address: c/ Roger de Llúria 123 08037 Barcelona
Telephone: (+34) 93 488 00 80
Email: [email protected]
Interested in staying nearby? Check out our apartments in Eixample!

# 3 Enforex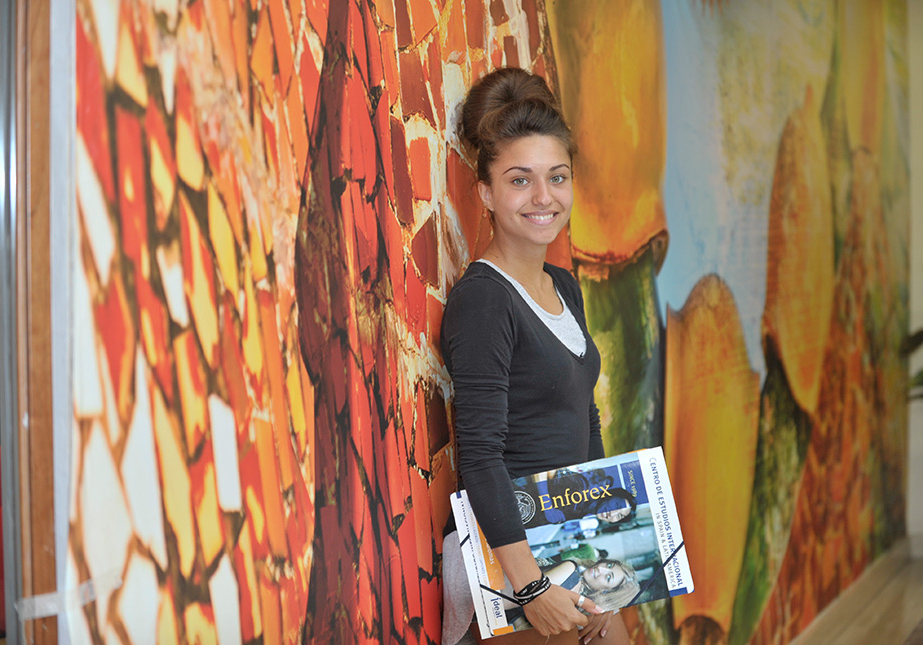 Enforex has further become a leader in the field of language learning in Spain and Latin America. In the same vein, it counts with credits by the Institute Cervantes and has a capacity of 550 pupils. Moreover, they teach English, French, and German; which allows the students to participate in a linguistic exchange program. At Enforex there are different types of courses, for instance: intensive, super-intensive, on the long term program and quarterly programs.
As far that the choice of your courses is a concern, the school offers a diverse range of classes. You can participate in exams preparation class, Spanish literature, professional Spanish class (Medial, Business, Ingeneurical vocabulary…).
Address: Diputación, 92 08015 Barcelona, Spain
Telephone:  (+34) 915 943 776
Interested in staying nearby? Check out our apartments in Sant Antoni!
In the same vein, are you planning a trip for language schools in Barcelona and looking for an accommodation for your stay? Check out these GREAT APARTMENTS in the city centre!