One of the newest trends in interior design, often associated with Swedish style, is the combination of white walls, white ceilings, white doors and white furniture with light wooden floors and a minimalist decoration to create a clean, polished and modern feel. This all-white approach often results in the apartment seeming larger than it actually is, while a colorful and cluttered space can in turn look smaller than it is in reality. We have chosen our top 3 most popular White Apartments Barcelona, designed for guests who seek to get away from the hustle and bustle of their everyday life and relax in a zen environment surrounded by white.
From      81€ / NIGHT
From 1500€ / MONTH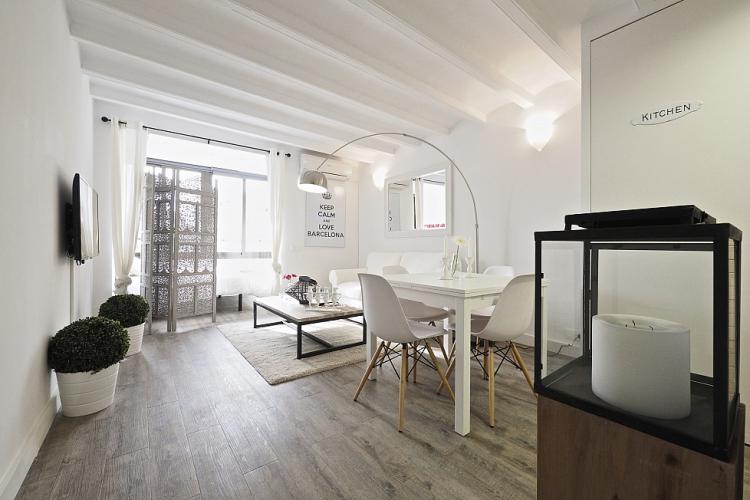 This gorgeous Poble Sec rental features furniture and floors made of varying shades of refurbished wood to contrast the otherwise all-white decor, adding a touch of rustic charm to the chic, modern space. In the living room you will find a white couch, off-white carpet, mirror with white frames and a white dining room table surrounded by white scoop-backed chairs. An intricate French screen leads to a bright white bed right next to a large window with plenty of light streaming in. A long narrow hallway leads down to the second bedroom, decorated with a brilliant white curtain wafting in the breeze and a beautiful portrait of a young woman above a white shelf with drawers. You will love the charming white figurines and other decorative elements throughout the space, such as the white flowers, candle holders, and white statuette of dancing cows.
The apartment has a fantastic location in the Poble Sec neighborhood, just steps away from the Sant Antoni market where the locals do their grocery shopping. The neighborhood is also known for its excellent tapas restaurants, especially the famous Carrer Blai, a street lined with tapas bars that stay open until late. Several famous tourist attractions, such as the MACBA art museum and La Rambla are a very short walk away.
License : HUTB-007578

From      84€ / NIGHT
From 1500€ / MONTH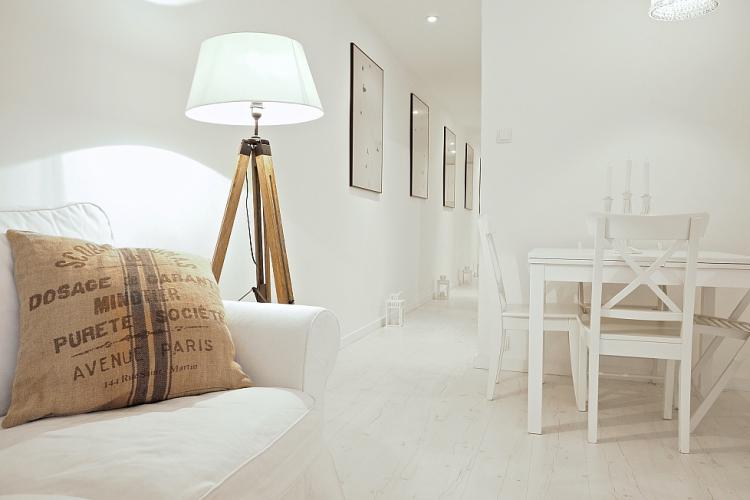 This extraordinary designer home is one of our favorite White Apartments Barcelona. The space is decorated with exquisite taste, and is perfect for those who appreciate art and style. The extended living room is furnished with a collection of bright white pieces, including a white couch, coffee table, lamp shades, dining table and chairs, which are brilliantly offset by some beige and light brown elements, such as the soft shag rug in the lounge and burlap throw-pillows on the couch. Plenty of light shines in from the private balcony to illuminate the white furnishings, as well as the smooth wooden floors characterized by a very light-colored finish. The space is minimally decorated but comes with a handful of unique figurines, such as the white rhinoceros on the coffee table and the white LOVE sign in one of the bedrooms. A long hallway decorated with a series of bright white lanterns leads to the bedrooms. The master bedroom comes with balcony access, a gorgeous bed with an intricate white headboard and two white lamps on two identical white nightstands. 

This Les Corts apartment is located in an area fantastic for shopping due to the proximity of several shopping centers, including the Corte Inglés and L´illa. During your stay you will be very close to Diagonal avenue, a major thoroughfare of Barcelona with several companies and businesses. This is also an apartment near Camp Nou stadium, home of the famous FC Barcelona soccer team. The area is known for several picturesque plazas and fantastic restaurants.
License : HUTB-009163

From       95€ / NIGHT
From 2300€ / MONTH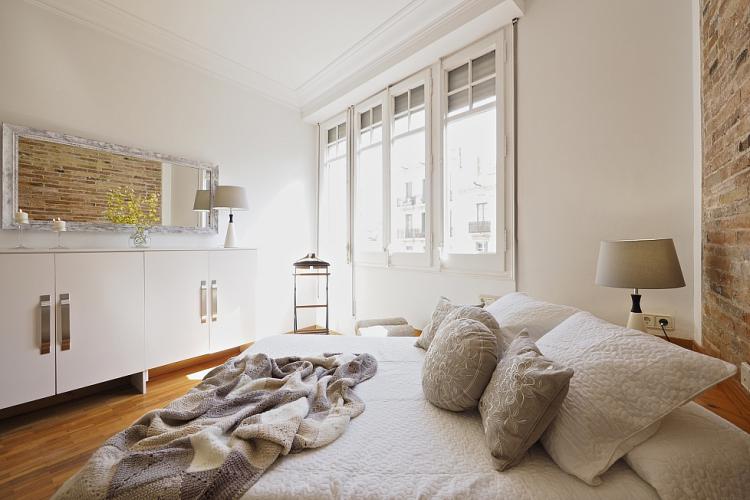 This gorgeous penthouse blends pure white furniture and finishes with rustic elements, such as exposed brick walls and darker wooden floors, which add a homey touch and keep this White Apartment Barcelona from feeling too cold and hygienic. The master bedroom is organized with bright white cabinets, walls and mirrors, along with transparent glass candle holders and a sparkling mirror with a metallic frame. The bed is on an elevated platform made of smooth wood and is arranged in a unique angle. The living area maintains the white design concept, with all-white couches and sofas, a white coffee table, vitrine and white bookshelf decorated with colorful objects. Further down you will also find two beautiful bedrooms decorated with various shades of beige and white or silver, and designed with quality materials. You will also have access to a balcony and three recently refurbished bathrooms. This is an apartment with terrace, an enormous open space equipped with lounge furniture to chill out on during the day.
The apartment is located near Plaza Espanya, very close to many of Barcelona´s most popular tourist attractions. These include the Parc de Joan Miró, the Font Màgica and the Fira de Barcelona exhibition center. The proximity to the Plaza Espanya metro and bus connections will make it especially easy for you to navigate the city throughout your stay.
License : HUTB-003012

Enregistrer