Are you traveling to Barcelona with a group of friends, but hesitating that you may need to pay a lot for the accommodation? No worries, we have a list of cozy and classy apartment recommendations with an amazing neighborhood just for you. For youths and teens, not only the atmosphere of the apartment is vital, but also the price. A wonderful apartment is one of the most important components to create unforgettable traveling memories in Barcelona. This is why we have gathered 3 accommodations that we consider as Youth Hostel apartments in Barcelona. If you wish to learn more about the property which you are interested, do not hesitate! Please feel free to contact us by email or by customer service chat-bar on our website.
From 52€ / NIGHT
From 790€ / MONTH



This cozy loft is available for 2 people, which is suitable for young couple to stay. The main colors of this loft are red and white, which not only can make you feel like staying at home but also feel the passion and romance. When you first reach the entrance, you will reach the well-equipped, American style opening kitchen with stainless steel surfaces. You can easily find out the equipment you need, such as refrigerator, microwave oven, stove. Furthermore, a set of cabinets is provided but also a laundry machine in the bathroom too.
This comfortable loft is convenient as well. You only need a couple minutes to reach Plaza Espanya metro station. By grabbing a metro, you can easily reach to everywhere in Barcelona from the loft. Furthermore, it is close to several tourists 'MUST GO' attractions on the Montjuic Hill, such as the Font Magical fountain, Fira de Barcelona, and the Palau Nacional. If you would like to enjoy Barcelona's nightlife, you can access to Poble Sec neighborhood by 10 minutes walk, which is famous for a variety of dining options like tapas bar.
License: HUTB-003019

From  63€ / NIGHT
From  1200€ / MONTH




The apartment accommodates up to 6 people. If you're traveling with a group of friends, this apartment is one of the fantastic options regarding price. Stylish emerald green hue brings out the elegance of the apartment. There are 2 balconies in the apartment, one is accessible from living room, another one is in one of the bedrooms. You can not only enjoy the gorgeous view from day to night in the balcony, and also enjoy a morning coffee by looking at the prosperous scenery. The kitchen and bathroom are well-equipped and refurbished in recent days respectively. You can prepare a fine dining with friends.
This apartment is situated in Sants-Montjuïc district. You only need a short distance walk to reach Fira de Barcelona and Montjuïc mountain. From these 2 places, you can continuously reach to some famous attractions in Barcelona, such as Magic Fountain, the National Museum, and the Castillo de Montjuïc. The neighborhood is safe and you can enjoy a lot of shops and supermarkets. It is very close to walking to Las Arenas Shopping Center. Several buses, metro stops, and SANTS TRAIN STATION are nearby the apartments. Therefore, these facilities will make your stay become more convenient.
License: HUTB-001179

From 84€ / NIGHT
From 2266€ / MONTH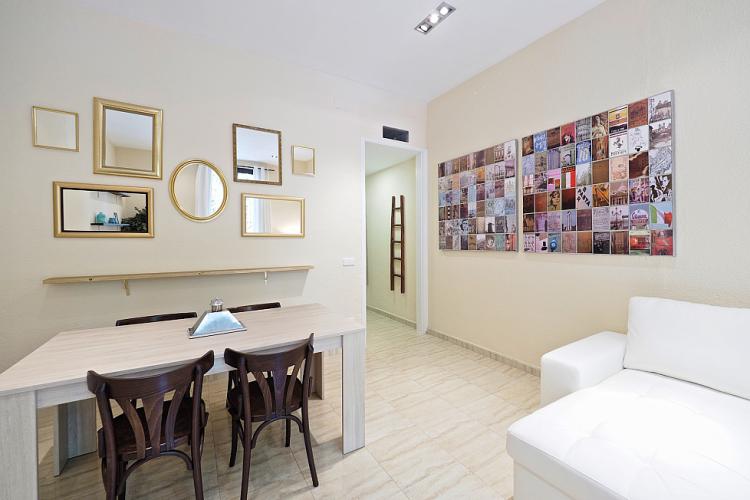 This apartment is another good option for people who are traveling with a big group, especially youths because it can accommodate up to 7 people in the apartment. By splitting the rent, this apartment is one of the reasonable accommodations in terms of price. You can feel the warmness and simpleness from this apartment because it utilizes a lot of wooden furniture and white sofa. It provides a clean and comfortable environment for you to stay here. Meanwhile, the apartment has 2 bathrooms. If you are a big group, you do not need to worry about using the bathroom through 'battling with your friends'. The kitchen is equipped with the latest accessories and comes with smooth granite counters. More, from the living room, you can access the balcony.
By choosing this apartment, you will find the neighborhood of Eixample beautiful and wonderful. On the other hand, staying in this apartment, you will find it convenient to reach everywhere in Barcelona. You only need few minutes to reach Rocafort metro station, the University of Barcelona and the historical district, Ciutat Vella. We recommend visiting the MACBA museum nearby, as well as the Magic Fountain for a spectacular light show in the evening.
License: HUTB-008758