Are you associating salsa clubs with Spain? So do we. In Barcelona, you can go out for salsa 365 days a year if you want. It doesn't matter if you're a beginner or a full-blooded professional, salsa is for everyone. Give in to the sensible vibe of salsa and feel the passion and energy! Here we are listing our top 3 salsa clubs in Barcelona for you to visit. Go there and show them what you got! Don't forget to check out our lovely apartments close to these energetic clubs. In the same vein, if you and your friends have recently started to like dance salsa or bachata and you live in Barcelona, you may want to know all the offers you have around you to go out dancing salsa every day of the week.
About salsa music
More precisely, salsa music is a Cuban-influenced genre that was further created in New York City in the 1960s. Salsa is a musical style rooted in son Cubano, an Afro-Cuban music genre created by Cuban musicians of Bantu descent. However, the salsa genre took form in the United States, and it may feature elements from all sorts of Latin American styles. The style reached its zenith in the 1970s, when salsa spread from New York back to the Caribbean and Latin America.
In the same vein, Salsa is most easily defined by its rhythm; based on the Latin beat called the clave. This beat is maintained by various percussion instruments, including wooden sticks, also called claves, which trade rhythms with the vocalist. Salsa is lively, upbeat, and danceable, adding a little sauce to the spice of life. In addition, it seems like natural that Latin dance forms would be popular in Spain, and Barcelona leads the way in salsa-friendly clubs. They play a mix of salsa, merengue and bachata; and they're popular with visitors and locals alike. Dress is casual, but plan on staying out late!
Here we give you 3 of the best salsa clubs in Barcelona:
# 1 Antilla Salsa Club
Source: www.bethenight.com
If you're visiting Barcelona it's a must to go to the most famous salsa club Antilla Salsa Barcelona. Moreover, it's the oldest one in Barcelona, founded in 1993. In addition, if you're into livemusic this is the perfect place for you! They're arranging performances with bands and orchestras in fusion and latino music. Subsequently, the club also has it's own salsa school, for both beginners and experienced salsa dancers.
Address: Carrer d'Aragó 142, 08015-Barcelona
Opening hours: Monday-Tuesday Closed
Thursday-Saturday 10pm-6am
Wednesday-Sunday 10pm-5am
Telephone:+34 934 51 45 64
Interested in staying nearby? Check out our apartments in Eixampla!
# 2 Habana Club
Source: www.shbarcelona.com
Habana Club
is both a dance club and a restaurant in one, for instance. Go there for a
delicious meal
with live music or show off your rhytm and likewise moves on the dancefloor. The club is in the district of
La Barceloneta
and is very popular. In addition, you'll definitely enjoy the
view!
Address: Passeig de Joan Borbó, 74
Telephone: +34 932 25 02 63
Opening hours: Monday:10am-5pm
Tuesday-Sunday:10am-6am

# 3 Mojito Club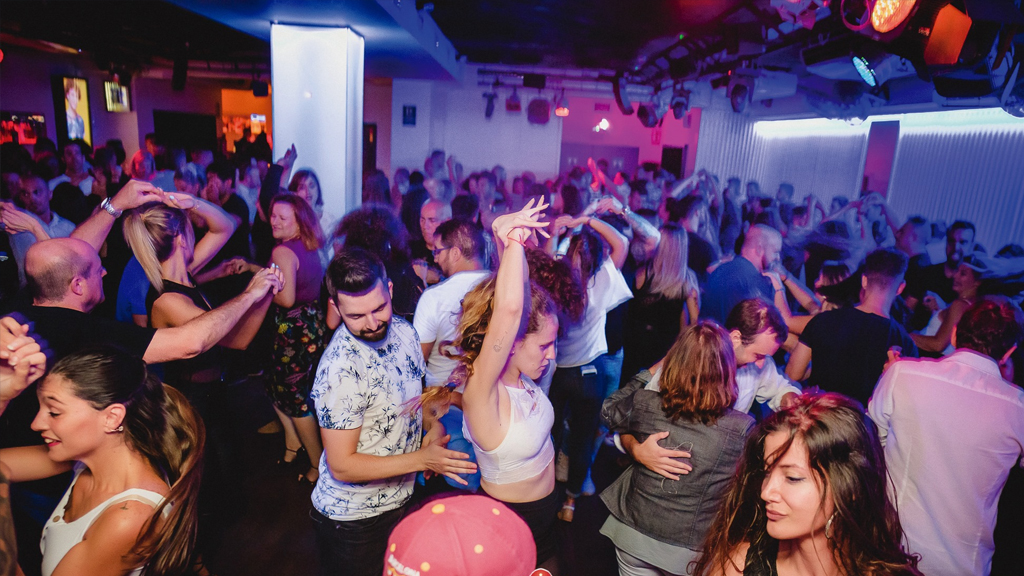 Source: www.youbarcelona.com
Mojito Club is further offering three salsa-nights a week and has one night completely dedicated to Cuban music. If you want latino music, salsa or bachata, Mojito Club is the place to go! Moreover, on Fridays & Saturday the club is 100% an international latino music club. You will also find orchestras playing live music that you can strut your moves to. In addition, the club is very popular and might be busy on Fridays and Saturdays, so arrive early!
Address: Carrer del Rosselló, 217, 08008 Barcelona
Telephone: +34 932 37 65 28
Opening hours:Monday-Wednesday:Closed
Thursday:11pm-4.30am
Friday&Saturday:11om-5.30am
Sunday: 9pm-4.30am