Stay in one of our apartments near Razzmatazz and enjoy the nightlife of Barcelona!
Barcelona is home to several famous nightclubs and one of the most popular is Sala Razzmatazz in the industrial chic Bogatell neighborhood. The venue is famous for being 5 clubs in one, with the indie rock Razz Club downstairs, the techno-heavy The Loft and Lolita upstairs and more relaxed Pop and Rex Room with pop, electro and disco. We´ve rounded up our top 3 favorite Apartments Near Razzmatazz, all under €100/night, to help partygoers and visiting musicians find the perfect place to stay.
From    94€ / NIGHT
From 1200€ / MONTH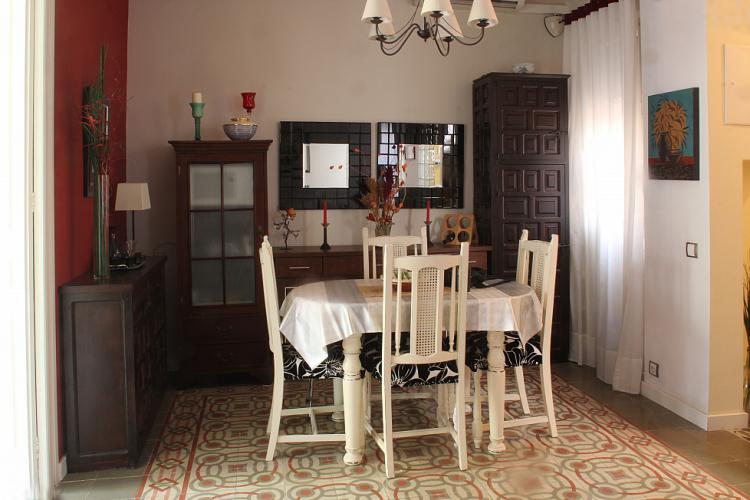 This lively and comfortable two-bedroom apartment is a ten minute walk away from the nightclub, and comes with gorgeous tiled floors, cozy wooden furniture, lofty high ceilings and a picturesque little balcony that will make it hard for you to leave, even after the party is over. The living room is furnished with a large red corner couch and soft throw pillows, the perfect place to lounge with friends before the show.  The place can comfortably sleep up to four guests, and is divided into two bedrooms, one with a double bed perfect for a couple, and the other with two single beds. The apartment is located on the third floor of a building in a residential neighborhood, providing the peace and quiet you will need to sleep in late the day after the party. It is also just a short walk from Playa de Bogatell beach, great for an early afternoon nap under the sun, a delicious lunch at a chiringuito (restaurant on the beach) or an invigorating game of volleyball with friends.
License : HUTB- 011738

From    88€ / NIGHT
From 1500€ / MONTH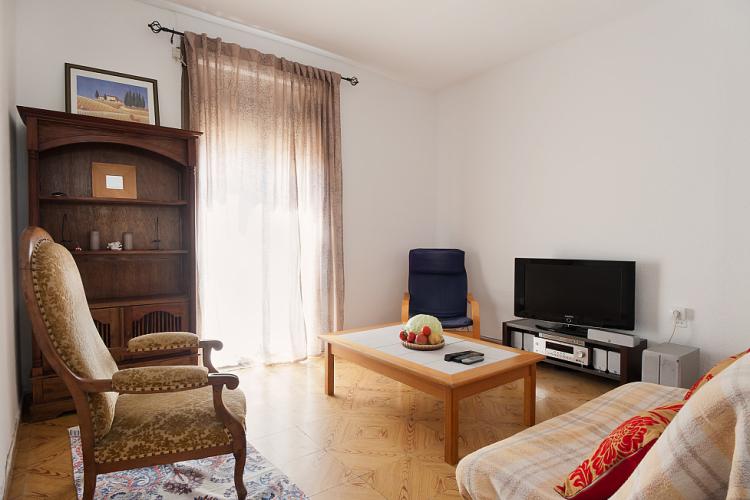 This intimate, family-style lodging is one of our favorite Apartments Near Razzmatazz, great for musicians traveling to Barcelona with their family or crew. The nightclub is a fifteen minute walk or a quick metro ride away. For the affordable price of just €88 per night the space has capacity to comfortably sleep up to six guests, in a cozy master bedroom with double bed, another bedroom with two single beds and a spacious double sofa bed in the living room. The common area features a salon with cozy couches and a TV, a separate dining room with an elegant black table, and a balcony with great views of the neighborhood. You will also have access to a very large modern kitchen, fully equipped with everything needed to cook a great meal for several people, including a double-sink, oven, microwave, fridge, stove and, – perhaps most important before an all-nighter – a coffee maker. You and your guests will enjoy a comfortable stay on the fourth floor of a quiet residential building, just minutes away from both the Bogatell and Mar Bella beaches. There are also several great parks and promenades nearby for those who enjoy a run in the morning.
License : HUTB-003278

From      94€ / NIGHT
From 1500€ / MONTH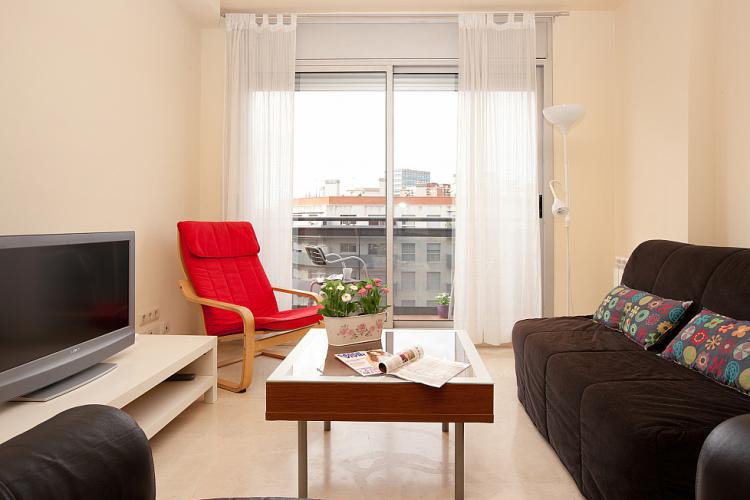 This modern short- or long-term lodging is one of our favorite Apartments Near Razzmatazz, perfect for a group of friends driving to Barcelona for a weekend of clubbing. The building comes with parking access, a lift, air conditioning and heating, and is located a 15-minute walk or short drive from the nightclub. The apartment comes with a contemporary living room furnished with comfortable couches, sofas and television, with enough space for up to six guests to lounge and enjoy a moment together. There is also an elegant dining area with a nice white table and two bright and sunny bedrooms, one with a cozy double bed and the other with two single beds. The sofa bed in the salon can accommodate two additional guests. The apartment comes with a fully equipped kitchen and a large balcony overlooking the neighborhood. Bring out a few more chairs and enjoy a glass of wine with friends before the show, with fantastic views of the famous Torre Agbar, lit up at night in a rainbow of vibrant colors.
License : HUTB-007110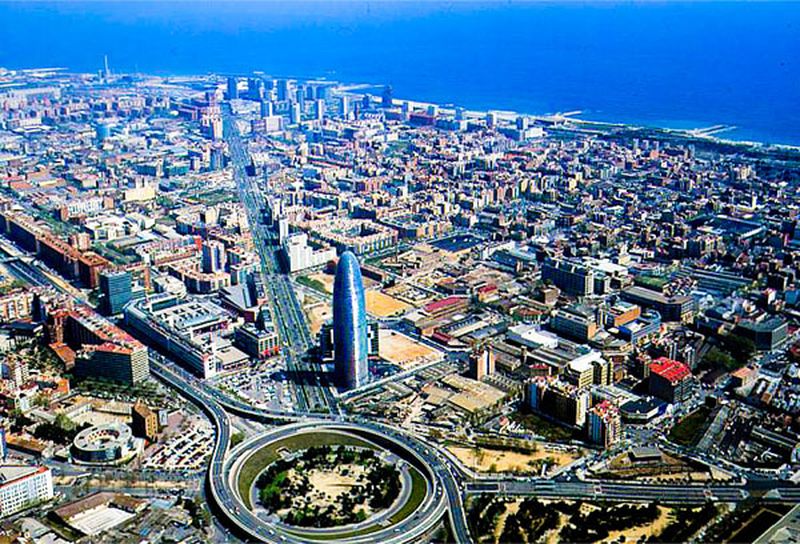 Poblenou and the surrounding neighborhoods are great places to stay due to the unique modern architecture, the rapid access to some of Barcelona´s best beaches, and, of course, the proximity to the famous Sala Razzmatazz. Also just a short walk or metro ride from the club are many of our apartments in Vila Olimpica, lodgings in Poblenou and Sant Martí homes. While these apartments are great to crash in before and after hitting hard Barcelona´s party scene, please remember that most of them are in quiet residential areas and that the peace of neighborhoods must be respected. So, no parties or smoking inside, please. Save that for your night out in the City of Counts!

Enregistrer