Have you ever wished you had someone to carry your luggage to your final destination after getting off a plane, train, or cruise ship? Have you ever wished you could make use of your precious time sightseeing rather than waiting for the check-in time to strike? And even after checking out of your hotel room, you wish you do not look stupid carrying a luggage during the last part of your sightseeing? Instead of spending your energy on hauling your items of baggage, save your energy for partying in Barcelona. For your convenience and safety, we have suggested you some of Barcelona's best storage services. After all, you are at your most vulnerable when dragging your luggage around.
Here are 6 of the best Luggage Storage services in Barcelona:
#1 Stasher
Stasher offers affordable luggage storage in Barcelona near all the important landmarks and transport hubs, such as Barcelona Sants Station, the Sagrada Familia and Port of Barcelona. Their locations are within walking distance from all important landmarks of the city for easy access. Bookings are made online and each reservation comes with insurance of up to €1000 per item stored.
So, next time you check out and have some time to explore before your flight, consider storing your luggage with Stasher! It's easy, secure and affordable!
#2 LuggageHero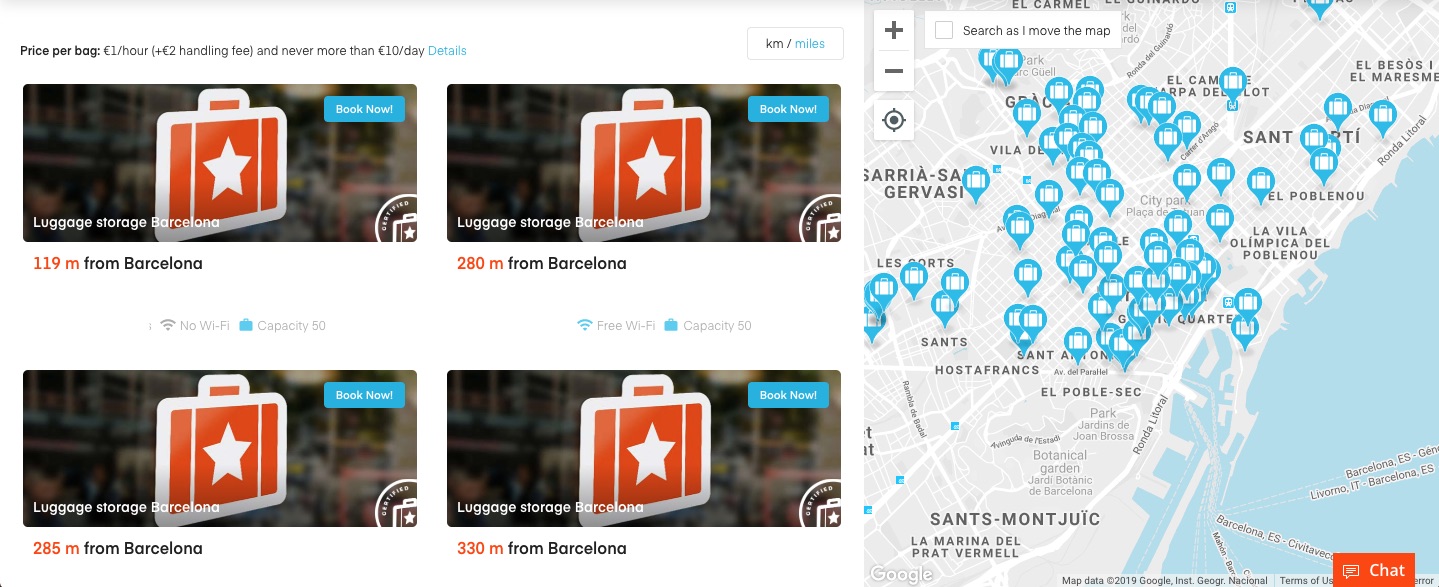 When you visit Barcelona, LuggageHero is here to save the day! Drop off your bags by using LuggageHero's network of more than 80 local shops located around crucial traffic hubs and popular districts. Those include Barcelona Sants Station, Espanya Station, Catalunya Station, Franca Station, Passeig de Gracia Station, Eixample, El Raval, and downtown Barcelona.
Let's say that you arrive from El Prat Airport hours before your rental is ready and you want to check out the sights without pulling your luggage behind you. Maybe you want to visit La Sagrada Familia, the Picasso Museum, stroll down Las Ramblas, or watch a match at the Camp Nou Stadium. Whatever you choose, we're here to lighten your load. Use our map at the LuggageHero reservation platform to find a handy storage site – each one verified by us. Each bag receives a safety seal and the bag and its contents are insured for €2500. There is no cancellation fee.
Your bags are in good hands with LuggageHero, which operates in major cities throughout Europe and North America.
#3 BAGBNB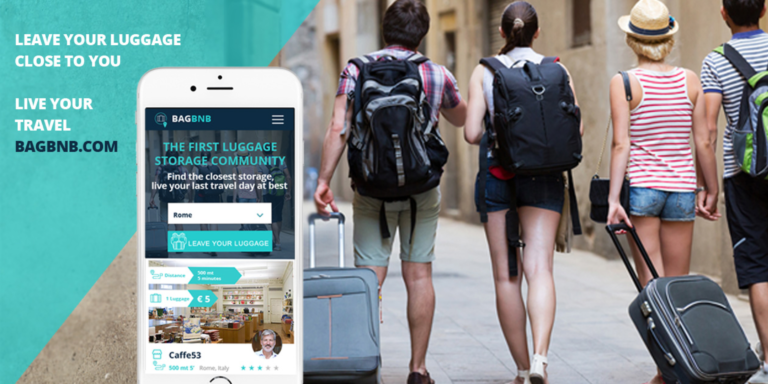 With BAGBNB, you can enjoy your last moments travelling without the hassle of bringing your luggage along with you. Simply choose your location online, the drop-off time and pick-up time that works the best for you and your schedule for that day. The BAGBNB community is set up by hundreds of local businesses. There are more than 500 luggage storage locations available worldwide. These businesses are called "Angels''. Before a business can collaborate with BAGBNB, it will first need to be verified to ensure the safety of your luggage. Besides that, each bag is covered by a €200 guarantee.
After you've chosen your Angel, you can book your storage online and securely pay for your luggage storage. Don't worry about the size of your luggage, because it is a fixed price and unlike airlines, they won't charge you extra for larger or heavier luggage items! In Europe, the price is only €5 per bag per day.
Email: [email protected]
Web: bagbnb.com
Interested in staying in Barcelona? Check out our apartments!
#4 Get Bag Service
Get Bag Service is a luggage delivery service that helps you move around the city lighter by collecting your luggage from the airport, cruise terminals, train stations or from your hotel and delivering it to your desired location in the City. The efficient service is designed for those who want to experience an easier, quicker and less stressful way of commuting. Its service is safe, secure, and reliable; every bag is securely locked, checked and insured for up to €1,500. Your bag can be tracked with its GPS system. How professional is that?! All you have to do is book online and choose your pickup time and location.
Out of doing luggage transfers in the city, GET BAG ALSO SEND YOUR LUGGAGE BACK HOME, or just keep it in his LEFT LUGGAGE CENTER near SAGRADA FAMILIA at 399 Rosselló Street.
Address: Carrer de Provenza, 228, Barcelona
Telephone: +34 603 823 099
Email: [email protected]
Web: getbagservice.com
Interested in staying in Barcelona? Check out our apartments!
All Barcelona-Home customers get a 10% discount on the online booking with the code BH2017, allowing you to travel to and from our apartments quickly and easily!
#5 Bags&Go
Bags&Go is a baggage storage company that picks up and/or drops off customer baggage. They transport every year more than 25.000 bags nationally or internationally!
During drop-off, in case you are going to be late to your appointed destination, just call the company and the staff will will discuss with you what your options are.

In addition, nightlife lovers who want to enjoy the party till the last hour of the morning before catching the plane, Bags&Go's NIGHT DELIVERY SERVICE will keep your luggage safe all night long and deliver it straight to the airport early in the morning, but be careful to take this into consideration when booking their services!

What are you waiting for? Book with them and enjoy every minute of your stay in Barcelona!

Address: Moll de Sant Bertran s/n (1.15 mi) Barcelona, Spain 08039 (Main office) but you can book online whether you're going for a cruise or leaving by plane!
Telephone: +34 934 43 72 65

Email: Fill out THIS form on their website


Interested in staying nearby? Check out our apartments in Eixample!
#6 Locker Barcelona
Locker Barcelona has 300 storage places to keep your items safe and it even has a special storage for a group to keep their items together. The storage is available in different sizes. If you have items with awkward sizes, Locker Barcelona has the storage for it. The price of the locker varies according to the size. The lockers are monitored with security cameras. The company is located in the city center, near Plaza Catalunya, so it is a very easy place to get by. The company also rents roller scooters, bicycles, and strollers.

Address: Carrer Estruc 36, Barcelona
Telephone: +34 933 028 796
Email: [email protected]
Web: lockerbarcelona.com
Baggage storage locations
featured image credits: media.luggagepros.com
[/kc_column_text]