The best way to discover Barcelona is by doing a city tour. As Barcelona is a big city with a confusing structure, it is not easy to find your way around. With all its different districts, there is so much to see and to do and for this reason you need at least a week to explore all the best things this vibrant city has to offer. Thus, if you are here for a short city trip, taking a guided tour is the perfect way to make the best out of your trip. Especially for people visiting this amazing city for the first time, we highly recommend to try one of the many excursions. From walking tours to bus tours, there are a lot of options you can choose between.  To make your choice easier, we have listed the best city tours in Barcelona. So, forget about struggling with the city map to find your way and try one of these amazing city tours!
Barcelona vespa tour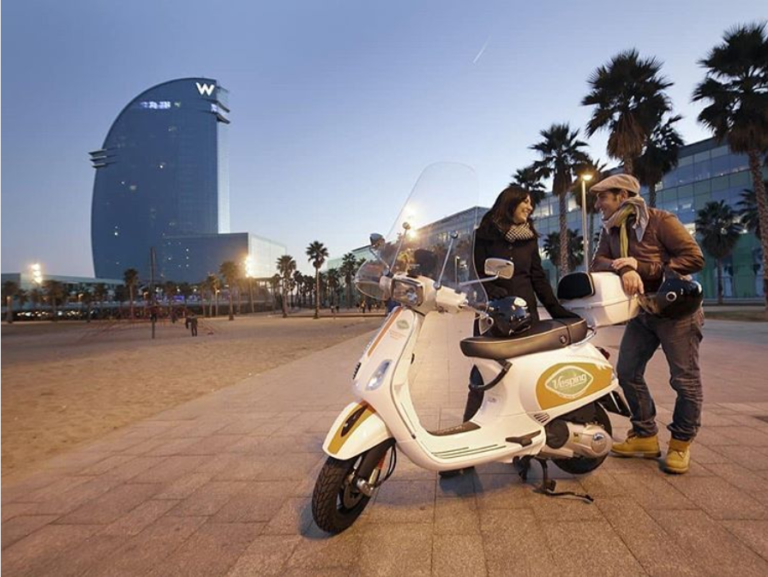 With this amazing tour, you get to see this city in a whole different way. Vesping will show you the secrets and alternative side of Barcelona just riding a scooter! You can rent a vespa and choose the Barcelona tour you prefer; after that, let yourself be guided along the route of a Barcelona that often remains unknown to tourists and residents, but which also includes the most famous points of attraction that you cannot miss. Vesping is much more than a simple scooter rental: it offers guided and private tours, where the precious secrets of the city are shared, to make the stay unique and special. The price starts from €20 per person, depending on which tour and type of scooter you prefer. Besides the vespa tours, they also offer activities for team building, weddings, filming and much more!
Area:  The office where rent your scooter is situated near to La Sagrada Familia
Telephone: +34 93 66 77 877
Price: €20/person
Check out our website to find the best Apartments nearby the Sagrada Familia!
Barcelona Sweet Tour
The Barcelona Sweet Tour is especially made for those amongst us with a sweet tooth. Here you can taste different treats of the Spanish and Catalan cuisine while walking through Barcelona's sweet streets. For €49 per person, you will be able to try 10 delicious sweets, such as melindros and churros and also visit local cake shops and cafés. During the tour, the guide gives you more information about the importance of the cake and chocolate making culture in Catalonia. It takes place in the Gothic Quarter and Born neighbourhood and has a limit of 15 people. Furthermore, you don't have to worry about the language barrier because all their guides speak fluent English.
Area: Gothic Quarter
Telephone: +34 933 17 19 09
Price: €49/person
Want to stay close-by? Then take a look at our Apartments in Barri Gotic!
Private tour with architect
If you are interested in the amazing architecture of Barcelona, then the Private tour with architect is made for you! They offer 3 different tours in diverse neighbourhoods. The first tour starts at the Passeig de Gracia and ends in the Gràcia neighbourhood, where you can admire different architectural buildings, including many famous ones designed by Gaudi. The second tour will guide you through the architectural wonders of the Raval district, which is famous for its bohemian lifestyle. It is an interesting architectural area with medieval buildings such as the former Hospital de la Santa Creu, and innovative designs by famous architectures like Richard Meier. The third and last tour will show you the Ribera and Born districts, where you can find a mix of modern and antique buildings. This amazing private architectural tour will cost 61,75€ per person with a 5% discount if you book online.
Address: Plaza Catalunya
Telephone: +34 934 231 270
Price: €61,75/ person
To stay nearby, check out our Apartments near Plaza Catalunya!
Accessible Walking Tour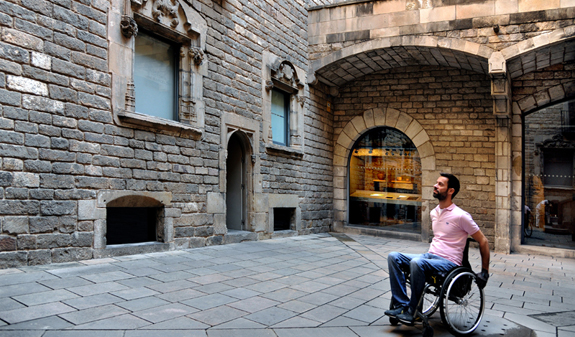 In Barcelona everything is possible. For this reason, there are also tours for people with reduced mobility. In this way, they get the possibility to enjoy the beautiful streets of this amazing city. The Accessible Walking tour is especially adapted by following an accessible and flat route through the smooth streets of Barri Gotic. Find out more about the area and the interesting facts from the professional guide that leads the walking tour. In total it takes one hour, but the guide adapts its pace to those taking part. There is also the possibility to hire a transportable chair during the tour. For the accessible walking tour, you pay only €12,15 with a 10% discount if you book online!
Area: Barri Gothic
Telephone: +34 934 231 270
Price: €12,15/ person
To stay nearby, check out our Apartments near Plaza Catalunya!
Las Golondrinas Boat Tour
Are you more interested in Barcelona's splendid coastline than the busy city streets? Look no further than the Las Golondrinas Boat Tour which will provide you with beautiful views of Barcelona from the sea. The Golondrinas boat will start from the old harbour, Port Vell and continue its route along the Barcelona coastline. You will enjoy this tour on a modern motorised catamaran with a bar on the lower floor, where you can buy drinks and use the facilities. There is the possibility to choose between two tours: one from 40 minutes and the other one takes 90 minutes. For the short tour, you will pay 7,20€ and the longer tour costs 15€.
Area: Barceloneta
Telephone: +34 934231270
Price: €7,20 for 40 minutes, €15 for 90 minutes
We hope you have the chance to try out one of our Best City Tours in Barcelona. Still looking for something to do before or after one of these tours? Check out all the activities Barcelona has to offer!
See above for a fantastic virtual tour of Barcelona while you plan your visit!!
Looking for an apartment in Barcelona? Check out our
SPECIAL DEALS ON APARTMENTS
all over the city with Barcelona Home!