If you are looking to visit Barcelona but you want to do it in an original and fun way, we might have some ideas for you. From visiting the main attractions of the city in a vespa, Go Car, a Segway or an electronic scooter. Keep reading our article and you will know everything about the Alternative ways to see Barcelona this summer.
 Here are 4 of the best alternative ways to see Barcelona:
#1 Vesping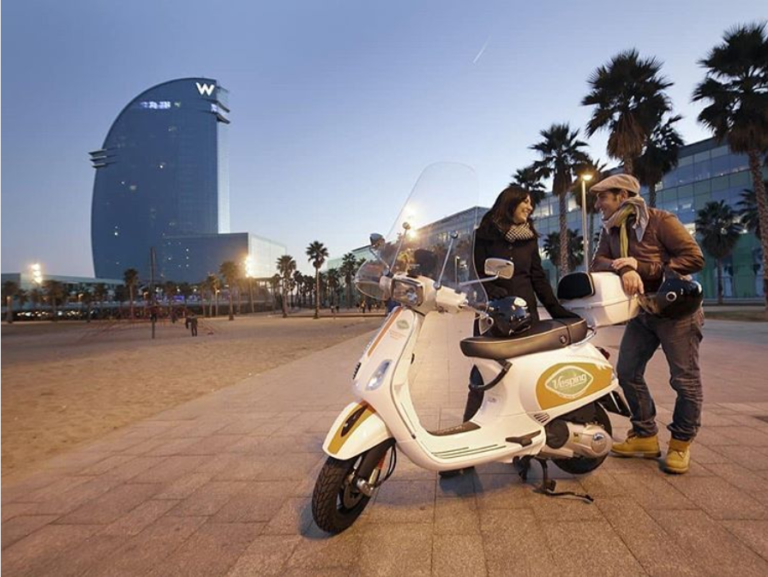 With this amazing tour, you get to see this city in a whole different way. Vesping will show you the secrets and alternative side of Barcelona just riding a scooter! You can rent a Vespa and choose the Barcelona tour you prefer; after that, let yourself be guided along the route of a Barcelona that often remains unknown to tourists and residents, but which also includes the most famous points of attraction that you cannot miss. Vesping is much more than a simple scooter rental: it offers guided and private tours, where the precious secrets of the city are shared, to make the stay unique and special.
The main tours are:
GPS experience, where you can rent your Vespa and use the GPS navigator to plan your trip as you prefer and make your trip a unique experience. You also have the opportunity to choose from 4 pre-programmed GPS tours that will let you discover the hidden gems of one of the most loved cities in the world …. but without getting lost on the way!
City Guided Tour. Alternatively, you can choose the guided tour. This is the best way to visit the city while having fun. Besides, the main attractions it will be possible to enjoy some hidden corners that are often unknown even by locals.
Private tours in Vespa, if you are a holiday group you can choose to book a private tour recommended for groups of 5 up to 50 people, who want to experience the city in their own way, personalizing their itinerary.
The price starts from €20 per person, depending on which tour and type of scooter you prefer. Besides the vespa tours, they also offer activities for team building, wedding, filming and much more!
Address:  Pasaje Simó, 24, Barcelona
Telephone: (+34) 93 66 77 877
Mail:  [email protected]
Web:  Vesping
Interested in staying nearby? Check out our apartments in Sagrada Familia!
#2 Go Car

The little yellow convertible cars take you around the city, so you can explore on your own. There are a built-in GPS system and voice guidance for navigation, as well as telling you the information of the sights in Barcelona. They offer different types of tours and also special events. You have the option to do a beach and shopping tour that goes through the city center and the beaches of Barcelona. This tour of 2.5 hours includes main attractions such as Arc de Triomf and also Diagonal de Mar for your shopping!
You also have the possibility to do a 3-hour tour of Gaudi's most famous work. Moreover, the Barcelona Experience tour includes all the principal tours to visit within Barcelona for a period of 2.5 hours. And last but not least, the best seller, the All Inclusive Tour. It includes all the attractions, activities, food and shopping that GoCar proposes. Have a look at their website to see the other tours that they offer and their special events, such as hen parties.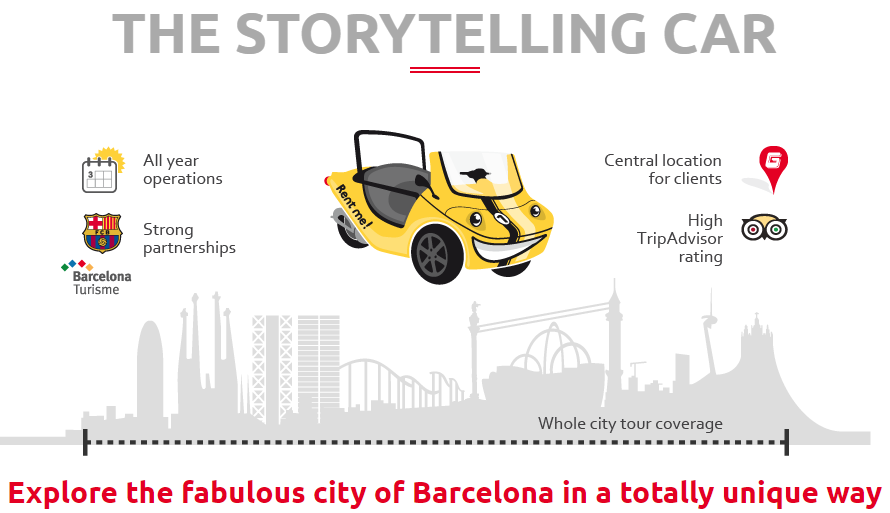 If you do not want to be guided by a GPS, you have the possibility to have a guide driving a Gocar in front of you. Furthermore, in all tours the GPS is available in 8 languages: English, Spanish, French, Italian, German, Portuguese, Russian and Catalan. The price includes a full tank of fuel (you can return the car with an empty tank), two registered drivers, a third party insurance, and helmets if required. You also need a valid driving license to be able to drive the Go Car. If you are not European, an International Driving License can be used. For 15 euros, Go Car Barcelona can translate your driving license for use in Spanish countries for a one-year period.
By booking with Barcelona Home you can get a discount up to 10%, all you have to do is to insert the promo code "BCNHOME" during the purchase online! Discount valid just for 3h tours: Barcelona Experience; Discover Gaudi; Beach and shopping.

Address: Pg. Pujades, 7, Barcelona
Telephone: +(34) 932 691 792
Email: [email protected]
Web: gocarbarcelona.com
Interested in staying in Barcelona? Check out our apartments!
3# Segway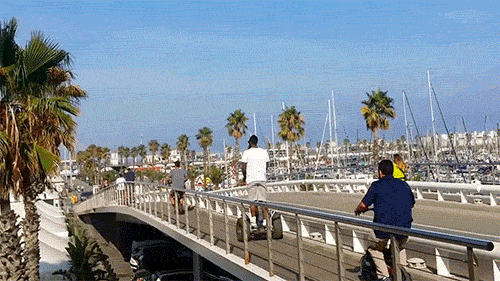 Segways are an excellent way to explore a city, combining the detail of a walking tour with the ease of driving. You will be able to explore every inch of the city without breaking a sweat, even in summer! The company, Barcelona Segway Fun provide the most intricate tour of the city. The start point is the near the metro station Jaume I, in the heart of the Gothic quarter.
Following a short safety briefing, a guide will take you throughout the must-see areas of Barcelona; Las Ramblas, Port Vell, Barceloneta and Port Olympic. The company offers 2 tours, of 1.5hrs and 2hrs every day of the week, with the last 2hr tour starting at 5 pm. Do not worry if you fear to learn how to ride the Segway as a personal tuition is provided by the company. It is also very easy to learn. Be sure to explore the city in the easiest way possible, traveling through all of Barcelona whilst giving your feet a rest.
Address: Carrer del Sots – Tinent Navarro, 26, 08002 Barcelona
Telephone: (+34) 670 48 40 00
Email: [email protected]
Interested in staying nearby? Check out our apartments in Gràcia!

4# Ecooltra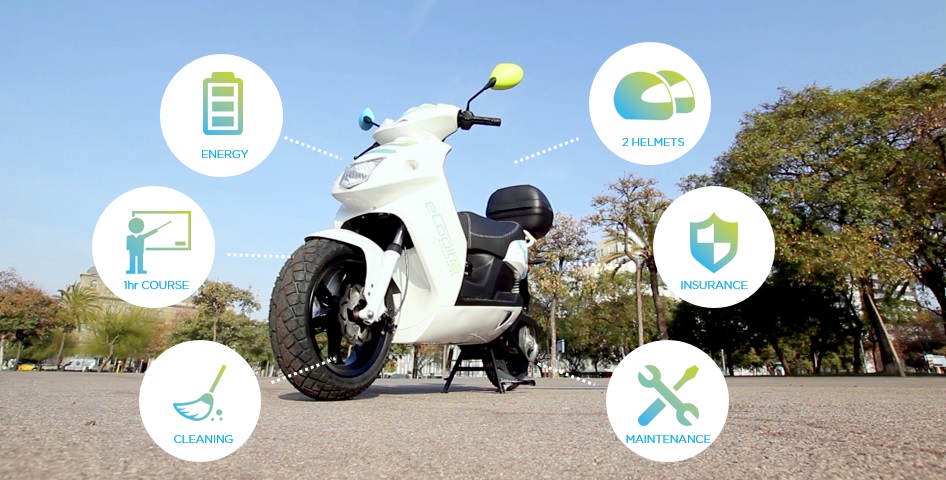 Our last method involves the concept of Motosharing, through the company eCooltra. They provide a fleet of electric scooters parked all over Barcelona, available for rental. It is more than possible to find scooters around the corner! You can locate and rent scooters using the eCooltra mobile application.
Firstly, you must select the scooter you want through the application to rent it. The app will give you directions to the scooter. When you arrive, the scooter must be activated through the app. Afterward, you are free to drive throughout the city! You will find 2 helmets within every scooter. When you are finished with the scooter, be sure to park in a permitted spot and log out of the application, so another user is able to rent the scooter. It is an easy to use application which also contains information about past rides, active rides, hours of usage and the companies terms and conditions.
The eCooltra scooters are easily recognizable, just look out for a large E on the front and the colored blue and green mirrors. Above all else, this service only costs 0.24euros per minute and their application is free to download.
Great News for all Barcelona-home clients that can enjoy their first 30 minutes free using the code BHOME30. We hope you enjoy your ride!
Address: Carrer de la Reina Cristina 2
Telephone:  (+34) +34 931 60 04 84
Interested in staying nearby? Check out our apartments in Barceloneta!
Looking for an apartment in Barcelona? Check out our
SPECIAL DEALS ON APARTMENTS
all over the city with Barcelona Home!