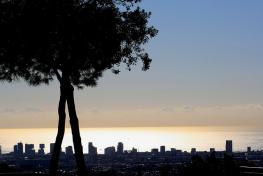 Apartments in Sants Montjuic, Barcelona | Short or long term rent
To stay in one of our apartments in Sants Montjuic area of Barcelona is a good choice for those who want to stay in a beautiful neighborhood, near the heart of Catalonian capital. Barcelona has given Sants Montjuic a new identity, transforming it from a historical military stronghold into a venue that serves as a vast park by day and playground by night. It is a veritable hub of activity, brimming with energy and life, and boasting a noteworthy collection of world-famous art museums, theaters, restaurants, bars, cafes, and clubs. As Sants Montjuic was the central site of the 1992 Olympics, it is also home to several large sporting facilities that cater to numerous activities such as swimming, running, walking, biking, rock climbing, and tennis.

Sants Montjuic is popular among tourists because of its placement near the city center. It is also very connected by public transport, and has some of the most important tourist attractions like Montjuïc Castle, Museu Olímpic i de l'Esport, and of course Font Màgica de Montjuïc. On weekend nights you will witness a fabulous show of water, lights, and music in which the grand Magic Fountain of Montjuïc takes center stage. The neighborhood is very safe to walk in at night, perfect to have a drink in a bar, eat some tapas and marvel at the illuminated fountain and the MNAC (National Modern Art Museum of Catalunya) in the background. Also, the area has the Montjuïc, which is the largest hill lying in the southwest corner of the city, bordering the Poble Sec neighborhood. It is also one of the oldest sections of Barcelona.

Barcelona Home comes with a bunch of apartments in Sants Montjuic to propose you. In our list, you can find cheap or expensive real estates, comfortable and luxurious variants. We have rooms, studio apartments, penthouses and houses for short or long term rent. If you need some help while booking process, feel free to contact us, we can always give some advice about the selection of Sants Montjuic apartments.

Latest reservation 12 minutes ago