Plaça d´Espanya is one of the most popular neighborhoods in which to stay for individuals visiting Barcelona for business purposes, such as meetings, congresses or conferences. The proximity of the plaza to several transportation services, including the Sants train station, the airport shuttle bus, the metro, the tram and several local buses, make it one of the busiest places in Barcelona and also one of the most easily accessible. Listed on our site are several fantastic Apartments Plaça d´Espanya, perfect for those seeking to be close to the Fira de Barcelona exhibition center, the Magic Fountain of Montjuïc and the Catalan National History Museum. One of our most frequent questions from guests staying in these apartments or in accommodations in Poble Sec is "Where to Eat near Plaça d´Espanya?" In this post we answer that question with some of our personal favorites.
MALAMÉN-BENDITA BODEGA
Photo Credit: barcelonanavigator.com
At first sight this bodega looks quite like a bar, but once inside you will stay for the sophisticated and modern cuisine. Some of their signatures include gourmet versions of basic Catalan classics, such as a dill seasoned ensaladilla rusa (Russian salad), house-made croquettes and huevos estrellados (fried eggs with sausage and ham). To pair with these dishes, you will also find a carefully curated list of good wines that will bring joy even to wine amateurs. All of this in a cozy and modern atmosphère with a high quality service, while remaining authentic!
Where? Carrer de Blai, 53 | Poble Sec, 08004 Barcelone, Espagne
When? Tuesday to Sunday from 7h30pm to 00h00
ESPAI KRU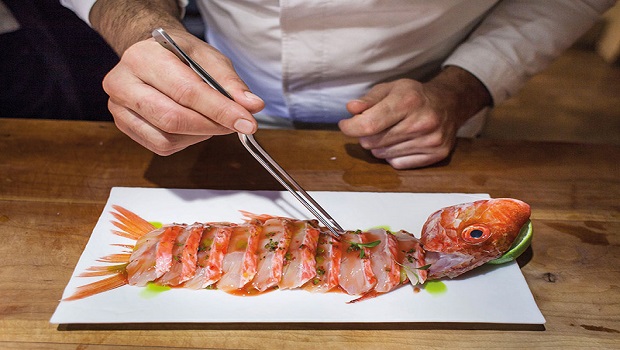 Photo Credit: b-stylemagazine.com
For the true foodies out there, we highly recommend Espai Kru. The restaurant bases its menu on the concept of food history before and after the invention of fire. Signature dishes include fish and seafood crudos, wagyu beef carpaccio and Galician beef tartar from the raw menu and Iberian rib with oyster sauce from the hot list. The fine cuisine and spectacular service come with a price tag, but we recommend that you treat yourself special and try this place out anyway.
Where? Carrer Lleida, 7 – 08004 Barcelona
When? Tuesday to Saturday from 13h30 to 16h00 – 20h00 to 23h00 and the Sunday from 13h30 to 16h00
WINE TAPAS ARRIBES DEL DUERO
Photo Credit: winetapasarribesdelduero.com
This restaurant with its unique decor boasts a very friendly and convivial atmosphere, a great place to grab a bite to eat with colleagues for lunch or after work! Upon entering you will be seated around a cask with stools, typical of the tapas bar in Spain. We recommend a glass of wine from the Priorat region and some Manchego cheese with Iberian ham to match.
Where? Avenida Francesc Ferrer i Guardia, 13 | Poble Espanyol, 08038 Barcelone, Espagne
When? Sunday to Thursday from 12h00 to 07h00pm and on the Friday to Saturday from 12h00 to 08h00pm
LALOLA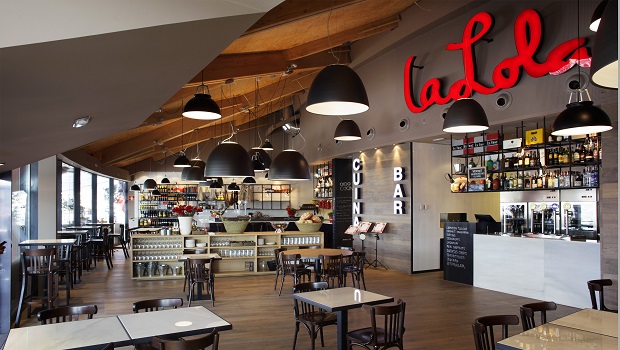 Photo Credit: laloladelasarenas.com
Lalola is a fantastic restaurant with a chic industrial interior and spectacular views of Plaça de Espanya, nearby. That´s because it´s located on the rooftop of the "Las Arenas" shopping center right above the famous square. From Monday to Friday the kitchen offers a 14€ daily menu with six appetizers, five main dishes and three desserts to choose from. Some of their most popular dishes include their duck tataki, vegetable and mushroom wok and fried eggplants with honey. Lalola offers the perfect break after a busy day or morning.
Where? Gran Vía de les Corts Catalanes, 373 (Plaza España, s/n) 08015 Barcelona – "Las Arenas" Mall
When? Monday to Sunday from 11h00 to 18h00 – 18h30 to 22H30
LA BOTIGA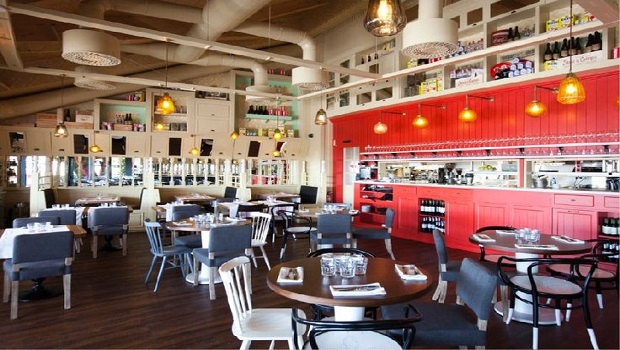 Photo Credit: Mirati Design
Also located on the rooftop of the Las Arenas shopping center is La Botiga, with its retro interior design and fantastic view of Montjuïc. It´s a great place to enjoy a nice glass of wine during your lunch break, accompanied by traditional tapas from Spain. They have a lunch special available on weekdays, where new dishes will cost you only €4 and €6. They also have a nice variety of group menus, one of which features a homemade mountain beef burger with tangy goat cheese.
Where? Gran Vía de les Corts Catalanes, 373 (Plaza España, s/n) 08015 Barcelona – "Las Arenas" Mall
When? Monday to Thursday from 19h30 to 00h00. Friday to Saturday from 19h30 to 01h00. Saturday to Sunday from 13h00 to 16h30
QUIMET & QUIMET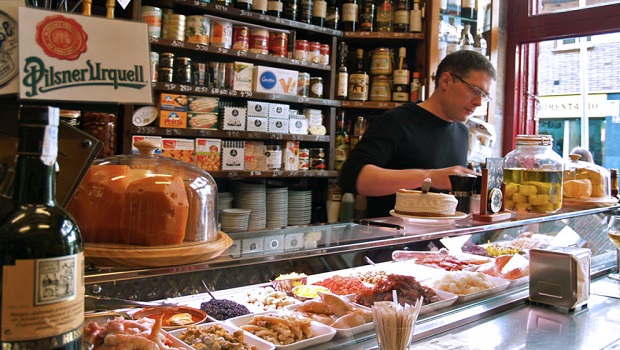 Photo Credit: culinarybackstreets.com
You can´t get more authentic than this matchbox-sized tapas bar in the heart of the Poble Sec neighborhood. The restaurant consists of two tables and a bar surrounded with shelves stacked densely with cans, jars and bottles. We recommend arriving on time (the place gets busy around 1pm), standing at the bar and ordering whatever looks good. Just be sure to not take too long, you will not win the favor of the busy barman that way. Our favorite dishes include the mojama (dry-cured tuna with almonds), the cod liver on crunchy bread with caviar and the creamy and pungent Torta del Casar with glazed chestnuts for dessert.
Where? Poeta Cabanyes 25, 08004 Barcelone, Espagne
When? Monday to Friday from 12h00 to 16h00 – Saturday from 19h30 to 12h00