Barcelona is truly a gay-friendly city and a popular gay destination within Europe. Why? Several reasons. For one, gay marriage has been legal since 2005, making it the third country to legalize it. Gay couples enjoy equal status and their union is quite accepted in Spanish society. In 2014 Catalunya also passed an anti-homophobia law, harshly fining individuals who physically or morally offend members of the LGBTQ community. Insulting someone for their sexual preference is punishable by up to €140,000. Barcelona is also a very dynamic city with tons of gay-friendly activities all year round, including gay cinema festivals, LGBTQ literature festivals and the annual Circuit Festival, the biggest Gay Festival in Europe.
Barcelona even has its own gay neighborhood (Gayxample, from the original name Eixample) with the city´s highest concentration of gay and lesbian bars and nightclubs. Over the past few decades several gay individuals and couples have sought residence in this historical neighborhood, known for its emblematic architecture, wide shopping boulevards and fantastic restaurants. This central neighborhood and the regions surrounding it are great for finding the perfect Gay Apartment Barcelona.
From      65€ / NIGHT
From 1290€ / MONTH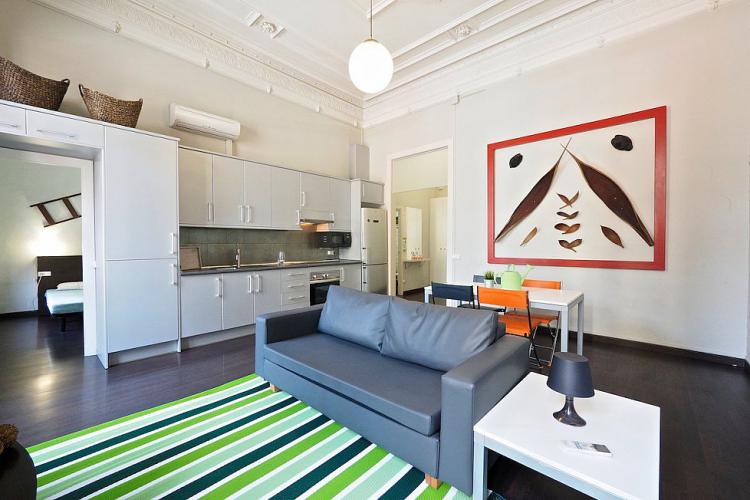 This eclectic designer home showcases a creative and tasteful combination of styles, including elements of the classic, bourgeois Eixample home (elaborate wall moldings, quaint balcony) and colorful, modern Scandinavian furniture and decorations. In the common area a cozy leather couch facing an impressive balcony divides the space into a living room with a gorgeous oversized mirror made of refurbished wood and a dining area that comes decorated with a stunning piece of wall art made with natural leaves. A modern kitchen with brilliant stainless steel surfaces opens directly to the common area, giving perfect access for entertaining guests. The bedrooms come decorated with two unique themes, one with an angular feel and the other reminiscent of a zen spa.
The apartment is centrally located just two blocks from Plaza Catalunya and Las Ramblas, and very close to Passeig de Gracia and Rambla de Catalunya shopping avenues. Proximity to several metro stations and bus connections provides quick access to Barcelona´s long seafront, and to the clothing-optional and gay-friendly Mar Bella beach. The neighborhood is characterized by a wide array of restaurants, saunas and shops geared towards the LGBTQ community, and is a short walk from Metro Disco BCN, one of Barcelona´s most popular gay nightclubs.
License : HUTB-001259

From    164€ / NIGHT
From 1900€ / MONTH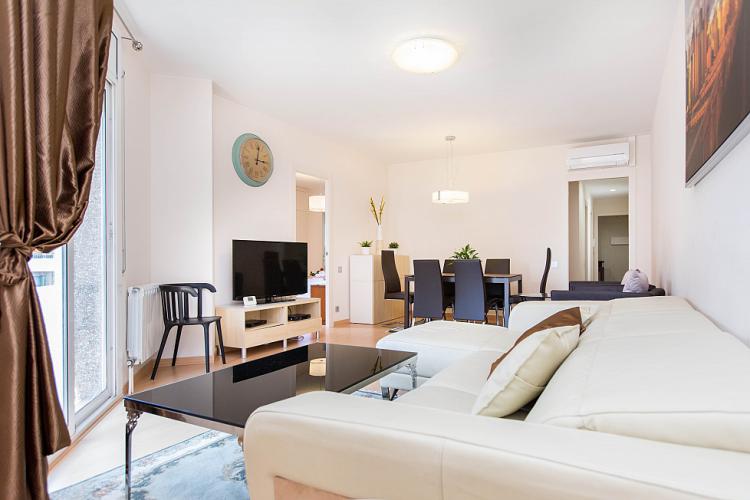 If you seek a simple, centrally located and modern lodging furnished with high quality materials and great services, this holiday apartment is the one for you. A perfect home-base in which to relax and enjoy the company of your friends before a wild night out in Gayxample. The sleek extended living room comes with a comfortable lounge area furnished with a white leather corner couch and flatscreen TV, as well as a dining area with a table to accommodate six guests. A spacious separate kitchen is located around the corner, and equipped with modern stainless steel accessories and clean white furniture. There is even a dishwasher, to help facilitate cleanup after a big communal dinner. You´ll love the kitchen´s quaint dining nook with two chairs, perfect for sharing a pot of coffee or fresh orange juice in the morning. The bedrooms are minimally decorated, furnished with cozy beds that are draped with sheets featuring a vibrant orange circular geometric print.
The apartment is located within the area designated Gayxample, bordered by Balmes, Gran Via de les Corts Catalanes, Comte d'Urgell and Aragó). It is just around the corner from popular gay bar El Cangrejo Eixample and gay nightclub Punto BCN. A short walk away you will find the cultural epicenter of Barcelona, as well as the city´s most famous tourist attractions, such as Las Ramblas, Liceu opera house, and the contemporary art museum MACBA. The privileged placement of this fantastic home will enable you to enjoy the best that Barcelona has to offer.
License : HUTB-008081

From    156€ / NIGHT
From 3450€ / MONTH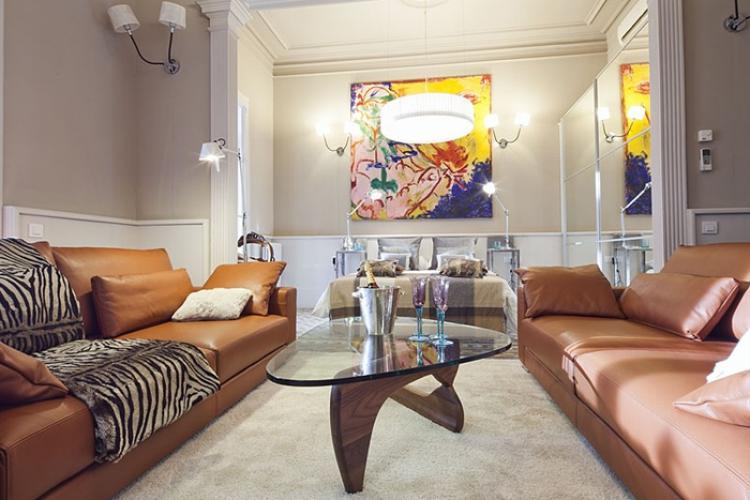 This fabulous boutique-style Gay Apartment Barcelona features a massive common area with classic design elements including luxuriously high ceilings, antique furniture and classic mosaic tiles in several different patterns covering the floor. A set of elegant brown leather couches offers enough space to fit a group of friends, lounging with a drink before a night out on the town. The living room opens directly to the beautiful master bedroom, decorated with a colorful abstract painting hung over the comfortable double bed. The apartment has three additional bedrooms, each with a very unique and colorful decor, as well as three beautiful bathrooms, one of which features bright orange tiles and stylish claw-foot bathtub. Another bathroom with an antique tub boasts a very interesting location indeed, in a glamorous gallery with access to a private terrace. In this spa-like washroom guests will have to privilege of enjoying a relaxing bubble bath with panoramic views of the city´s cultural center.
This classic "Gayxample" apartment is located on one of Barcelona´s most popular shopping avenues, Rambla Catalunya, studded with local and international designer stores. Just one street away is another very famous shopping street named Passeig de Gracia, and the several creations of Antoni Gaudí, including the Casa Batlló and La Pedrera. The apartment is just a quick walk away from many popular gay bars and nightclubs, including Bacon Bear Bar, Nightbarcelona Gay Bar and Arena Sala Classic.
License : HUTB-003309

With so many fantastic LGBTQ establishments and activities, it´s no wonder that Barcelona has become in the past few decades one of the most popular "gaycation" capitals of Europe. And, especially in Eixample, it´s not uncommon to spot proud rainbow flags waving in the wind near each Gay Apartment Barcelona. If staying in Barcelona for more than just one day, we recommend a day or weekend trip to the picturesque coastal city of Sitges, known throughout Spain for its abundance of gay beaches, bars, nightclubs and events. We have plenty of apartments in Sitges to choose from and, as the city is just a half hour from Barcelona by train, we recommend it as an excellent getaway.
Enregistrer