Catalunya en Miniatura is a mini-park established in 1983 in Torrelless de Llobregat. It is considered to be one of the largest miniature parks in the world because of its 60,000 square meters and 35,000of them devoted to the scale models. It displays over 150 models of palaces, churches, bridges, from Catalonia and Mallorca and it includes all the work by the architect Antoni Gaudi.
History
The first concept of creating this park came from Hans (Johannes A.) who had also been previously involved in designing and constructing a mini- Europe in Brussels and a Minimundus in Austria. The park was opened in May 1983 with the purpose of creating interactive attractions with the most important historical object in Catalonia. The park is accessible for everyone and serves as teaching method of history and culture for all the generations visiting the park.
In June 1985 Nicolau Casaus, Vice President of FC Barcelona, laid in place the first stone of Camp Nou and Mini Estadi scale models.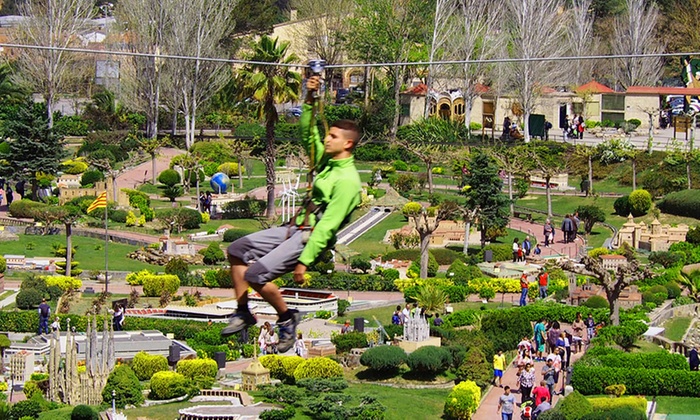 Miniature Park
There are in total more than 150 models of iconic monuments occupying the park, divided into different cities across Catalonia. You can find Sagrada Familia and Camp Nou in Barcelona, 16 models representing Costa Brava and stunning beaches of Girona, 22 model of Lleida and its ski resorts, the highlights of Costa Dorada and 18 models of Tarragona. However, this is not everything that you can see there-there is a special part dedicated to Gaudí architecture in the whole of Barcelona and the educating area of model making.
The scale models of Sagrada Familia church required 13.000 work from six different people, Dali Theater and museum took over 500 hours from two different people, the Montserrat Mountain took over 5,000 hours of work from three different people.
If you haven't got much time to explore more of the region of Catalonia during your stay in Barcelona then a visit to Catalunya en Miniatura is the perfect solution! You'll be able to see all the famous sites of the region including Sagrada Familia, Camp Nou, Figueres-Dalí Museum and Montserrat all within the space of a day. It can be a fun and entertaining day out for all the family with many different activities to enjoy.
There is also an amphitheater, picnic area, restaurant with menu, children's play area and a small train which can give you a tour of the site in 10 minutes.
Adventure Circuits
There is also an adventure circuit, Bosc Animat, with a ropes course and 4 different circuits with varying degrees of difficulty but all with the maximum amount of fun. For the youngest one is Children circuit the most suitable and safe while the Medium circuit is open for children over 8 accompanied by an adult. The Extreme circuit is the most difficult but definitely offers the adrenaline adventure. You can´t miss Tirolina Banzai, the high rope across the part, that let you know all the miniatures from the air. With its 150 meters length and 30 meters high is it a perfect adventure for younger and adult!
Practical information
You can get here by car, it takes approximately half an hour to reach the park from Barcelona. Take the A2, exit 602 and follow signs to Torrellas de Llobregat, the park is located shortly after the sign for Torrellas de Llobregat.
You can also take the number 62 bus from Barcelona at C/Riera Blanca – Trav. de Les Corts and continue on to the park. It takes approximately 1 hour to 1 hour 30 minutes by public transport. It is now possible to purchase a ticket for the park which also covers costs for public transport (return FGC to Sant Vicenç dels Horts and return bus journey).
Prices for the miniature park are 8 € for children and seniors, 11,50 € for an adult. The entrance to Adventure Circuits always includes exhibitions of miniatures, prices are 12,75 – 16,15 € for children depending on the age and 18,30 € for an adult. These prices are available on buying online.
The park is open every day 10.00 – 18.00. In the summer months, it is open for longer until 20.00. During winter it is only open on weekends, however, it is best to check the official website for exact opening times throughout the year.
If you want you can buy your entrance directly here by choosing your visit day on the calendar!