Apartment hunting for expats can be a horrible experience, especially in Spain. Finding the right apartment is difficult.  Finding the right apartment with a suitable starting and ending rent date is even harder. Barcelona is a major tourist destination. The demand for residential property is all-time high. Furthermore, majority of apartment rental companies have no flexible lease period. On top of that, several landlords do not speak English. Nevertheless, Barcelona Home is here to assist you and make your hunt easy-peasy. We have a broad list of simple as well as fancy properties with flexible dates to suit your needs. The properties come in different sizes and designs, providing options to meet your capacity demand. We offer properties in every district of Barcelona. Our apartments are ideal for international students and expats looking for a comfortable stay in Barcelona without having to make commitments to unfavorable lease length. Contact us through email or online chat-bar in our website to learn more about the Expat Apartments Barcelona of your interest.
From 720€ / MONTH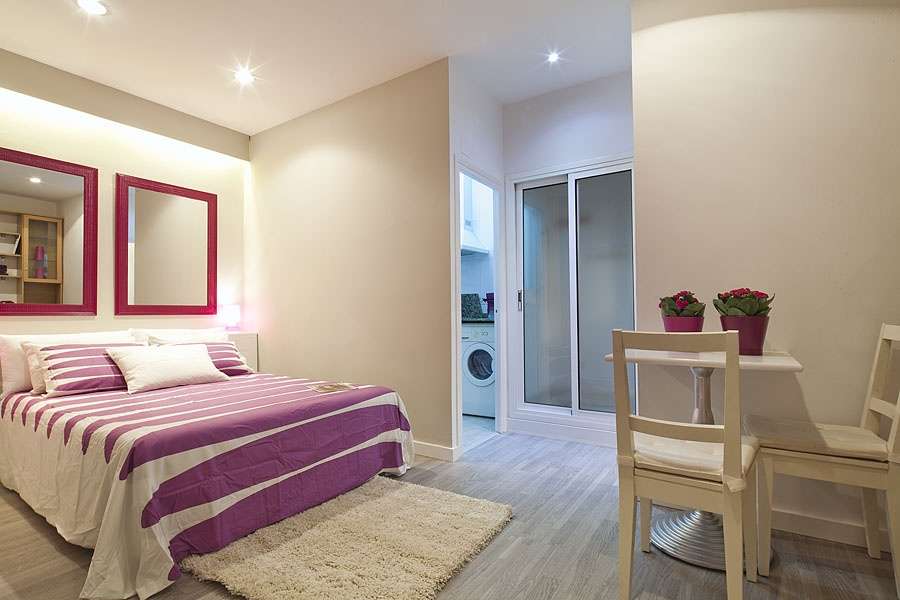 Across from the bed is a quaint dining and work area, with a small table, 2 chairs and a tall wooden shelf set. On the shelf is a TV which can be seen from the bed. Next door is a kitchen with a microwave and a stove. The clean bathroom comes with a shower. While the apartment itself is completely interior and lit by artificial lighting to create an intimate environment, the building comes with a communal terrace with warm wooden floors and a wooden bench. The apartment is located in the el Born area, steps from the emblematic Arc de Triomf and Parc Ciutadella. The Arc de Triomf metro station and several bus stops provide great communication with the rest of the city.
License: HUTB-013054

From 1300€ / MONTH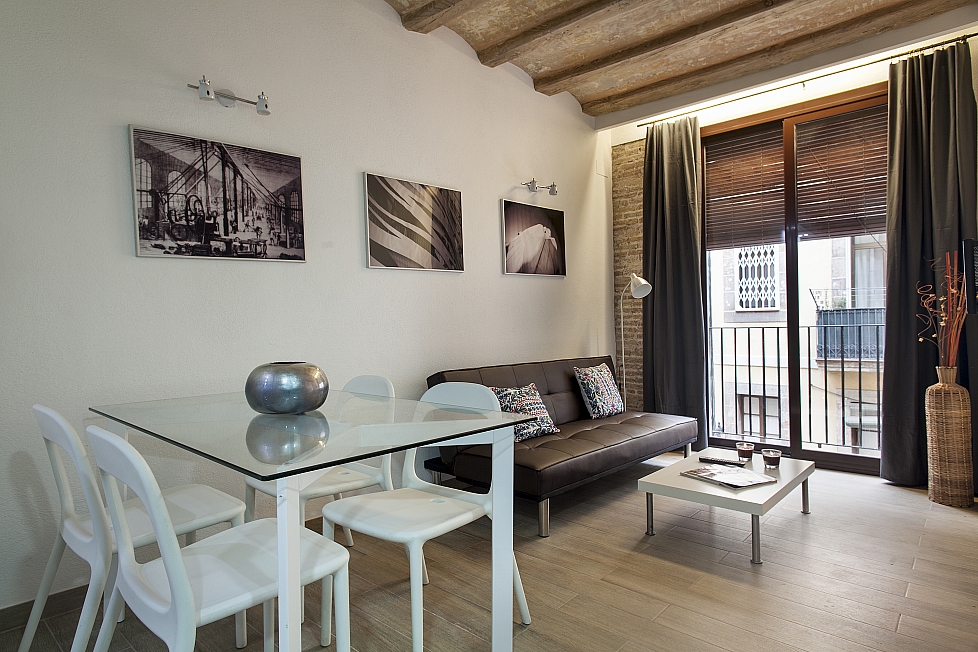 This apartment is in the historic center of the city, in the neighborhood of Born, where there are some of the most interesting restaurants, bars and boutiques. It is newly renovated and carefully decorated to create a fancy and bright environment. Its living room is furnished with a big couch, where you could keep an additional guest. The renovated kitchen is fully equipped for you to cook. You will have an opportunity to stay in the typical part of the old town, where you can enjoy a picturesque view near Las Ramblas and El Borne. Both day and night, El Born has a rich cultural and gastronomic activity. On top of all these benefits, the excellent metro and bus connections, L4 Jaume, L1 Urquinaona, are a short walk from this centrally located accommodation.
License: HUTB-010147

From 91€ / NIGHT
From 1700€ / MONTH



What is the biggest concern when it comes to accommodation hunting? Location, location, location. This classy home has a unique interior design and a convenient location in the city center, the Eixample district. The living room features a red-and-white color scheme, and a collection of modern and vintage furniture
The apartment is located just steps from the Sant Antoni market and its namesake metro station. Within walking distance, you will find the vibrant Plaza Universitat, the MACBA museum, the Biblioteca de Catalunya and the famous La Rambla. We recommend visiting La Boqueria market and buying some fresh produce to prepare at home for your friends and family.
License: HUTB-007580