Set in the peaceful neighbourhood of Les Corts, Hospital Universitari Quirón Dexeus has been nicknamed the ¨Hospital of Knowledge¨ for its strong vocational training facilities in a region that joins together financial, university and research sectors. With over 120 rooms, a team of 400 doctors and access to the latest medical technology, the hospital offers medical attention and first class surgery in a wide range of specialties. Dexeus was also one of the first private university centers in Spain and has maintained a great reputation for training postgraduates and aspiring MIR candidates. Whether visiting admitted patients, working or studying at the hospital, we have selected our top Apartments Dexeus nearby.
From      79€ / NIGHT
From 1500€ / MONTH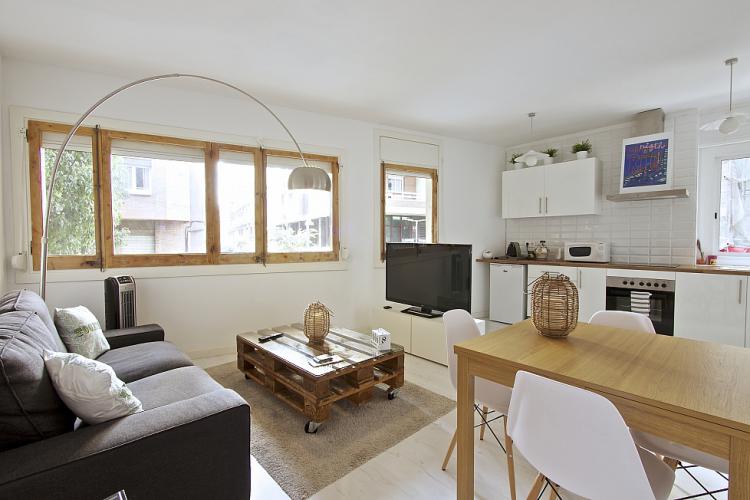 This artfully designed two-bedroom apartment Barcelona comes with a creative mix of styles and decorative elements such as a large arched metal lamp, vintage red Coca-Cola chair and all-white deer head (named Bob) mounted on the wall. The extended living room features a cozy lounge area facing a flatscreen TV which divides the space into the living area and fully equipped open kitchen, decked out with polished white tiles on the wall. A hallway leads to two spacious bedrooms with an elegant minimalist decor, brought about by the whitewashed wooden floors, white furniture and window panels made of refurbished wood. This Les Corts accommodation is perfect as both a short-term stay in Barcelona for friends of a Dexeus patient or for a doctor to live with his family.
The apartment is within walking distance from the hospital, as well as from several parks and green areas perfect for doing exercise in the morning. The area boasts a fantastic shopping scene, as it is just a few minutes from the Corte Inglés and L´illa shopping centers. Proximity to the Les Corts metro station will provide quick access to the city center of Barcelona and Barceloneta beach.
License : HUTB-008031

From 1200€ / MONTH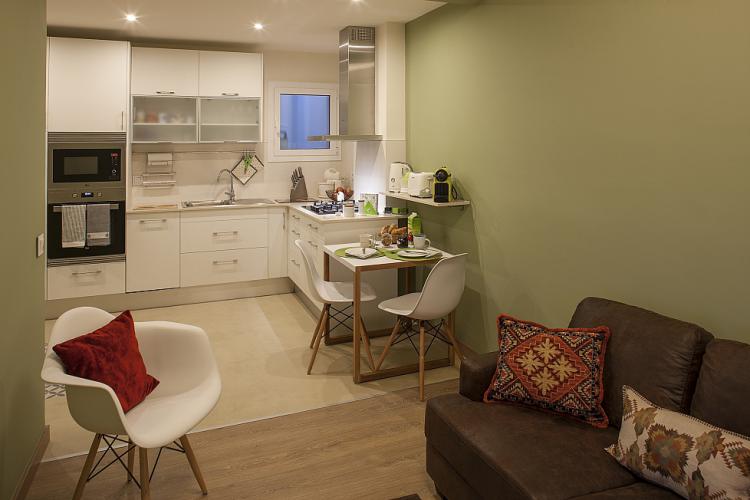 At the heart of this charming monthly rental in Barcelona is its L-shaped open kitchen, equipped with an oven, microwave, stove, fridge, freezer, dish-washer, juicer, blender, coffee maker, kettle, Nespresso machine and even a dishwasher to make cleaning up easy. The spacious kitchen opens to a lovely dining nook and a living area with a cozy leather couch facing a TV. The soft lighting illuminates the warm green walls of the space, which provide a relaxing and homey atmosphere. The bedrooms are tastefully decorated and share a comfortable bathroom equipped with a double sink, washing machine and tumble dryer, making the space perfect to share during longer stays.
This Camp Nou apartment is just steps away from the famous soccer stadium, home of FC Barcelona. Throughout your stay you will enjoy the fantastic shopping scene of this area, with quick access to Diagonal and Gran Via de Carles III, two of Barcelona´s most important avenues. Spend the afternoon strolling through the beautiful Jardins de la Maternitat or go for a run around the green area. The apartment is also close to Sants train station, making it the ideal place to stay for those who would like to take day-trips to Sitges or Costa Brava. If doing so, we suggest we check out our apartments in Sitges and vacation rentals Costa Brava.

From     108€ / NIGHT
From 2400€ / MONTH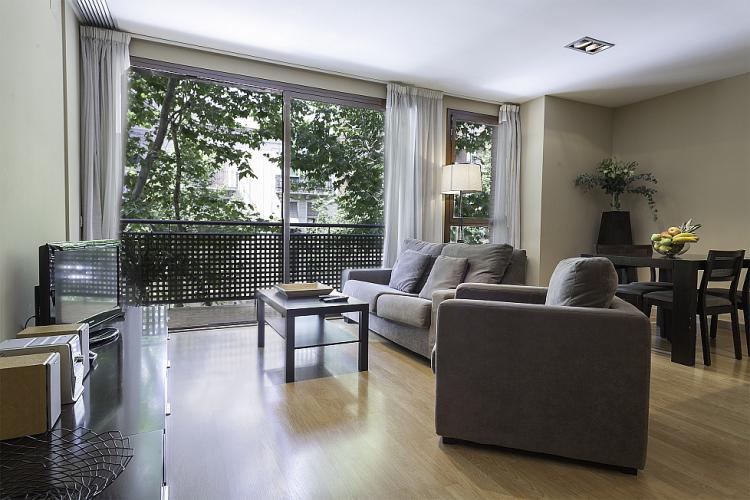 One of our favorite Apartments Dexeus is this elegantly decorated short- and long-term lodging, perfect for friends visiting a patient admitted to the hospital or for medical students looking for a nice home to share. The apartment boasts a very spacious living room with an open design, two sofas facing a TV alongside a long private balcony. Behind the couches is also a peaceful dining area furnished with a black wooden table and a beautiful standing lamp that casts a warm light across the room at night. The kitchen is separated from the extended living room by an elevated counter, and comes furnished with dark brown wooden cabinets and all the cooking equipment necessary to prepare your favorite dishes. The bedroom come with a handsome grey and violet color scheme and feature hotel-quality beds and bedsheets to relax on after a long day.
The apartment is located near the Travessera de les Corts, the neighbourhood´s major thoroughfare that is lined with restaurants, tapas bars and shops. Also nearby are the L´illa and Corte Inglés shopping centers, where you will find anything you need during your stay. The apartment is a short walk from the hospital and from both the Maria Cristina and Les Corts metro station with fast access to the rest of the city.
License : HUTB-002523

Enregistrer