Living in a big city has its advantages, but there may come a time when you feel you are done with the city life, the stress and of other humans.
A house in the middle of the forest or refuge in a semi-abandoned village would be a good choice. Another alternative would be to go to a lonely wilderness of Iceland and take refuge in one of the many isolated houses in the world that exist there.
Here we bring you 30 homes that will be the envy of whoever you want to disconnect from the modern world.
Find your accommodation now!
1) A cabin in the middle of a Scottish forest.
Straight out of a fairytale. An isolated house from the outside world.
2) Red House, Norway.
3) Winter Cabin.
This home will need a good fireplace but it seems a good place to turn to when you're stressed. If you have good stocks of wood…
4) The lonely island home Elliðaey, Iceland.
A place where the only human being will be you. Yes, try not to get sick because it seems not that easy to get to a hospital.
5) Hofskirkja, Isladia.
This is a church in the middle of a beautiful Icelandic meadow. Looks like the perfect place to connect with the divine.
6) House Hobitt, Wales.
If you want to feel like Frodo in Lord of the Rings, we recommend you're moving to this house.
7) A house in another beautiful Icelandic meadow.
Another fairy tale house on the edge of the mountains.
8) Trøllanes, Faroe Islands.
This lighthouse house ensures that the boats do not run aground on some of these islands. A perfect place to meditate at.
9) Holmur Reykjanes, Iceland.
A perfect home to enjoy one of the greatest spectacles of nature: the aurora borealis.
10) The small red house, Iceland.
It might be confirmed that Iceland is the loneliest place, but this is another charming house on the island.
11) Arnarstapi, Iceland.
Silence, meditation, relaxation, reading, calm, peace … you can reach all these by going to this spectacular place.
12) Apuseni Mountains, Romania.
A dream for all explorers.
13) Cottage, Hungary.
In the middle of a huge cornfield.
14) Casita del Lago, Serbia.
Do you feel insecure? It's been standing stable since 45 years. It was built by a group of Serbian swimmers
15) Fields of Gold, Alberta, Canada.
16) House Mountains, Nepal.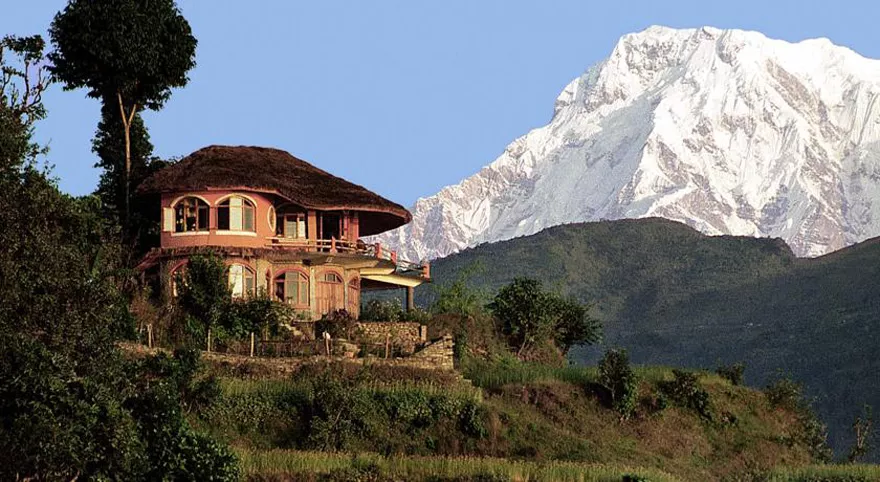 This is not a simple "house" so to speak. The view is over the spectacular Himalayas.
17) Cottage, Australia.
18) Hidden Cottage.
19) Rice terraces, Mu Cang Chai, Vietnam.
20) St. Cado, France.
21) Cottage in the fog, Norway.
22) Crossroads Cottage, Salzburg, Austria.
23) Stoneham, Quebec, Canada.
24) Liptovska Teplicka, Slovakia.
25) Abandoned Cottage, Alps, Germany.
26) Winter Haven, Poland.