Why Sant Marti?
Sant Marti is a large mostly residential area filled with building blocks, on the outskirts of Barcelona. The biggest sights in this district are the massive malls Sant Martí has, including the huge shopping complex of Diagonal Mar or Les Glòries. It has the best apartments in Barcelona for those who would like to live like "real" locals. The population here is mostly working class, small families, young people and elderly, with a great mix of Catalan's and foreigners from both Spain and the rest of the world. Sant Martí is more mixed than other outlying areas, but this gives the area a nice atmosphere. Despite there being few parks and squares, Sant Martí has a large number of outdoor sporting areas, great streets for running and gyms, making this a very popular area with active people.
Sights in San Martí
The biggest sight to find in Sant Martí is the characteristic Torre Agbar, a colorful 38-story office tower opened in 2005. It also marks the gateway to the new technological district of Barcelona: the area called "@22".
There are a few nice boulevards and streets, and occasional churches. If you want to go to Barcelona for sightseeing, base yourself in Sant Martí and use the fantastic public transportation systems to get into the city center where the tourist attractions are densely located. The fantastic Metro lines in Barcelona ensures that you can reach most areas in less than 15 minutes.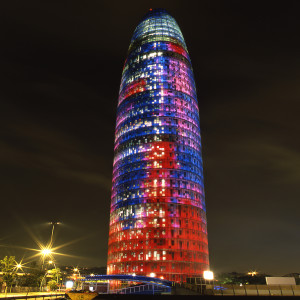 Eating out in Sant Marti.
Sant Marti neighbourhood doesn't offer many culinary experiences. However, it has a lot of fast food places, small ethnic restaurants and bars. Where you can enjoy some tapas and bocadillos. In case you want some really great food you should head to other areas of Barcelona areas more famous for their restaurants.
Drinking & clubbing in Sant Marti.
Sant Martí has the traditional bars and cerveserias which you see all over Barcelona (and Spain). But, it lacks a bit in cocktail bars. If a relaxing drink is what you want, then Sant Marti neighbourhood has plenty for you. If you would like some live music and a bit more energy, then use Sant Martí as your base and head on into the inner city. The rustic tavern "L'Ovella Negra", probably the biggest bar of the city and the "Razzmatazz", with its 5 floors the biggest club of Barcelona are both great spots to visit in this district. If you love diversified night outs, those are probably the best option!
Shopping in Sant Marti neighbourhood.
In Sant Martí there are plenty of shopping options. Because of the district host, not just one, but two huge malls, the Diagonal Mar and the Glories shopping malls. Both of them located on Avinguda Diagonal.
Are you looking for a great accommodation in Barcelona? Look no further, we have what's right for you!