Looking for passion during your stay? After finding your apartment in Barcelona head over to see a flamenco show in Barcelona. Passion, sensation, and arrogance wrapped into soulful dancing. Traditional Spanish culture established in Southern Spain in Andalusia, mixed in with the opera of Barcelona. You will keep an unforgettable memory of it.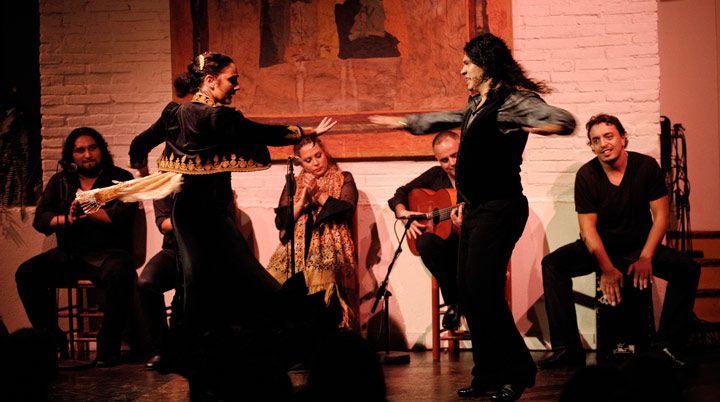 Set at two different venues within central Barcelona: Teatre Poliorama just off The Rambla and a prime location to sit back with a snack and a drink and be blown away by this performance, but, if your standard theater room is not enough, combine a little modernism into an Andalus extravaganza at Palau de la Música Catalana.
Teatre Poliorama
For more than 10 years, the Teatre Poliorama receives flamenco shows. Its intimate environment will give you the opportunity to enjoy in a unique way the two most popular flamenco shows in Barcelona's history: Opera y Flamenco and Gran Gala Flamenco.
Opera y Flamenco is a flamenco show which tells a love story between two dancers, interpreted by their own souls: soprano and tenor.
Gran Gala Flamenco takes the spectator into a journey through different "Palos" (various musical forms) of flamenco with which the spectator will discover the intensity, the passion of the art of flamenco and the new generation of flamencos artists in Barcelona.

 Rambla dels Estudis, 115, 08002 Barcelona


 Consult the calendar here


 25-50€
Palau de la Música Catalana
The Palau de la Música Catalana also presents the Grand Gala Flamenco show because it is the most popular flamenco show of Barcelona. The venue is very large and the music is spreading to every corner of the hall. In addition to a fantastic flamenco show, you can admire the inside of the Palau. You won't be disappointed, it is a beautiful place.

 C/ Palau de la Musica, 4-6, 08003 Barcelona


 Consult the show calendar here


 35-50€