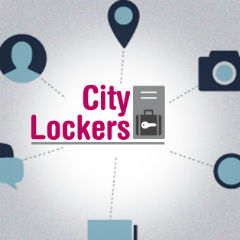 City lockers in Barcelona. Are you on holiday in Barcelona and want to put your luggage somewhere for a few hours? Maybe you have not found your apartment yet, and do not feel to lug around your suitcase? So try City Lockers Barcelona!
Take a quick look at what City Lockers has to offer:
Luggage
We offer two kinds of locks – all locks are protected by a personal code of your choice (no keys)
– Medium (hand luggage) – (width 40cm x height 45cm x depth 60cm)
– Extra Large (more substantial suitcase) – (width 50cm x height 60cm x depth 90cm)
If you are traveling in a group, we recommend to book in advance, contact: citylockers@citylockers.es
Luggage great thing
if you have big things, such as surfboards or bikes, please contact: citylockers@citylockers.es
Delivery of things bought online
You want to shop online, but lack an address to send the commodities to? Contact citylockers@citylocker.es we will keep your things in a room and send you an SMS when they can be collected.
Keys for Apartment Rentals
Are you a landlord and are having issues delivering the apartment keys to your guests? Contact us to arrange and we will arrange this for you. Email us at: citylockers@citylockers.es
Er du husejer, og har problemer med at aflevere nøglen til dine gæster? Kontakt os, og så vil vi arrangere det for dig. Send os en email på citylocker@citylockers.es
Printing of boarding pass
If you need to print your boarding pass before going to the airport, you can come to our office.
For mere information:
Adresse: C / Francesc Pujols, 7 08002 BARCELONA
Telefon: +34 93 304 00 95
E-mail: citylockers@citylockers.es
How to find City Lockers: