General
Barcelona Discovery Packages
Are you planning a trip to Barcelona? Do you need expert advice on where to stay and what to do? Well, you have landed in the right place! This unique city offers fantastic restaurants, more than 2000 years of culture, stunning beaches, a lively bar scene, and many crazy places to party. Birthday celebration, bachelor party, family excursion, city trip – no matter what reason – let us do the planning so you will always be in the right places at the right time.
---
---
DISCOVERY PACKAGE – 69€ pp
Discover the historic heart of the city by biking through "El barrio Gótico" to enjoy a perfect mix of culture, food, and art! Sightsee the city's most famous buildings such as Sagrada Familia, Pedrera, and Casa Batllo during a guided tour (available in English, Spanish, German, French, Dutch, and Italian). After an active day, you can refuel your energy with a tasty and healthy Mediterranean-style dinner. Once the sun goes down, grab your dancing shoes and get ready for a night on the town.
Prices: 
69€ pp
(most suitable for a group of 4 – 70 people) *Subject to availability, larger groups possible on request*
Included:
Guided bike tour (approximately 3 hours), helmets, child seats, 0.5l water bottles (group size max. 20 people)
The Mediterranean dinner menu: 1/2 bottle of wine per person, 1 bottle of water per person, coffee / Alternative: Tapas Menu (group size must be 8 or more people)
Taxi ride to club and guest list entry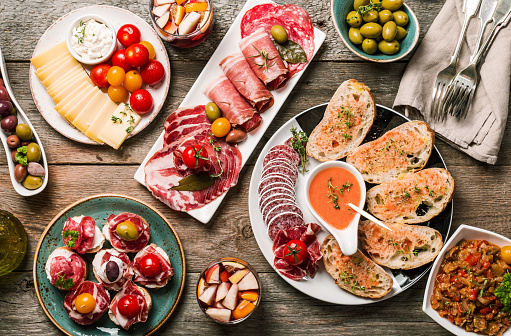 Discovery Package Menu
Bread with olive oil
Amuse Bouche from the chef
Scallops of the World or Tricolore salad of Avocado, Vine tomatoes, Buffalo Mozzarella and Genovese Pesto
Lamb "Royale Style" under a Cloud of Rosemary Potato or Catalan Style Fish and Shellfish Soup
Crema Catalana with Passion Fruit
White or Red wine (half of bottle/ 3 people), Still or sparkling water (1 bottle/3 people), Coffee
Discovery Package Tapas
Toasted Coca bread with tomato and Virgin olive oil / Rocket salad with Fonteta goat cheese, quince, and toasted almonds
Cured Iberian ham / Oven-roasted red pepper, aubergine, and onion with Cantabrian anchovies
Fried green Padrón peppers / Home made cured Jabugo ham croquettes / Patatas bravas,
fried potatoes with aioli and spicy sauce
Grilled asparagus with walnut dressing / Sautéed spinach with chickpeas and Galician pancetta /
Grilled chicken brochette marinated with herbs and spices
Pan-roasted farmhouse sausage with white Santa Pau beans / Grilled squid with lime and chili dressing /
Traditional roast cuttlefish and noodle paella with aioli
White and dark chocolate mousse or Crema Catalana
White or Red wine, Mineral Water
---
---
ADVENTURE PACKAGE – 92.90€ pp
Enjoy the highlights of Barcelona in comfort and style. A professional guide who speaks many languages will show you the best parts of the city: La Pedrera, Casa Battló, Sagrada Familia, Port Vell, and Las Ramblas, and more! The coolest and safest Mercedes Benz e-bikes will make for a smooth ride. At night you are invited to a deluxe Tapas Dinner before hitting the best clubs in Barcelona.
Included:
Guided e-bike tour (approx. 3h), a bottle of water, helmets, insurance
Tapas Menu deluxe including wine, mineral water, infusions, or coffee
Taxi ride to club and guest list entry
Prices and conditions :
From 4 to 20 people
92.90€
*Subject to availability, large groups possible upon request*
Adventure Package Menu
Mushroom Tart with Roquefort sauce Cod fritters
Peppers Stuffed Salmon
Serrano ham Guijuelo
Salmon Carpaccio with pine nuts and raisins
Clams with green sauce
Filled Vol au Vent au Cod
Sausage with beans Lentil salad "Emincés" of pork
Tenderloin Stroganoff tuna with lettuce and orange vinaigrette
Toast with Coca Maresme tomatoes and olive oil
Catalan cream or assorted sorbets
White wine, Red wine, Mineral water, Coffee, Tea, Carquinyolis
---
---
PREMIUM PACKAGE – 179.90€ pp
Get to know Barcelona from three different perspectives: land, air, sea. Ride an e-bike through the streets, get a bird's eye view from a cable car or helicopter, and enjoy the skyline while sailing along the coast of Barcelona. At night you can enjoy a fresh seafood dinner in front of the Mediterranean sea before feeling like a VIP in the hottest clubs in Barcelona.
Included:
Guided tour (approx. 4h), a bottle of water
3-course dinner "sea view" including red or white wine (1 bottle / 3 people), mineral water, tea, coffee
Guest list entry to a club and 1 bottle of Vodka in the VIP section (1 bottle / 4 people)
Prices and conditions:
From 4 to 12 people
179.90€
* Subject to availability, larger groups available upon request*
Premium Package Menu
Welcome Cocktail Cava Brut Nature
Shrimp and mango salad with raspberry vinaigrette
OPTIONS TO CHOOSE 72 HOURS BEFORE THE EVENT:
Hake Supreme at " Donostiarra Style " with vegetables or Veal Entrecot with green pepper sauce with rice pilaf
Apple cake " Tatin " with Vanilla ice cream
Bread with tomato, Mineral water, white wine / red wine (1 bottle / 3 people), coffee, tea, petit fours
---
---
CUSTOM PACKAGE
If the Discovery, Adventure, or Premium Packages are not a fit, let us customize a personal package for you that makes your dreams come true. Whether it is Tapas or Seafood, Italian or Mexican, or a traditional Spanish restaurant, we will make it happen. You are welcome to add outdoor events, relaxing spa days, shopping, and even tours for culture and art. We are here to plan and perfect your ideal adventure throughout Barcelona from transportation by limousine, motorcycle, train, or helicopter to your arrival at each activity, we are a flexible and accommodating team eager to suit your every need!
---
---
CORPORATE PACKAGE
Do you need help planning a business trip to Barcelona with employees, clients, partners, or stakeholders? Barcelona offers the perfect experience for every kind of business. BCN Airport is the second largest in the country, as it serves millions of people every year, providing a strategic position for businesses involved in trade and commerce. In addition to air travel, our high-speed railway systems such as the AVE connect Barcelona to the rest of Europe through a convenient network of trains.
The city also offers one of the best MICE (Meetings, Incentive, Conferencing, Exhibition) services for businesses in Europe.  International fairs such as the Mobile World Congress and EIBTM are regularly hosted in our luxurious city perfect for business tourism. No matter the size or scope, we are a professional and widely reaching team equipped to create a package that fulfills your business requirements.
For pricing, inquiries, and bookings, please contact us below.
If you are interested in overnight accommodations, please click here to view our apartment rentals in Barcelona