General
Simulator Coach GT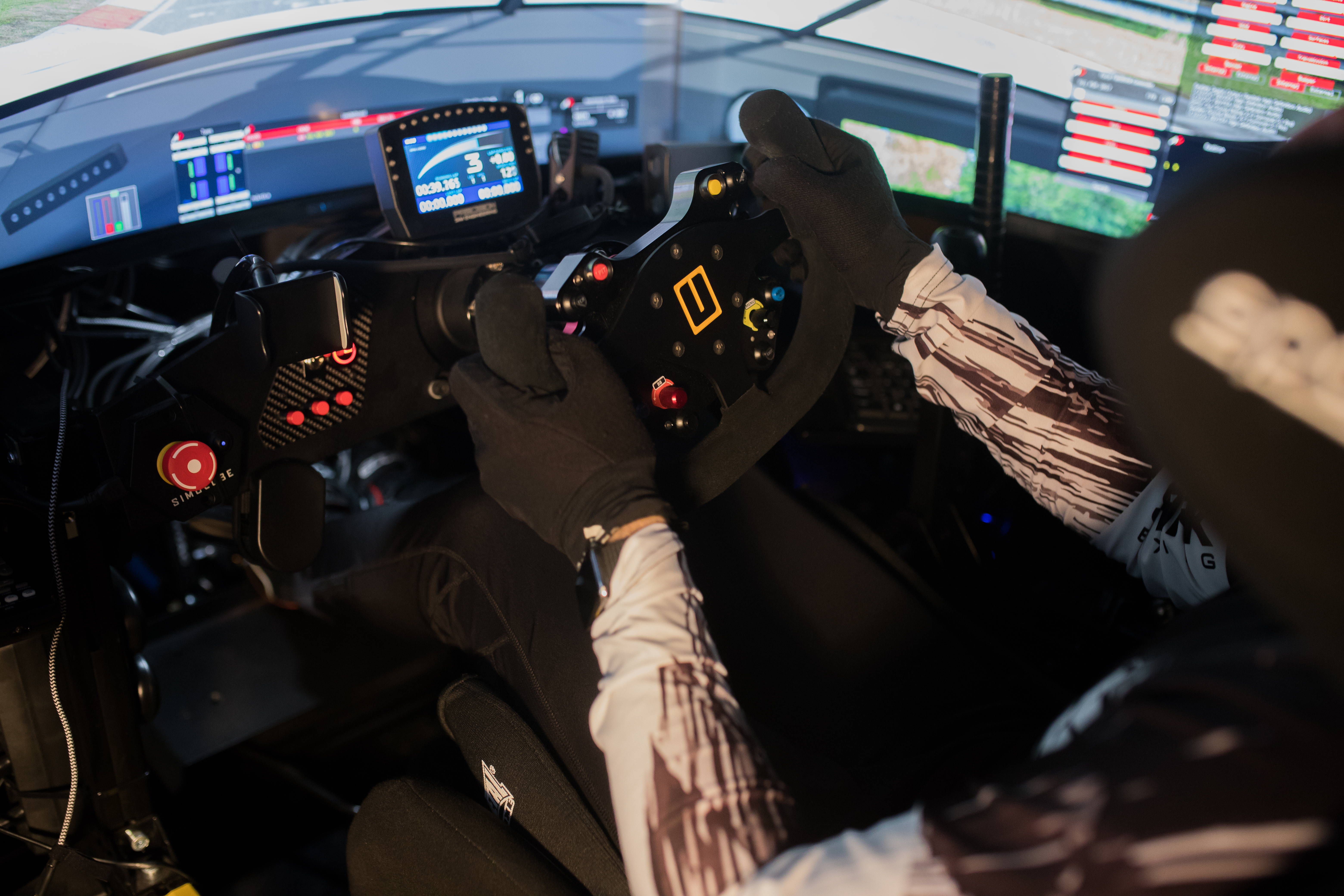 Learn to be a GT driver today! Have you ever wanted to have the experience of driving a GT without paying as much… Why not try one of our simulators? These sessions are coached simulator experiences aimed to teach you how to drive an actual GT at a cheaper price. You can learn all the tricks and techniques of a GT driver from the comfort and safety of our simulator.
We have combined the highest quality aspects of multiple simulator producers to create the ultimate simulator. Sourced from Simlab, Turn, and Archer, our simulator is a combination of all the best products. This triple-screen experience is sure to be the closest thing you can get to an actual racetrack ride.
Our Turn steering wheel tracks your movements and reinforces them into the simulation with minimal lag time to create the most realistic experience. Furthermore, our Simlab racing seat provides you not only with additional comfort but also the shape and hold of that which you would expect to find in a GT on the racetrack. The LG triple screen setup provides you with panoramic views as if you had both side windows and the windshield of an actual GT.
This high-tech software coaches you through the ride, helping to improve your skills along the way. At the end of the ride, the simulator provides you with a thorough analysis of your achievements and areas that you can improve on. This is a unique experience that you will not find everywhere.
As a memory or souvenir you can take home the pictures and videos we take during your experience to share with your family and friends!
Products
Basic: 30€/ 10 mins
Standard: 70€/ 30 mins
Premium: 120€/ 1 hour
Contact info
Email: [email protected]
Phone: +34 696 816 736
Location
Plaça de Catalunya, Barcelona

Cancellation Policy
You are able to cancel 7 days before with a full refund
If you cancel 24hrs before, you will not receive a refund
If we are experiencing technical difficulties with the simulator, we will provide you with an alternative day for your experience
Frequently asked questions
How old do I have to be? 16+
How tall can I be? 160 – 180
Can I bring a friend? No, the simulator is only for 1 person
Can I book more hours of the experience on the same day? Yes, if there is availability you can extend your experience on the same day
Can I buy this experience as a gift? Yes
How long does it last until the experience expires? 3 months
Health & Safety
Please contact us with any health concerns or limitations you may have in relation to this experience, in order for us to provide you with the best experience possible
COVID-19
We are a company committed to Covid security measures

We disinfect our equipment in each service
We have alcohol and disinfectant
The use of a mask is mandatory in our facilities
Reviews
John Stevens
MY SON LOVED IT
"I took my son to this GT Simulator and he absolutely loved it! Quite fancied a go myself to be honest ahahah"
Rosa Williams
VERY ENJOYABLE
"I got this experience as a gift for my husband on our trip to Barcelona. He can't stop raving about it, he had a fantastic time, thank you!"
If you are interested in overnight accommodations, please click here to view our apartment rentals in Barcelona