MANAGEMENT AND MARKETING SUPPORT INTERNSHIP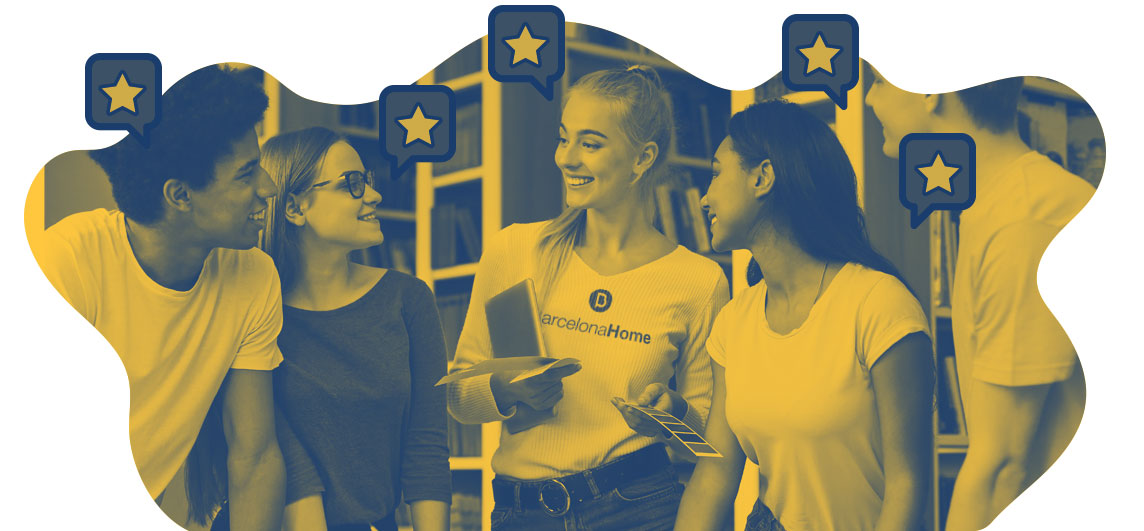 Are you looking for an internship in Barcelona? Would you like to join an international team and get useful work experience for your future career? If yes, join our team! We are constantly looking for ambitious and hard-working talents to our team. Our interns work with tasks and projects that match their educational path and professional interests.
MANAGEMENT AND MARKETING SUPPORT INTERNSHIP
About the Company:
Internship Barcelona is an internationally recognized and award-winning company based in the beautiful city of Barcelona, that has successfully grown over the years, providing a wide range of services to meet the contemporary demands of our clients. Company has business lines in the following fields: Rentals, Event Management, Real Estate, Leisure, Fashion, Media, and Travel Guides.
We have a multicultural team and we are constantly looking for passionate and hardworking talents to join our team. Especially talents who want to develop interest in projects in various challenging branches. We are looking for all round talents who are motivated to work in a young company with a small international team. Do you have a hands-on mentality, an organized way of working and are open towards new challenges?
Description of the position:
– Creating descriptions of advertisement texts, widgets and fixing the blog webpages (using Links, Grammar, Pictures, widgets, etc. HTML),
– Writing and translating articles and posts about Barcelona touristic sights and events and designing the layout of articles (adding pictures, links, widgets, etc.),
– Customer service and sales through the phone and via email, handling reclamations, bookings,
– Creating and implementing social media strategies,
– Practicing Google webmaster tools and other social media managing platforms,
– Monthly evaluation of the success of our social media accounts,
– Creating and assisting recruitment and retention initiatives,
– Assisting with posting job offers, screening resumes, scheduling interviews, and answering questions from applicants & Hiring Managers,
– Supporting employee service related project roll-outs, communication and organizational change management,
– Completing all other duties as assigned or requested for the general support of the organization,
– Managing projects and being in charge of various participating interns,
– Interviewing people (models, interns etc.),
– Organizing castings, events and bookings,
– Updating and improving SEO strategies to improve the site's rankings,
– Promoting Barcelona Home (meeting potential customers, cooperators, sponsors, joining events),
– Participating in other projects/tasks if needed.
Requirements:
– Intern must have a university agreement letter/contract,
– Advanced level in English (minimum: B2), Spanish is a plus,
– Ability to manage multiple tasks at once,
– Ability to establish and maintain positive and professional relationships with co- workers,
– Cultural sensitivity and ability to associate appropriately and effectively in a diverse workplace and with a diverse client base,
– Ability to work independently.
What we offer:
– gaining experience and developing your own management and marketing tools and abilities,
– an environment where you can practice the language (English or Spanish) with real-life situations,
– being a part of our international team (from all over the world, not only Europe),
– free participation in our company events.
PAY ATTENTION:
– this internship is unpaid,
– location: Barcelona (possibility to work remotely),
– minimum stay: 2 months.
For contacts: If you have any further questions, you can contact us: +34 696 816 736. or bcn.internships@gmail.com
For more information, please take a look at our website: https://barcelona-home.com/en.
Please remember this offer is all year open.
OUR INTERNS SAYS
"I was always challenged with interesting tasks and surrounded by a lovely
international team that was a pleasure to work with.
Your internship in Barcelona-Home is definitely a good choice!"
– Anna Pedersen, Social Media intern 
---
BASIC REQUIREMENTS  
Advanced level of English , the knowledge of Spanish is highly appreciated but not mandatory.

The length of the internship can be between 3 and 12 months .
You can start your internship at any time of the year if there is an open position available.

For this internship it is necessary to have health insurance as well as an accident coverage
valid in Spain  for the time of staying under the internship contract here in Barcelona-Home.
This is an obligatory requirement. If you don't have one of the documents,
you can ask for more information during your interview.
INTERNSHIP AT BARCELONA-HOME
Our offices are open from 08:00 until 20:00 7 days a week. You'll be working up to 8 hours per day and max 40 hours per week. Working days depend on the department you work at (it might be mandatory to work in the weekends). The schedule will be determined by the supervisor. All our internships are unpaid, but we offer jobs after the internship period for those who fit in our team.  It is necessary that you are able to bring your own computer that you will use on a daily basis.
Besides our regular internships, Barcelona-Home also offers our interns the opportunity to complete their internships remotely. If you are interested in a distant internship, take a look at the options that we offer.
---
APPLICATION PROCESS
HOW TO APPLY?
If you want to apply for one of our internship positions, feel free to fill in our application form .
If you have any questions, do not hesitate to contact us by email
---
OUR WORKSPACE