ACCOUNT MANAGER HOSPITALITY INTERNSHIP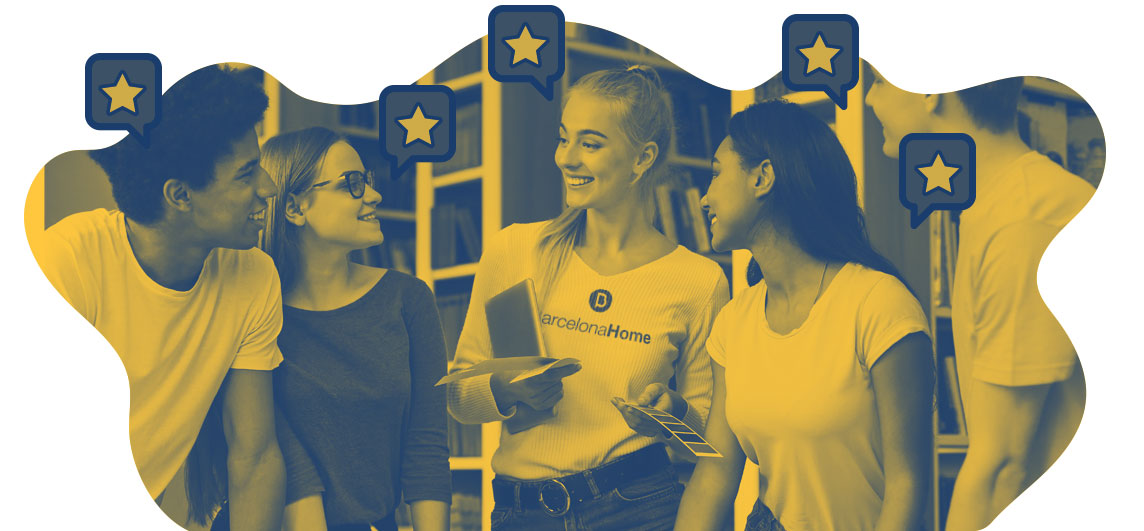 Are you looking for an internship in Barcelona? Would you like to join an international team and get useful work experience for your future career? If yes, join our team! We are constantly looking for ambitious and hard-working talents to our team. Our interns work with tasks and projects that match their educational path and professional interests.
ACCOUNT MANAGER HOSPITALITY INTERNSHIP
Barcelona-home offers different positions for internships throughout the year to be part of the team, we are welcoming you in our company if you are in one of the situations below :- As part of your studies or simply voluntary stays to gain professional and cultural experience.- Full time or part time, depending on the needs of the company and your schedule.

– For a minimum period of 3 months, with the possibility of extending them.

– In the following departments: Customer Service/Marketing/Accounting/Accounting/Sales/IT/Communication.

The tasks you could learn and develop as an intern in our company are the following:- Searching, writing and editing content for our website.- Researching and writing content and updating our social platforms.

– Manage relationships with partners and clients as well as seeking new collaborators.

– Respond to customer requests by e-mail and phone.

– Collaborate in marketing campaigns and create marketing content.

– Translate texts to publish on our website.

– Keeping the reservation database updated and accompanying our clients to the apartments.

– Check ins and check outs

– Contact clients

– Manage and make budgets.

– Welcome visitors

– Publicity and promotion

– Marketing

– Having good english is a requirement

– Speaking Spanish is a plus for the application.

Each type of internship requires a different student profile. The necessary requirements in all cases are:- Be currently studying and/or be able to make an agreement with your university or school.- Have a good level of English or Spanish. Any other language will be a plus. – Be responsible and hardworking.

– Have excellent communication skills and a proactive attitude to match our team mindset.

– Be ready to learn and explore a new way to work and travel!
For contacts: If you have any further questions, you can contact us: +34 696 816 736 of through mail [email protected]
Please remember this offer is all year open.
Management Assistant
---
OUR INTERNS SAYS
"I was always challenged with interesting tasks and surrounded by a lovely
international team that was a pleasure to work with.
Your internship in Barcelona-Home is definitely a good choice!"
– Anna Pedersen, Social Media intern
---
BASIC REQUIREMENTS
Advanced level of English , the knowledge of Spanish is highly appreciated but not mandatory.

The length of the internship can be between 3 and 12 months .
You can start your internship at any time of the year if there is an open position available.

For this internship it is necessary to have health insurance as well as an accident coverage
valid in Spain for the time of staying under the internship contract here in Barcelona-Home.
This is an obligatory requirement. If you don't have one of the documents,
you can ask for more information during your interview.
INTERNSHIP AT BARCELONA-HOME
Our offices are open from 08:00 until 20:00 7 days a week. You'll be working up to 8 hours per day and max 40 hours per week. Working days depend on the department you work at (it might be mandatory to work in the weekends). The schedule will be determined by the supervisor. All our internships are unpaid, but we offer jobs after the internship period for those who fit in our team. It is necessary that you are able to bring your own computer that you will use on a daily basis.
Besides our regular internships, Barcelona-Home also offers our interns the opportunity to complete their internships remotely. If you are interested in a distant internship, take a look at the options that we offer.
---
APPLICATION PROCESS
HOW TO APPLY?
If you want to apply for one of our internship positions, feel free to fill in our application form .
If you have any questions, do not hesitate to contact us by email
---
OUR WORKSPACE