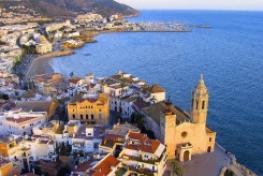 Holiday apartments for rent in Sitges
Sitges is located 35 km southwest of Barcelona and is known as one of the most popular vacation spots on the Costa Dorada (Golden Coast). It's a calm and lovely place that becomes especially lively during two internationally famous events, the film festival Fantástico and the Carnival of Sitges. Nowadays Sitges has become one of the most gay-friendly places in the world, as the local population tends to be much more tolerant than those of other Spanish and, generally, European holiday destinations.

<h2>What's up in Sitges?</h2>

Sitges can be divided into four different zones, each with its own unique properties: the hills, the coast, the city center and the countryside. The hills are quite calm, a cozy place to spend the weekend with family. From the hills you will enjoy wonderful panoramic views and gentle rays of sunshine throughout the day. This region is only 10 minutes away by car from the city center.

The coast of Sitges is quite popular amongst tourists, especially during the peak of the summer season, between June and September. There are several opportunities to go out, night or day, as the seafront is known for its impressive variety of beach bars (chiringuitos) and restaurants specialized in seafood. The coast is just a few streets from the city centre and easy to access on foot.

The picturesque city center of Sitges captures the imagination of visitors with its charming alleys and boutique shops. It is perhaps the most convenient place to live, as it is close to both the coastline and the majestic hills. There are several popular tourist attractions in the center, including the Iglesia de San Bartolomé y Santa Tecla and historical residences, as well as cafés, boutiques, colleges, language schools and a good public transportation system. One can also easily get to Barcelona from Sitges, as the train between the two takes only 40 minutes.
Latest reservation 11 minutes ago