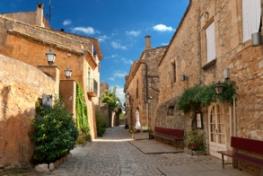 Peratallada - Rent apartments for days, months and years
The village of Peratallada is a bastion of Catalunya´s historical, artistic and cultural heritage and is one of the most important centers of medieval architecture in the region. It is blessed with extraordinary beauty, retaining several original feudal aspects, including its narrow, winding streets, its fortified castle, its palace (XII-XIV), its walls (XII-XIII centuries) and the Church of St. Stephen (from the early 13th century). There is also a great moat surrounding the town, excavated from rock.
Peratallada - Costa Brava (
View map
)
Ref. BH-1631
Daily rental
1 results found.
Latest reservation 10 minutes ago