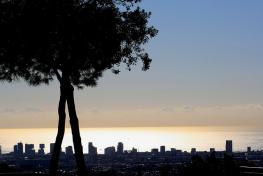 Apartments in Les Corts, Barcelona | day, week, month, year rent
On our website, you can find suitable for you apartments in Les Corts area of Barcelona. Why stay in Les Corts? The neighborhood of Les Corts is where most of the city's universities are situated, giving the area a youthful and vibrant feel. This region boasts a large number of parks and beautiful gardens, making it perfect for those who like to take long, leisurely walks or to exercise in the morning. If you are a football lover, you may want to rent one of our apartments in Les Corts because of the most significant sporting attraction in the city, FC Barcelona's famous Camp Nou football stadium placed here. Universitat Politècnica de Catalunya is also positioned in that area, which is good for students that come to study in Barcelona and want to live nearby.

Tourists rent apartments in Les Corts, due to lots of cafés, bakeries and picturesque terraces, where one can soak up the sunlight during the warmer months of the year. In terms of architecture, Les Corts features a fusion of contemporary style (international corporations, universities, hotels, etc) with the classic 19th-century style prevalent in other parts of the city. All in all, Les Corts is well worth a visit.

Whatever the reason for your visit is: studies, work, trips or just living, Barcelona Home can help you in selecting and booking of real estates. We have plenty of different offers, starting from cheap studio apartments to expensive penthouses and houses. Don't hesitate to contact us to receive some advice for planning your short or long term stray.

Les Corts - Barcelona (
View map
)
Ref. BH-3869
Monthly rental
Les Corts - Barcelona (
View map
)
Ref. BH-6163467
Monthly rental
2 results found.
Latest reservation 10 minutes ago