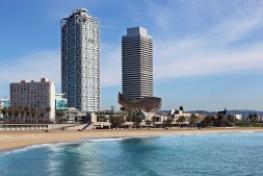 Apartments in Vila Olimpica - Rent apartments for days, months and years
Vila Olímpica, within the district of Poblenou, is located right by the majestic Port Olímpic - one of the most beautiful harbors in Barcelona. This region is also home to some of the city´s most popular and bustling nightclubs. Until 1992 this region was largely an industrial one, but when the Olympic Games were held in the city in that year, the area experienced major reconstruction and renovation. Nowadays Vila Olímpica is a popular place to stay with more than 2000 available apartments.

La Ciutadella park, the city center and the most popular shopping streets of Barcelona can easily be reached on foot or by taking the metro. La Vila Olímpica is the perfect choice for the traveler who wants to stay close to the beach but also has access to the interior of Barcelona.
Latest reservation 14 minutes ago