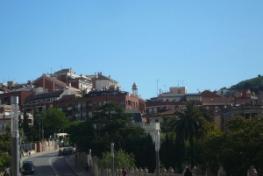 Apartments in Vallcarca, Barcelona | short or long term rent
Barcelona Home has prepared for you a list of apartments in Vallcarca and a couple of other real estates on this web page. Check what we can offer, find something that suits you and start the booking process. Vallcarca is an area located in the north of Barcelona and is best known for its metro station with a 93-meter platform, it is also well-connected with the rest of the city. And if one wishes to descend into Barcelona's city center, one can get on board the metro line L3 and in just fifteen minutes arrive at the main shopping street, Passeig de Gracia. Moreover, Vallcarca neighborhood is positioned between three beautiful and famous parks: Parc del Turó del Putxet, Parc de la Creueta del Coll, and the well-known Park Güell where you can have a spectacular view over the city.
The region is situated close to the mountains and is just a few steps, or rather a short walk uphill, from several wonderful hiking trails in the mountains. It is the perfect neighborhood for the nature-loving traveler and for those who wants to explore others neighborhood than Barceloneta or el Raval.

To rent one of our apartments in Vallcarca would be, as well, a good choice for those who are seeking a quiet place to relax after a long day, or who want some privacy. Barcelona Home can provide you the best-renting experience in a silent area of Barcelona like Vallcarca. We offer a different kind of accommodations, starting from studio apartments to penthouses and houses. Also, we have different rental options, cheap or expensive, short term rentals (day, week), and long term rentals (month, year). If you have any question or you need some advice in the selection process, please, contact us. We can help in making your stay conformable and stress less.
Vallcarca - Barcelona (
View map
)
Ref. BHB-1414
Daily and monthly rental
1 results found.
Latest reservation 14 minutes ago