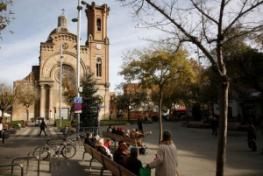 Apartments in Sant Andreu, Barcelona | short of long term rent
Below you can see all the apartments in Sant Andreu area of Barcelona we have on our website. Why renting in Sant Andreu? If you are a tourist coming on vacation to Barcelona, and after visiting the tourist attractions of beautiful Catalan capital you want to rest, this peaceful neighborhood situated in the northeast of Barcelona is best for you. It is an area less known to tourists, but still with a lot to offer. The streets and plazas are filled with history, and you will find a huge variety of restaurants serving some of the best tapas in Barcelona at more than reasonable prices. It is also a good and silent place to settle by for a long term stay.

The area is well connected, it has buses and metro lines like L1, L5, L9N, L10N also some regional ones. The area has a bunch of little parks, shops, and cafes. We have a couple of real estate variants to propose you. Starting from studio apartments in Sant Andreu to luxurious penthouses and houses, from cheap apartments to the expensive ones. You can always contact us, to receive some advice about accommodation, and assistance in the apartment to rent selection.


Latest reservation 7 minutes ago