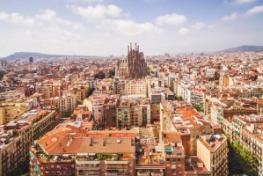 Apartments in Navas, Barcelona | Short or long term rent
Interested in renting an apartment during your stay in Barcelona, Navas could be the perfect neighborhood for you! Navas in Sant Andreu is a peaceful neighborhood situated in the North-East of Barcelona. The modernization of the neighborhood has helped to create a unique identity. It is an area less well known to tourists, however there is much to like about this quaint area of Barcelona. Navas and Sant Andreu District are well connected to Barcelona city centre by both metro and bus. Numerous shops, supermarkets as well as bars and restaurants can also be found nearby.The streets and plazas are filled with history and there are many restaurants in the area housing some of the best tapas in Barcelona at more than reasonable prices. In May Navas holds its annual 'Fiesta mayor', a celebration of culture through food, dance and activities.
Our Navas apartments are a great recommendation if you are looking to stay in a quieter, family friendly neighborhood that is also centrally located. Our range of prices and apartment styles is a fantastic place to start looking for your short or long term stay with us in Barcelona. Feel free to contact us with any questions you may have on the Navas neighborhood or any other area you are looking to rent in.
Navas - Barcelona (
View map
)
Ref. BHB-91254
Monthly rental
1 results found.
Latest reservation 7 minutes ago