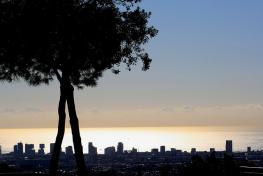 Apartments in L'Hospitalet de Llobregat, Barcelona | Day, week, month, year rent
Apartments in L'Hospitalet de Llobregat are placed in a beautiful municipality of Catalonia, known for its dense population and a large percentage of foreigners. In 2006 over 22% of the region´s inhabitants were from abroad, a large portion of them from the Americas. Hospitalet is made up of two very different areas. If you wish to breathe in the fresh sea air or rest your eyes on the beautiful Mediterranean coastline, La Marina is the place for you. If you´re more into parks and green area, El Samontà known for its beautiful hills, this is the area you should be looking in. Hospitalet has a little bit of everything, including a vibrant urban center, a breezy seafront, and a peaceful green region. It´s the perfect place for a weekend vacation or extended stay near Barcelona. L'Hospitalet de Llobregat area is very well connected by the metro and tram lines, and also busses, that will give you quick access in any part of big Catalonian capital - Barcelona.

Barcelona Home can offer you any kind of real estates for rent, like student rooms in shared apartments, beautiful houses, penthouses, studio or spacious apartments in L'Hospitalet de Llobregat. We are a native Barcelona company, which has a priority to make their clients have a good and easy renting experience. If you will have any questions while the booking process, also, if you have any questions or need advice, you can always contact us.
Hospitalet - Barcelona (
View map
)
Ref. BHM2-3850
Monthly rental
Hospitalet - Barcelona (
View map
)
Ref. BH-3418
2 results found.
Latest reservation 14 minutes ago