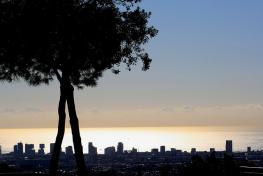 Apartments in Horta-Guinardó, Barcelona | Short/long term rent - Barcelona Home
Barcelona-Home offers different rental types for the apartments in Horta-Guinardó, Barcelona district, which consist of 11 neighborhoods: El Baix Guinardó, Can Baró, El Guinardó, La Font d'en Fargues, El Carmel, La Teixonera, Sant Genís dels Agudells, Montbau, La Vall d'Hebron, La Clota, and Horta. Horta-Guinardó apartments in any of these zones have their own charm. Horta-Guinardó has an abundance of narrow pedestrian streets and old buildings. Still, there are remaining a handful of farmhouses and fortresses, as well as aristocratic estates dating back to the 19th century. This district in the past was the center for the cycling, tennis, and archery competitions. Also, two of the most popular tourist attractions from the list "must visit", Parc del Laberint d'Horta and Turó de la Rovira is located in this district. The second is the most admirable and free observation deck with panoramic views of Barcelona, super popular between young people. It will always be an enjoyable experience to catch the sunrise or sunset with the view on the big Catalan capital - Barcelona.

You may want to rent an apartment in Horta-Guinardó because it doesn't get much tourist traffic, so it keeps its own Catalan identity. It is a residential region with dozens of apartment buildings and boasts a peaceful, safe atmosphere perfect for those seeking a more suburban environment, far from the hustle and bustle of the city. However, it is very well-connected by public transport, so, for someone that wants to visit the popular points of interest from the city center of Barcelona will not be a problem to get there.

We are a local company, that has a couple of real estate variants and apartments in Horta-Guinardó to suggest you. Starting from studio Horta Guinardó apartments to luxurious penthouses and houses, from cheap to the expensive ones. You can always contact us to receive some advice about accommodation and assistance in choosing an apartment for short or long term rent.

Horta-Guinardó - Barcelona (
View map
)
Ref. BHM2-3775
Monthly rental
Horta-Guinardó - Barcelona (
View map
)
Ref. BH-3592
Monthly rental
2 results found.
Latest reservation 10 minutes ago