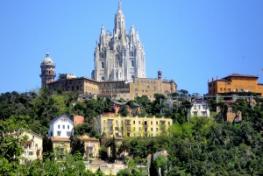 Apartments in Sarría San Gervasi, Barcelona | Short or long term rent
On Barcelona Home website you can find some apartments in Sarría San Gervasi friendly area of Barcelona. This neighborhood is an upper-class region characterized by quiet, peaceful streets and plazas. At the intersection of Santaló and María Cubí, you will find out what is arguably the highest concentration of fashionable spots in all of Barcelona. Many of the people visiting this district are young and stylish and there are several bars and clubs in which you will find good music, nice drinks and tons of fun. At Francesc Maciá plaza you will experience some of the best nightlife Barcelona has to offer. Sarría San Gervasi is also one of the nicest and safest districts to live in Barcelona.

In this Barcelona region are also situated some educational institutions. So, either you are a student coming for your studies in Barcelona and you are searching for rent, either you are just a human that doesn't want to live in crowded neighborhoods of Barcelona, we have suitable short or long term rent offers for you. Barcelona Home can propose you a lot of apartments in Sarría San Gervasi area, from luxurious apartments to cheap ones. We have also rooms, studio apartments, big apartments, penthouses, and houses for rent. Contact us if you have any questions, or if you need some advice during the selection or booking process.
Latest reservation 7 minutes ago