Do you have an apartment to rent?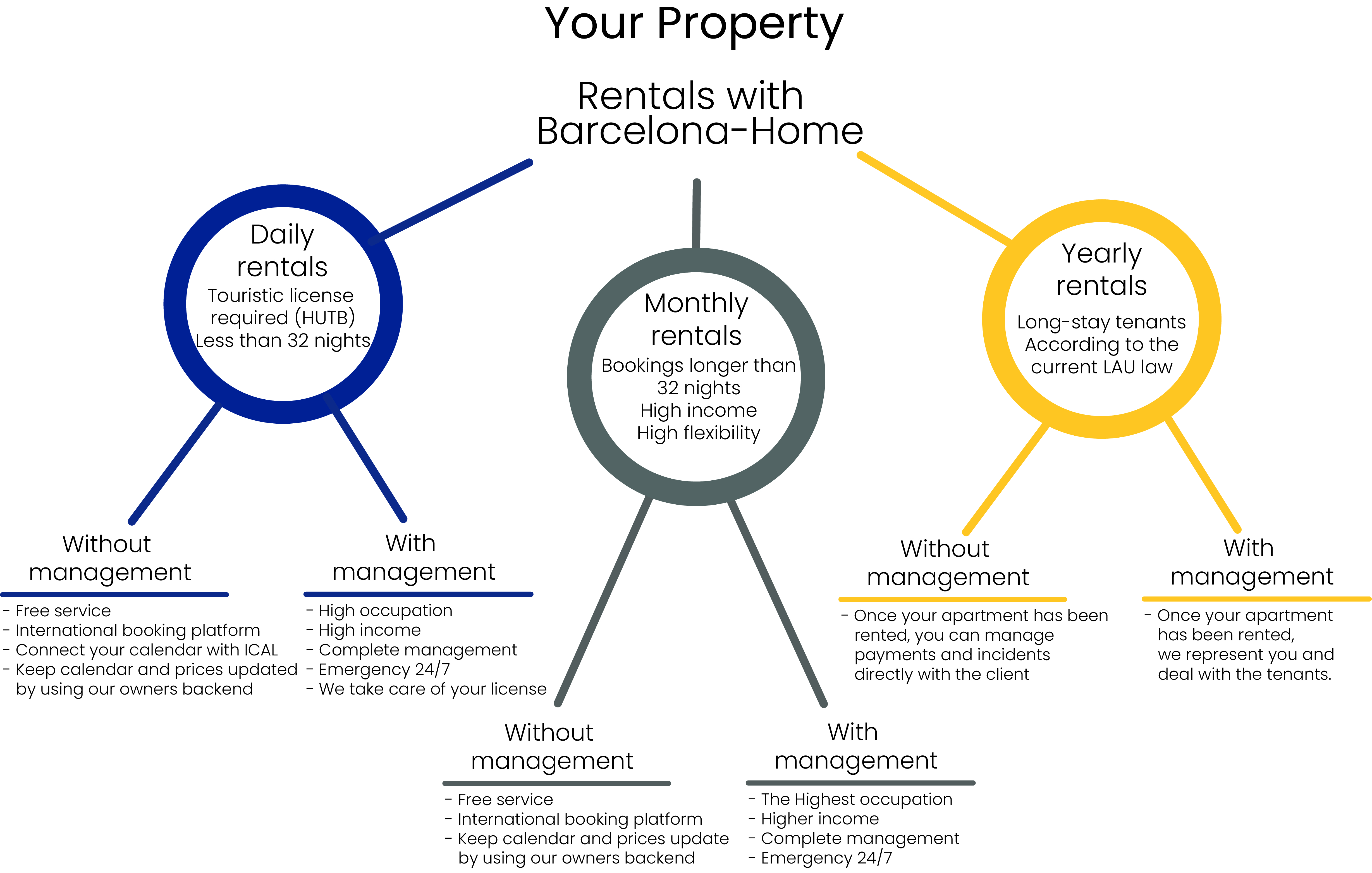 About us
Barcelona Home was founded in 2006 as a result of the continuous growth of the tourism sector and the demand for tourist and temporary accommodation in the city of Barcelona. We are an online platform through which you can already book about 1000 apartments for days, months or years and many other properties to hold events. Hundreds of owners and property managers already use our online booking platform to get reservations for their accommodations. If you prefer to manage your apartment and each reservation, you can choose the option without management for any type of rental. You can see more information in the without management section
Furthermore, every day more owners trust us for the complete management of their property. We handle every detail and every step in order to rent out your property: preparation, marketing, revenue reservation management and customer care, always thinking of getting the greatest benefit for its owner. If you want to free yourself from all the worries about your apartment, and get the maximum benefit from it, the option with management is the most suitable for you. You can see more information in the with management section
Documents for publication:
To publish a property on our website, the owner or the person that represents the property will be required to present the documentation that certifies the legitimacy to rent or manage the property.
.
>>Download PDF presentation Rentals with Full Management .


For more information send us an email to [email protected]
+34.  622 574 026
Rentals without full management (as an online booking platform)

– Our service is totally free. We only charge a small commission directly paid by the client upon confirmation.
– You will have access to an "online management tool" that will allow you to visualize your bookings calendar, check your reservations in real time, download your invoices and access the statistics panel.
– We do not ask you to be exclusive to Barcelona-Home. You can continue to rent your apartment through other platforms.
We only require you:
To have your apartment in perfect condition for the tenant.
To keep your prices and calendar updated to avoid misunderstandings.
TYPES OF RENTALS POSSIBLE
Daily: Legal regulations for Holiday rentals are only possible in apartments which accredit the corresponding license granted by Barcelona City Council, which qualifies them as "Habitatge d'Ús Turistic", abbreviated "HUTB".
If you want to publish your apartment with us, it will be necessary to connect your
availability calendar via ICAL or keep your prices and availability updated.
Monthly: This type of rental offers the possibility to get bookings between 32 nights
and 11 months. This type of rental brings higher income than traditional yearly rentals.
It will give the maximum benefit for apartments without a touristic license and at the
same time it will give you flexibility to block your calendar for some periods and check
your apartment between bookings.
This type of rent is aimed at an international audience that visits Barcelona for
leisure/business. The most common profiles are: seasonal workers, business
travelers, medical treatments, students especially for courses in universities and
business schools, long-term holidays, self-employed workers/entrepreneurs and
professional internships in companies. Equally, the number of residents of Barcelona
who need a short-term residence for reasons such as work on their house etc.
Yearly: Long-term rentals according to the current LAU law.
We take care of marketing and publishing your apartment through our online and
offline channels. We will arrange and do the viewings, and we will introduce you the
profiles of the interested candidates. After you have selected the candidate we will
help you arranging contract and 1st payments. Once the contract is signed, the first
payment is made, and the tenant has moved in, you can decide if you want to deal
directly with the tenant and the next payments or if you would like to keep our service
and assist you during the complete duration of the contract.
Why choose Barcelona Home?
We have more than 15 years of experience in the sector.
We are accredited as Habitatges d'ús Turistic operators
We are members of Apartur. Asociación de Apartamentos Turísticos de Barcelona.
Many public and private institutions use our services on a recurring basis.
We have a vast presence in the international market with translations in 13 different languages.
More than 20 markets for your property, 135.000 reservations, 5.200 nights per month. Barcelona Home has an outstanding presence around the world.
TYPES OF PROPERTIES WE WORK WITH
Houses
Apartments
Rooms
Parkings
Contact us or visit our offices, and we will attend you personally.
Rentals with full management

Barcelona-Home offers a highly professional Full Management service that guarantees maximum profitability and security for its owners.
Why an exclusive management of Barcelona Home?
We are specialists in renting accommodation for short and long stays with more than 15 years of experience. We hosted more than 1 million customers. Your property will be available on our website in more than 13 languages with a high conversion to sales. We pride ourselves in our unbeatable positioning in the top searches of the tourist sector. We provide customers care in 13 languages, 24 hours, 365 days a year. You will not need to worry about anything, we will take care of everything, and we will transfer you monthly the bookings.
What are your benefits?
If you give us your trust, our property management department will free you from all the tasks you have to deal with as an owner:
Delivery and collection of keys.
General cleaning each time the tenants change.
Washing of sheets and towels in between reservations.
Care and permanent maintenance of the property
Settlement of the mandatory "tourist tax".
Contracts issuing.
Solving incidents during client's stay.
Our services:
Advertising not only on our website but also in the main international distribution channels
Translations in 13 different languages
Marketing team promoting the apartments (blog, newsletters & social networks)
International team in our booking department
Direct contact with your own Property Manager
Market analysis and revenue management (prices management according to occupation & demand)
Professional check-in service including payments from clients and settlement to owners
Professional check-out service including apartment revision and deposit management
What do we need? 
Exclusivity with Barcelona-Home a signed contract between both parts and apartment key copies.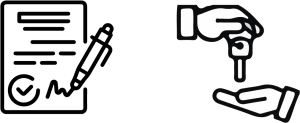 Rental Types
Daily bookings (less than 32 nights): For this kind of bookings, your apartment will need a touristic license (HUTB)
Monthly bookings (from 1 month to 1 year)
Management cost
A service fee applied only to the rent (VAT not included)
START RIGHT NOW!
Contact us or visit our offices, and we will attend you personally.
CONTACT US
Skype: barcelona-home
Monday – Friday: 24/7
Trovate il posto perfetto per il vostro evento: ricevimenti, eventi azienda, cene etc. Su Barcelona-Home, troverete ogni genere di proprietà per celebrare la vostra festa o evento. Offriamo un'ampia selezione di case private o condivise per feste a Barcellona. Disponiamo inoltre di attici co terrazze e panorami meravigliosi della bellissima Barcellona. Possono essere arredati e allestiti.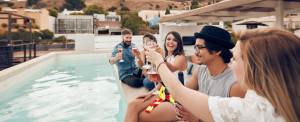 Case in affitto per feste a Barcellona: cene, matrimoni e compleanni.
Abbiamo numerose case in affitto per feste a Barcellona per diverse occasioni, como matrimoni, battesimi, anniversari, compleanni, ecc. Sul sito web di Barcelona-Home secrete voi a scegliere. Gli appartamenti sono offerti a prezzi molto competitivi.
 Affitti per eventi aziendali, riunioni di lavoro, ecc. 
Se il vostro marketing team deve lanciare un prodotto, discutere strategie, o presentare una ressegna di comunicati stampa, allora date un'occhiata alla pagina di Barcelona-Home. Vi proponiamo il sito perffeto dove trovare il vostro nuovo soggiorno, ufficio o centro congressi. Inoltre, disponiamo di un'ampia selezione di strutture, da appartamenti a case nel centrio di Barcellona e dintorni. Potrete affittiare casa in base al vostro budget, tutto incluso a prezzi competitivi.
Volete affittare la vostra casa per le festività natalizie?
Case in affitto per feste a Barcellona per le vacanze. SIete proprietari di un appartamento ideale per feste ed eventi in Catalogna e Isole Baleari e siete interessati ad affittare la proprietà? In tal caso, Barcelona-Home affitterà la vostra proprietà in maniera veloce e sicura gestendo tutto al posto vostro.
Viaggiate in famiglia o in gruppi fino a 20 persone?
Le vacanze sono per tutta la famiglia. State pensando a un viaggio con la famiglia al completo in un incredibile tour della più affascinante città del Mediterraneo? Barcelona-Home farà in modo che il tuo soggiorno a Barcellona sia indimenticabile! Disponiamo diversi appartamenti per soddisfare le vostre esigenze. Oppure avete appena concluso l'anno scolastico e volete celebrare a Barcellona in gruppo? Barcelona-Home è la soluzione ideale, perchè offriamo allogi per gruppi e appartamenti per feste ed eventi che soddisferanno tutte le vostre esigenze. Abbiamo appartamenti, attici, case per feste, meravigliose e lussuose case nel centro di Barcellona e nei dintorini. Inoltre offriamo un servizio eccellente al miglior prezzo.
SI SIETE PROPRIETARI DI UNA PRORPIETÀ E VOLETE AFFITTARLA PER EVENTI:
Barcelona-Home offre personale qualificato e con esperienza che può fornirvi consulenza e aiutarvi a gestire l'affitto delle proprietà. Lavoriamo nel settore abitativo da più di 20 anni e abbiamo accumulato grande esperienza. Di conseguenza, la fedeltà dei nostri clienti e il successo della nostra attività ci hanno aiutato a crescere nel mercato immobiliare.
Tra i servizi che offriamo troverete: consulenza si permessi e licenze, assistenza in ambito legale e consulenza in materia finanziaria per i proprietari, servizi di installazione, servizi fotografici, gestione professionale di entrate e uscite, ecc.
Se avete domande o siete interessati ad affittare una proprietà, non esitate a contattarci. Non aspettate oltre, lasciatevi aiutare per affittare il vostro appartamento oggi stesso!
Indirizzo email: [email protected]