Erasmus students voted Barcelona as one of their top destinations in Europe. Barcelona is one of the most popular bucket-list cities for students looking to experience the hustle and bustle of a dynamic city. And including other reasons – culture, architecture, weather, sports, cost of living, and universities. If you are looking for  an Erasmus student apartments during your study or internship in Barcelona, Barcelona Home could offer you a broad list of apartments, rooms, and studios for you to choose; be it short-term or long-term. These properties are of different sizes and designs at the best prices. Contact us to find out the availability of these apartments. We understand the hardships associated with the hunt for the perfect apartment. Don't fret! Barcelona Home is here to help you settle down. To get to your comfy and cheap student accommodation, contact us by email or through our online customer representation from our website.
From 750 € / MONTH



If you love the night life and are looking to live in the cultural and historical center of Barcelona, this student apartment is for you. Ciutat Vella is a dynamic district due to its proximity to so many famous locations in the center: visit Plaza Cataluya for shopping and restaurants, La Rambla for late-night parties, The Cathedral for historical attraction, Barceloneta for beach culture, and so on. The apartment is a few minutes away from the University of Pompeu Fabra by bus and by feet.  This spacious apartment for two people has a modern interior and receives plenty of sunlight in every room. The bedroom has two single beds, which can be put together for extra comfort, a wardrobe, and cupboards. The living room is furnished with an elegant dining table, a comfy couch, and a cupboard. The bathroom is equipped with quality bathroom appliances. Lastly, there is a modern and fully equipped kitchen with everything within an arm's reach. The location is convenient for public transportation: close walking distance to Urquinaona metro station (L1 & L4) and to the buses. Cycling in this district is an option due to its flat areas.

From 430 € / MONTH



This private room, in the city center, allows you to rest comfortably after a hard day at the university. The apartment has a terrace/balcony which looks over the street. The kitchen and bathroom are well equipped for your comfort.
The property is a few minutes away from Arc de Triumph metro station. With easy access to the city centre, regular markets and world-famous sights, this residential property will offer you a unique fusion of peace and bustle. You could also appease your hunger from nearby restaurants of various types of cuisine. It is also very close to Parc de la Ciutadella, one of the most famous parks in Barcelona.

From 1763 € / MONTH 



The student apartment has one single bedroom and two double bedrooms. It is situated in a privileged part of Barcelona, just a few meters from the famous Sagrada Familia Church. The majestic view of this church is visible from the terrace, where you could marvel and gaze at the site that has been constructing for more than a century. The bustling Sagrada Familia neighborhood is plentiful in cafés, restaurants and supermarkets. A short distance from the apartment are parks that are perfect for running in the morning. The apartment is a short walk from the Sagrada Familia metro station and several bus lines with access to the city center.

From 400 € / MONTH




This Barcelona single room is situated in a lovely apartment near Sagrada Familia, the famous Park Güell, and Plaça de Gaudi. Located in a quiet residential area with easy access to supermarkets, bars, and restaurants there's plenty of things to do. The nearest metro station, Sagrada Familia, is only a short walk away to help you get around Barcelona. Conveniently located in the Gràcia District of Barcelona you are perfectly placed for the cities main attractions.
The apartment has a bright living room with a TV alongside lots of decorative trinkets. There are two comfortable couches and there is a centric glass and wood coffee table. The living space has large windows to ensure there is plenty of natural light in the room. The 5-seater dining table is conveniently located next to the windows for a scenic meal. The fully equipped kitchen has clean white tiles and lovely grey countertops. There is gas to cook hot food on and a breakfast table to enjoy snacks. The brightly lit hallway showcases a contemporary grey tiled floor. The bathroom has clean cream tiles, spacious cupboards for storage and a shower.
The apartment has a cozy single bedroom with a large oak working desk space perfect for reading and writing. The bedroom has an oak wardrobe for clothes and other items. The bed also has several integrated drawers and the walls are a warm shade of orange.

From 456 € / MONTH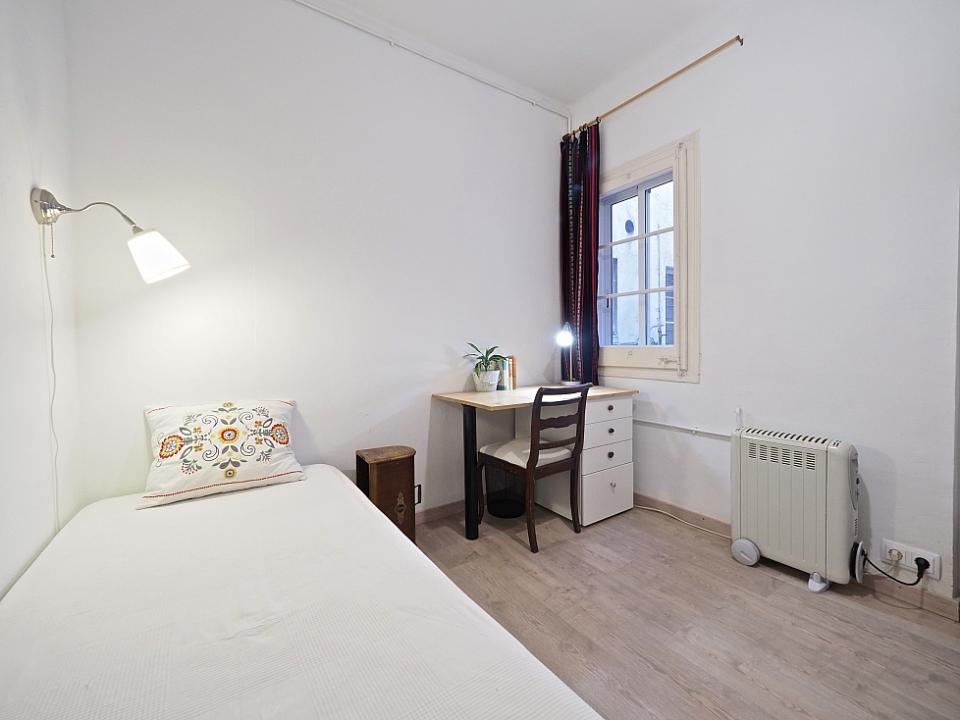 This Room in a shared apartment for one person, which has everything you need for a pleasant stay in Barcelona. The room, with its own style, has a single bed. The kitchen is fully equipped, as it has an oven, microwave and other equipment. The living room is very spacious and bright thanks to the large windows that the apartment has. The bathroom, apart from being fully equipped and having a bathtub for a relaxing bath, has a washing machine that you can use without problems. Please note that the apartment does not have a balcony or terrace and that you will be accompanied by 2 cats in the common areas during your stay.
The apartment is located in a very cozy area of Barcelona, very close to the Cathedral of Sagrada Familia and the Hospital Sant Pau. The area has many restaurants and bars, however it is a quiet and calm area at night. The nearest meters are the Guinardó metro – Hospital de Sant Pau, which gives access to the L4 line, and the Camp de l'Arpa station with access to the L5 line. Without a doubt, a good place to live in Barcelona.

From 1050 € / MONTH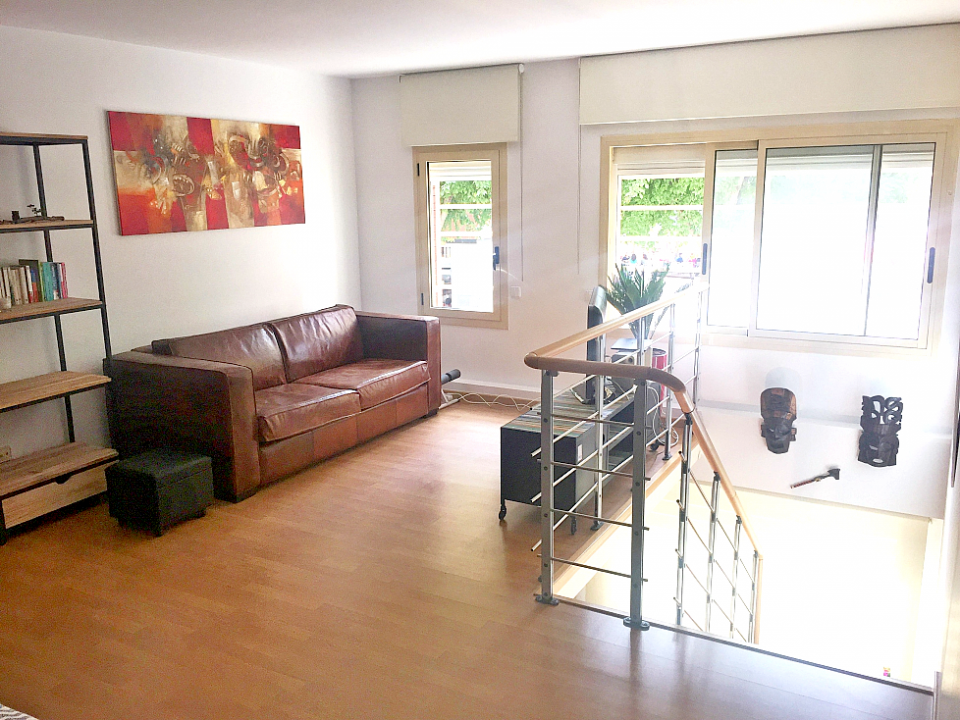 Perfect apartment for couples, who want to stay short or long term in the beautiful city of Barcelona. The modern 2-floor loft consists of a small entrance room, which leads to the first bathroom and a spacious living/dining room with a kitchen. On the second floor you will find a bedroom with a large double bed, a second chill out zone with an stylish sofa and the second bathroom with a large wardrobe. The furniture is a mixture of vintage and new pieces as well as cozy bamboo lounges among exotic plants. The loft is fully equipped even with the fastest fiber internet connection, bed linen, crockery, towels, etc. A lift in the building brings you directly to a parking space (5m).
This modern, open loft is located close to Gran Via II, Fira, Plaza España, Ciudad de la Justicia, Sants and Montjuic. It is also in close proximity to numerous types of public transportation, which allows you to reach most destinations in the city for less than 30 minutes. The nearest metro station is Santa Eulalia (L1).