If you want a vibrant gay and lesbian scene, come to Barcelona. In fact, Eixample, the most lively and central district of Barcelona, is also known as the 'Gaixample'. It is an area about five to six blocks southwest of the famous high-end shopping street, Passeig de Gracia. In 2005, Spain became the fourth country in the world to legalize same-sex marriage. At the same time, transgenderism, too, is increasingly accepted. Each year, Barcelona hosts Circuit Festival, the largest gay festival in Europe, in the summer at Sitges, a town in the province of Barcelona. 
Barcelona is pretty tolerant of the sight of gay or lesbian couples. There are several gay and lesbian bars and clubs scattered across the Barcelona city. Normally, they host parties periodically. Keep an eye out for the party flyers in shops and bars in the Eixample district. If you wish to live close by these bars and clubs, Barcelona-Home has got several of them for you to pick. To learn more about the Circuit apartments you are interested in, feel free to contact us by email or through our customer service chat-bar in our website.
From    120€ / NIGHT
From 2200€ / MONTH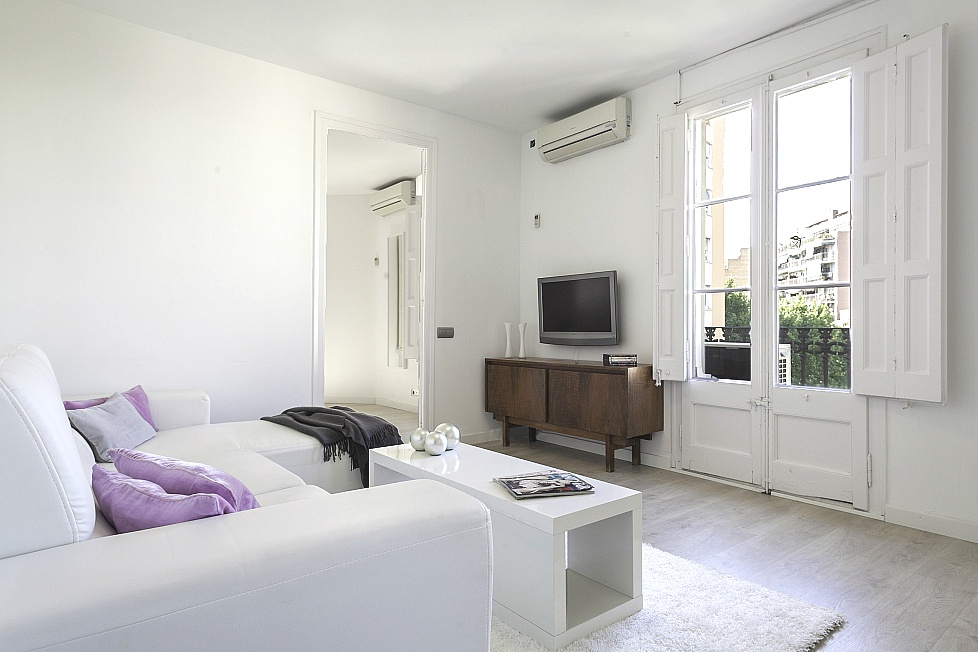 The beautiful apartment in the peaceful Sant Antoni neighborhood has a whitish interior, giving you a sense of purity and cleanliness. It is available for short or long-term stay. The living room and dining room receive abundant sunlight from tall and elegant balcony doors. The living room has a huge couch, which allows you to host two additional guests. Near the dining room, you will find a fully equipped kitchen.  There are five comfortable bedrooms – 3 singles and two double bedrooms, one of which comes with a balcony, which is accessible from the living room. Each of these unique bedrooms has a large shelf to store your clothes. You will also be sharing two clean bathrooms.
The apartment is close to many famous theaters and music venues, including BARTS, Sala Apolo, and Teatre Condal. You will be just a short walk from Carrer Blai, a bustling street lined with excellent and inexpensive tapas bars. If you prefer cooking at home, we highly suggest visiting the Sant Antoni market, where you will find fresh local products.
License: HUTB-005858

From      101€ / NIGHT
From 1900€ / MONTH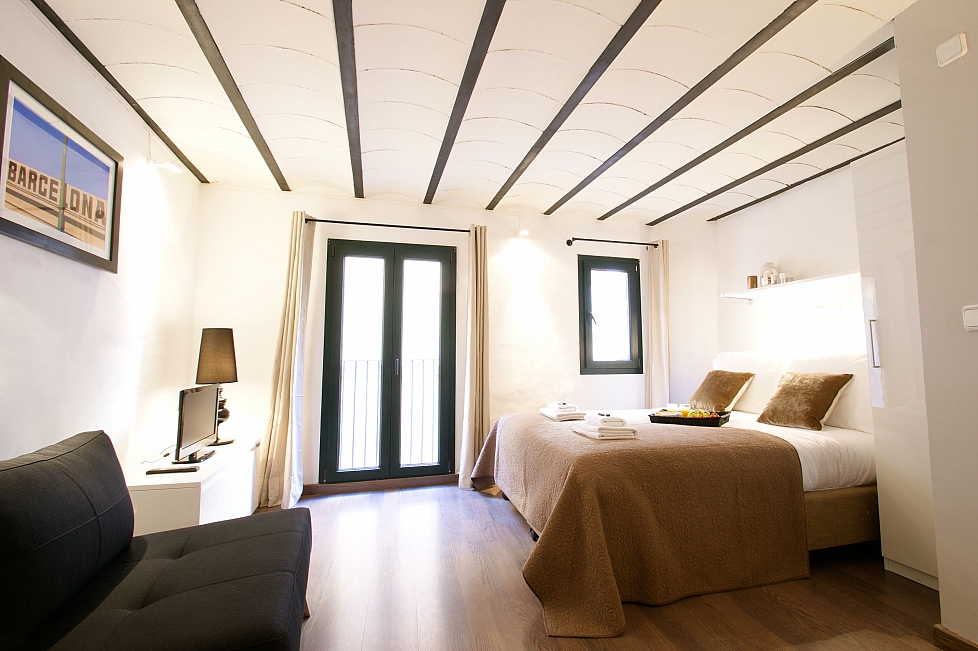 The charming studio is refurbished entirely with Nordic style, a parquet floor, and warm tone decorations. It receives abundant sunlight from the floor-to-ceiling door that leads to the balcony. The window next to the bed will also bring in the positive sunshine to naturally wake you up. The original exposed beams of the building dating from the 18th century have been preserved. There is a kitchen well equipped for cooking. This cozy apartment is perfect for couples or friends who wish to live in a  welcoming atmosphere.
It is in the fashionable district of Barcelona, El Born, characterized by the church Santa Maria y el Museo Picasso, as well as its bohemian and cosmopolitan atmosphere. As for the night life, you will find many bars and terraces such as Xampanyet or El Copetin and great restaurants like Sagardi.
License : HUTB-002182

From        72€ /NIGHT
From 1500€ / MONTH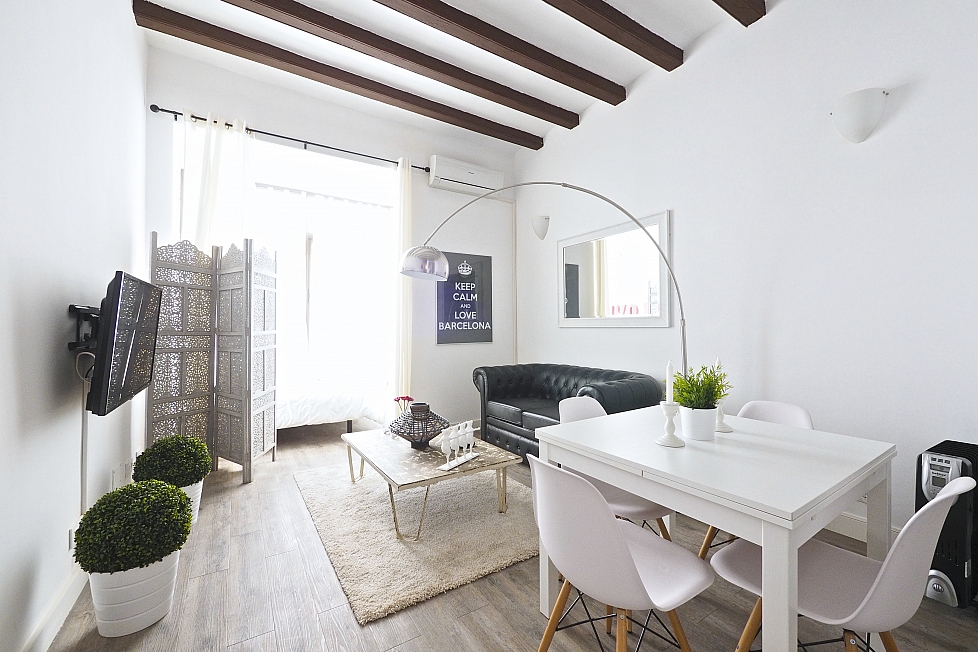 This elegant boutique apartment is in the heart of Eixample. The living room is decorated with taste. Its ceiling has exposed rustic beams. It is furnishsed with a couch in front of a TV and a dining table. There is plenty of sunlight from the floor-to-ceiling door that leads to the private balcony. The floors are made of smooth hardwood. Its long hallway is reminiscent of a modern art museum. The spacious bedrooms are well lit. The kitchen is fully equipped. The potted indoor plants will help improve the air quality of your space.
The apartment is centrally located and well connected by metro and bus to some of the city´s major tourist attractions, such as Plaza Espana, the Fira de Barcelona and the Magic Fountain of Montjuïc. To experience the lifestyle of locals, visit the nearby Mercat de Sant Antoni or grab a dinner in the vibrant neighborhood of Poble Sec, known for its exciting restaurants and bar scene.
License : HUTB-007576