Due to the variety of fine academic institutions and the relatively low cost of living, Barcelona is the ideal place for students from all over the world. Each year the city is flooded by international students seeking to enjoy the dynamic lifestyle and Mediterranean sunshine, while also earning class credit. We have selected our top three Cheap Student Accommodations in Barcelona, single rooms that we think manage to find the perfect balance in quality and price.
From 346€ / MONTH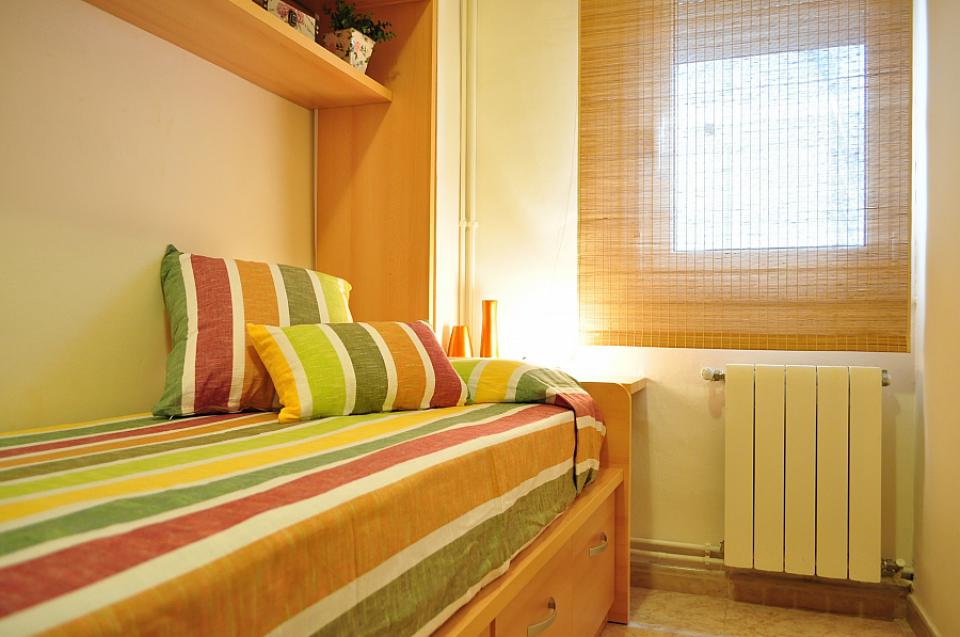 We love the wooden shelving in this cheerful and sunny one bedroom apartment in Gràcia. The large wardrobe provides plenty of storage space to use throughout your stay, as do the drawers that slide out from under the mattress of the cozy single bed with its smooth, light brown wooden frames. The large window allows in plenty of natural light, which shines down on the colorful striped pillows and bedsheets and smooth tiled floors.
The bedroom comes with access to a pretty living room decorated with potted plants and statues from all over the world. There is a cozy white couch and firm wooden desk perfect for dining or for getting some work done in the afternoon. There are also several other places to curl up with your laptop or a book, including the quaint breakfast nook in the separate kitchen or the outdoor terrace furnished with a table and lawn chairs. The apartment comes with several features that make it perfect for as a long-term rental, including a washing machine, a fully equipped kitchen with an oven, and a spacious bathroom with shower. The apartment is located in the peaceful and quiet Guinardó district of upper Gracia near Gaudí´s famous Parc Güell. The hilly nature of the area and the proximity to the Parc de les Aigües makes this perfect for sporty students who enjoy running in the morning. The apartment is just a few meters from the Alfons X (L2) metro station with direct access to Passeig de Gracia and the el Born neighborhood.

From 337€ / MONTH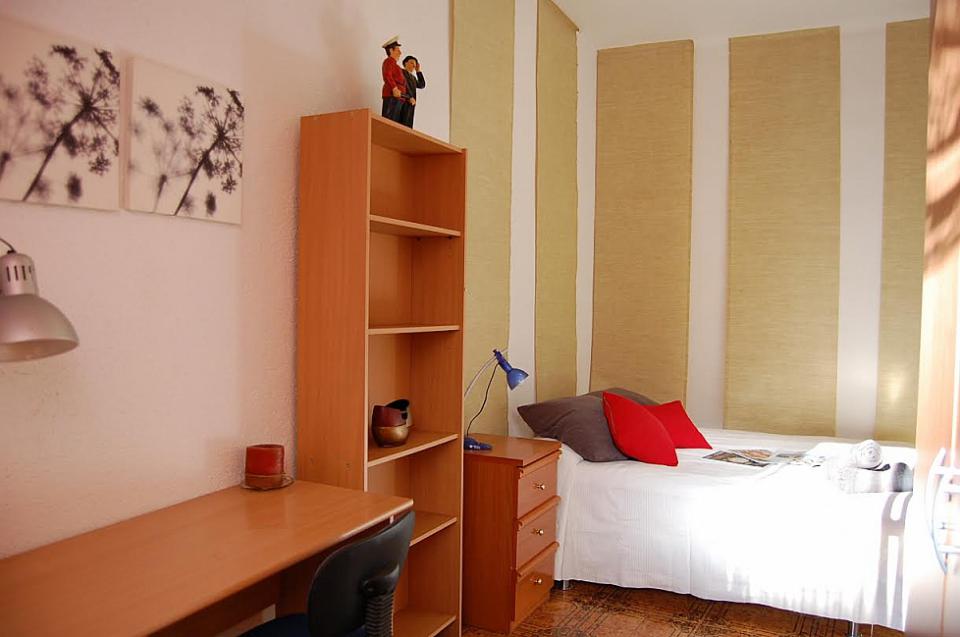 One of our favorite budget deals for students is this Cheap Student Accommodations in Barcelona. The single bedroom is furnished with a nightstand with drawers, a wooden desk with rolling chair and lamp, and a large shelf to decorate as you wish. There is also a large wooden armoire that makes the room perfect for long term stays. The room is decorated with good taste, with artistic photos of dandelions and an elegant canvas fabric on the walls.
A sliding door leads to the rest of the apartment, a living room with a soft blue couch and TV, a modest but practical kitchen with oven and microwave and a very tastefully designed bathroom with moss green tiles on the walls and a tub perfect for soaking in after a long afternoon of studying. This is also an apartment with terrace, one fully furnished with a table and chairs, a great place to enjoy breakfast with a book or a quick cup of coffee. The apartment is located in the Sagrada Familia neighborhood, just a few minutes from Gaudí´s "unfinished symphony." The Sant Pau | Dos de Maig metro station nearby provides quick access to Barcelona´s downtown area.

From 455€ / MONTH



This clean and simple single bedroom is one of our favorite Cheap Student Accommodations in Barcelona. The cozy bed is dressed in soft sheets and comes with a wall-shelf right above it perfect for a reading lamp, a plant or small decorative collectibles. The walls are adorned by a pretty framed picture and butterfly stickers that add a fresh, natural touch to the space. There is also a wooden nightstand, a shelf with drawers and a spacious armoire in which to hang clothes. The bedroom is unique in that it features plenty of furniture to decorate in whatever way you wish so that you truly feel at home. It is also an apartment with WiFi, making it perfect for students to get some work done.
You will also have access to a common area with comfortable sofas to lounge on with your laptop, as well as a pretty dining area decorated with a large wall mirror and Audrey Hepburn stencil art, and furnished with a white table perfect to study on. The fully equipped kitchen also comes with a small nook with a reading surface and chair, the perfect spot to browse the Internet while you´re waiting for your dinner to finish cooking. The highlight of the apartment, however, is the private terrace complete with a table and several chairs to relax on while enjoying the views of the city. The apartment is located in the peaceful neighborhood of Hospitalet de Llobregat, surrounded by several supermarkets, cafes, restaurants and bars. The lodging is a short walk from the Ildefons Cerdà train station, which provides fast access to the rest of Barcelona.

For students who seek a simple bedroom in a quiet neighborhood where they can focus on their studies but still easily commute into the cultural center of Barcelona, these Cheap Student Accommodations in Barcelona are ideal places to stay.