Yoga Apartments Barcelona
Are you going to the amazing city Barcelona, known for its architecture of Antoni Gaudi, splendid beaches and parks, fine museums and classy restaurants? Each area of Barcelona contains hundreds of places to stay. With all the people, noise and bustle of the city, it can be great to have an apartment where you can relax. There's a lot of relaxing yoga apartments in Barcelona, with a zen decoration in relaxing warm colors. Take a look at our Relaxing Yoga Apartments Barcelona, and find the perfect apartment for your stay!
About Yoga
Yoga is a group of physical, mental, and spiritual practices or disciplines which originated in ancient India. The term "yoga" in the Western world often denotes a modern form of Hatha yoga. The word yoga comes from the Hindi yoga, originally from pre-Indo-European yeug, meaning "union" or "to join." Yoga not only makes you a better body but makes you healthier. Yogis claim numerous physical and psychological benefits result from yoga. Yoga helps with balance, also used for relieving stress and improving mood. Yoga is not only for sportspeople but for beginners as well, it's a highly recommended activity. Our team helps you to find the best accommodation for doing yoga during your stay in Barcelona!
From 1700€ / MONTH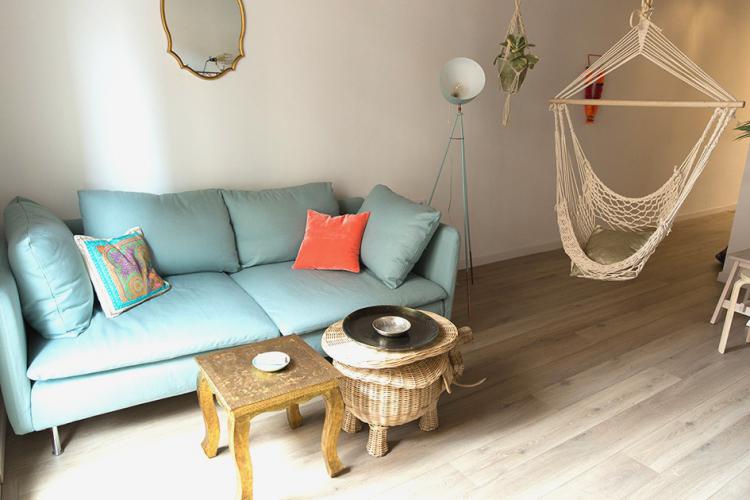 This property is great for everyone, from young families, yoga lovers to bohemians, as it has everything you would want from a home. This delightful 90m2 flat can accommodate up to 6 people. The property is well-lit and also has a lovely bohemian style, warm colors, contemporary furnishing and Hindu and adventurous motifs everywhere from the front door to the balcony. There are three bright cozy double bedrooms, and the living room has an inviting welcoming look. It comes with a spacious couch, a charming dining table, an indoor hammock for absolute escapist leisure, and access to the balcony with patio furniture.
The location is great because of it's proximity to the center and places like Plaza España, Plaza Cataluña and La Rambla being not too far away. The neighborhood is fantastic, absolutely buzzing with restaurants and bars. Transportation is no issue at all because the location is well-connected on account of the many bus lines and the L3 Poble Sec metro station which is just a walk away from the building.

From 1659€ / MONTH



This contemporary apartment will offer you one of the best stays. The living room is bright and cozy and you will immediately feel at ease and relaxed in your new home in Barcelona. The room is decorated in warm tones and with some touches of color which accompany perfectly the wooden beams, giving it a truly rustic style and perfect for doing yoga. The kitchen and the bathroom are modern and equipped with everything you will need during your stay. The two rooms have comfortable beds and bedding, allowing you to have the best nights sleep possible. You will also have access to a balcony, perfect for making the most of the warm evenings or sunny mornings.
The apartment is located just minutes from the famous La Rambla: one of the biggest touristic streets in Barcelona, where you will find all the shops, restaurants and bars imaginable. From here you are equally as close to highly coveted areas such as the Passeig de Gracia and Plaza Cataluña. Close by to the apartment you have access to the metro station Paral-lel and Drassanes making it extremely easy to get from one part of the city to another.

From 1000€ / MONTH



This is an apartment with plenty of character and it is perfect for a yoga minded person. It consists of two bedrooms, a bathroom, a kitchen and living/dining room, equipped with everything needed to make your stay as comfortable as being at home. It also comes with an eclectic decoration, in which rustic style matches a marine impression, which gives it a very special atmosphere. It is very discrete and basic brown and white decorated, so your eyes can relax, and it also has some zen decorations in the living room. It is ideal for a small group or family who wishes to enjoy the city in a quiet street but close to many tourist attractions.
If you bring a car, the apartment has an easy access to a public parking in front of it, with many places to park. This two-bedroom apartment is on the most avant-garde area of Barcelona, situated 5 minutes away from a big shopping center and new modern market Los Encantes, in which you can get various unique items and products. It is very well connected to the city center. If you choose to take a walk in the area, you can easily reach the beach in 20 minutes.

From 900€ / MONTH



Charming apartment with a rustic design and enviable centric location in the el Born neighborhood. The bedroom features 1 double bed, elegant hardwood floors and baby-blue walls, which are sure to put you at ease and make you feel at home and relaxed. The living room has an open floor plan with a comfortable sofa facing a table for 2 and large flatscreen TV, as well as a country-style open kitchen with gorgeous mustard yellow walls. We love the rustic details found throughout this apartment, such as the coarse exposed brick walls, handsome antique chest and the refurbished wooden doors of the sunny balcony. You will also have access to a bathroom with a shower and a unique toilet mounted on a wooden platform.
The fantastic emplacement of this accommodation will allow you to reach many of the most popular sites by foot. These include the Arc de Triomf, Ciutadella Park, Santa Caterina market, Picasso Museum and the Cathedral of Barcelona. The area is known for its maze of narrow, winding alleys lined with boutique stores and some of the best restaurants in the city. For a truly special meal we recommend Comerç 24 restaurant, run by famous Catalan chef Carles Abellan. Or for some delicious wine and cheese visit En Aparté in Plaça de Sant Pere nearby and enjoy people-watching on the picturesque terrace.

From 1283€ / MONTH



This bright and cozy apartment near Barceloneta is the perfect place for those seeking to spend time on the beach and exploring the city. The spacious, well-lit apartment is decorated in a Mediterranean style and is fully equipped and furnished with bright pieces. The lodging emits an air of joy and warmth with a cheery decor that puts one in a vacation mood.
The apartment is also very well located, closely connected to the city center and within walking distance to the Ciutadella Park and Encants market. It is located in the Poblenou neighborhood, very close to the Plaza de las Glòries, the famous Agbar and the innovative Design Hub Barcelona tower, which makes it an ideal location for those seeking to explore the contemporary side of Barcelona´s unique architecture. Just across the road, you will find a perfect mix of modern and classic constructions, typical of the neighborhoods located between the Innovation District @ 22, La Ciutadella and the sea.

From 2500€ / MONTH



Magnificent apartment is available for monthly rent in Sants-Montjuïc. This classic luxury residence is designed with an eclectic, ethnic style that creates a stunning contrast with its original features, including high ceilings with intricate moldings and beautiful arched doorways. The spacious living room features a playful collection of decorative elements of distinct styles: a 70´s style carpet, a unique green framed plant on the wall, an oversized wooden cut-out of the African continent and 2 black Chesterfield couches for a touch of British refinement. The apartment comes with 3 spectacular double bedrooms, each decorated with exquisite style, as well as a smaller single bedroom perfect for a child. We especially love the bedroom with 2 single beds, a bright red designer sofa and the frames of the 3 beds that originally occupied this room converted into a creative wall ornament. The accommodation also includes a stunning dining room, an enormous kitchen equipped with everything you may possible need to cook, and 2 spa-like bathrooms, one of which comes bathed in a dreamy light beige color.
Just steps away from the major transportation hub Plaza de España, you will have quick access to the rest of the city by metro, bus or train. The main attraction in this area is the Museu Nacional d'Art de Catalunya, situated at the top of Montjuïc Hill, a great point from which to enjoy amazing views of Barcelona and the Magic Fountain. You will also be close to the Fira de Barcelona and the Las Arenas shopping center, housed in a former bullfighting arena.

If an apartment isn't what you need, you can always check out some great hotels here in Barcelona!
Looking to rent an apartment in Barcelona? Check out our SPECIAL DEALS ON APARTMENTS all over the city with Barcelona Home!