Barcelona is a city that differs widely depending on where you are. Each and every one of the areas in the city has it's own charm. We can provide you with different apartments in different districts to stay in Barcelona. First, that is usually referred to as the very center of the city is Plaza Catalunya. This is a meeting spot for many people. Just a walk down from Plaza Catalunya you will be on the famous La Rambla. This is a shopping street full of stores, boutiques, bars, restaurants, hotels, and even some night clubs. It is therefore a street where there are plenty of tourists. Furthermore, you should always be careful because pickpockets are common.
Then, la Rambla is the street that divides the areas Raval and Gotic. In these areas you will find a range of cultural activities to pursue during your stay. There are plenty of museums, art galleries, and theaters for those who are interested in the Catalonian culture.
The surroundings in many of these historical areas of the city are so different from many other European cities. Indeed, walking on the narrow streets could make you feel like stepping into a movie scene. Barcelona is also a place where a lot of films have been produced. For example, Woody Allen filmed his movie Vicky Cristina Barcelona in the city. If you have seen the movie you will recognize many of the settings just walking down a street in the historical quarters.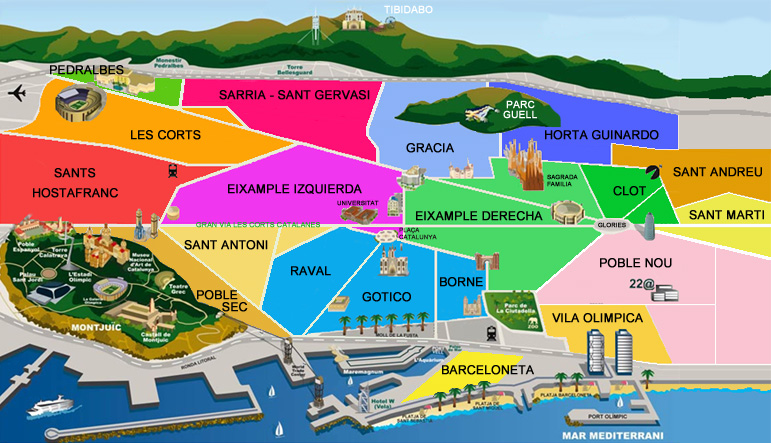 Other part of "Old Town".
Besides, the favorite area for many tourists and even locals is El Borne. In this area there is something for everybody. Don't miss out on all the tapas bars, restaurants with traditional Spanish and Catalan cooking, small and special boutiques, antique stores, cafés, and cocktail bars.
Eixample – "The Extension"
If you want to be in the most glamourous and luxurious part of the city, a street not to miss is the famous Passeig de Gracia. This is the street where you will find shops selling the high-end designers and you can enjoy a meal on the terrace of any of the elegant restaurants situated there. The street is situated above Plaza Catalunya and here is also the beginning of the big area of Eixample which is divided into two separate parts (left and right) because of its size. This is a safe, residential area where you will find many locals.
Barcelona's Urban Beach.
Barcelona really has it all when it comes to enjoying a city to it's fullest. When summer is knocking on the door a hot spot to be is in Barceloneta. This is the area where people spend their lazy summer days lying on the beach or chilling at a nearby chiringuito (lounge bar). The further you walk the more beaches you will find. As well as, some are more quiet and with fewer tourists and others with relaxing lounge bars that play great music for those enjoying the sun. After the sun has set you might want to go out dancing and you will find many clubs for every taste next to the beach.
Where to stay in Barcelona?
Still haven't figured out where to stay in Barcelona? We have a more thorough page on the different Barcelona barrios, but we also have info pages on each of the different barrios that you will also find here.
Are you looking for a great accommodation in Barcelona? Look no further, we have what's right for you!