Whether you have been living in the beautiful city of Barcelona for a number of years now or few a few months, there is no better way to get a taste of home than having your parents come to visit. They will not only bring with them copious amounts of home comforts such as your favorite foods and light hearted anecdotes from the local goings on of your home town, but they will also bring that warmness that only your parents can give. You will want to show them exactly why you fell in love with the city and all that it can offer. However, with so much to see and do, the task of planning a weekend of sightseeing and dining can be an intimidating task. We at Barcelona-Home want to take the stress out of planning and allow you to fully enjoy this precious time with your parents. For this reason, we have compiled an itinerary for when your parents come to visit which promises to showcase the amazing offerings of Barcelona.
Things to do
Gaudi
Gaudi! The name is almost synonymous with Catalan architecture and his mesmerizing designs can be seen throughout the city and beyond. There is no better way to impress your parents than showing the amazing buildings and parks that you live near. While there are countless examples of Gaudi architecture to be seen in and around the city, we have chosen the Sagrada Familia and Parc Guell as the best and most entertaining Gaudi sites to show your parents.
La Sagrada Familia– This is the largest unfinished Roman Catholic church in the world and its design is similar to that of a fairy tale. While the church is currently undergoing renovation works (when isn't it!) you can still have a  experience this mesmerizing building. Take your parents to the top of the church and give them a unique view of the city from above.  We can provide you with fast track tickets HERE, so you do not have to stand in long queues.
Parc Guell- This is a public park consisting of gardens and buildings on Carmal Hill which was designed from Mosaic and irregularly shaped buildings. Exploring this park with your parents is ideal on a sunny day as the way in which the sun reflects off the mosaic is something to be admired. You can bring a picnic and relax with your family while observing the marvels of this outer worldly designed park. Get your tickets here.
Cycle Tour
There are various ways to explore the city… busses, segways, even hoverboards! However, there is a lot to be said for the good old fashioned bike and its ability to help people explore every beaten track that the city has to offer. Luckily, the city is very negotiable for bike users and even has designated bike lanes which make even the busiest of roads safe for cyclists. There are many cycle tours you can join which will bring you to the main sights in Barcelona and will entertain you with local information and witty banter. They also offer themed cycles and half day cycles as to customize the experience based on people's interests. If your parents aren't gold medal winning cyclists and need an extra helping hand, many companies offer electronic bikes.
If you consider yourself an expert in the sights of the city and feel you could give your parents your own version of a narrated cycle tour, then fear not as you can rent your own set of bikes and take off for a day of self guided adventure. Click here to avail of our 20% bike rental discount with Donkey Republic.
Montjuic
After discovering the marvels of the city and its people, take a break from the hustle and bustle and hop on a bus/metro out to Montjuic. Montjuic is an iconic hill overlooking the harbor which, from various view points, offers exceptional views of the city. Just like Ed Sheeran says, there is a castle on the hill and it now functions as a museum which houses temporary exhibitions which can be visited for €5, or for free on Sunday afternoons. It is the perfect location to take your parents as they can take in panoramic views of the city and walk many of the trails within the park.

In terms of reaching the castle, there are a few options which include taking the Funiclar railway which is connected to the metro, by cable car or by plain old walking up the hill.
Tapas Tour
No trip to Barcelona would be complete without tasting some delicious tapas. Known for it's world class tapas, you will be spoiled for choice. However, if like the rest of us you simply can' choose one spot, why not take a tapas tour with your parents and treat them to some of the finest foods your home away from home has to offer. Tapas tours provide you with an experienced knowledgeable guide who will bring you to small food establishments ranging from high quality specialty shops to home-style tapas restaurants, each one with its own specialty for you and your parents to taste. The tours generally last 2-3 hours and and usually stop in a handful of restaurants while the guide sharing stories about life in Barcelona, its history and food.
Where to eat
The Paella Club
Instead of going to a restaurant and having one of your favorite dishes served up to you, why not learn how to cook it yourself by partaking in a Paella cooking class. It allows you an intimate experience with an experienced chef where you can learn from the best and recreate your favorite holiday recipes at home for all of the family to enjoy. It is a skill which you will always have and will transport you back to the beautiful side streets of Barcelona whenever you cook.



While there are countless cooking classes in Barcelona, we cannot recommend The Paella Club enough. It is a place like no other in the heart of Barcelona. Unlike other cooking classes which are merely demonstrative with little input from participants, classes at The Paella Club have you dive straight in with 8 work stations for up to 16 people. This fully immersive kitchen experience will have you blending ingredients of the highest quality into mouth watering Paellas. So if you really want to impress your parents, The Paella Club is perfect
Choose from three different cooking experiences and check out their WEBSITE for upcoming events
Rosa Nerga
Rosa Negra is a Mexican restaurant in Barcelona. The owners, Rosa Negra and Rosa del Raval, launched this restaurant to break typical stereotypes associating with Mexican food. The restaurant has a modern style, spontaneous decoration and is definitely extraordinary. The restaurant is decorated with colorful and popular objects from the daily-life and culture of Mexico. TheIR philosophy is "bueno, bonito y barato" (good, beautiful and cheap), in the environment, the kitchen and the service.
Furthermore, in terms of food, their Mexican chefs create their dishes with fresh ingredients from typical Mexican recipes. Their specialties include guacamole, nachos, quesadillas, tacos and burritos are their specialties. It is a great place to bring your parents as it offers a friendly atmosphere with great food, perfect for some family bonding!
Santa Anna Restaurant
Want to eat fresh products hand selected directly from the food market? Then, Santa Anna Restaurant is the place for you. Your parents will appreciate the freshness of the food and the authentic feel of the dishes on offer. If you want to show them true Spanish dining, then this is the place to go!
It is ideally located nearby the Boqueria Market, and a short walk from the Rambla de Canalates, close to shops and many other cultural activities. It makes for the perfect end to a day of sightseeing or shopping.
Where to stay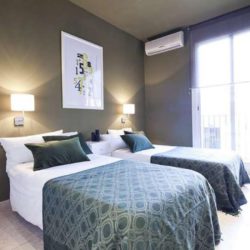 APARTMENT CLOSE TO CENTRE OF BARCELONA
Bright and spacious apartment just minutes from some of the most iconic attractions of Barcelona, perfect for a family searching for a fully furnished accommodation to call home during their holidays. The apartment comes with 2 double bedrooms, both of which are furnished. The apartment is located in the Sants-Montjuïc district, near several major tourist attractions. You will also be just a short walk from major transportation hub Plaza Espanya, with quick connections to the rest of the city.
From: €59 per night/ 50m2/ License : HUTB-001177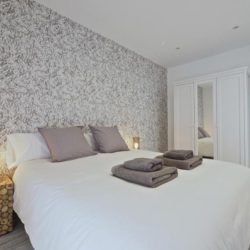 LES CORTS APARTMENT

The spacious living room comes with a purple velvet couch that adds a vintage touch. The common area also includes a fully equipped open kitchen with walls lined in fresh white tiles. The apartment is located in the quiet neighborhood of Les Corts, very safe and well-connected with a wide range of services (restaurants, supermarkets, shopping centers) close at hand. A short walk away is the famous Camp Nou stadium and the Les Corts metro with quick access to Fira de Barcelona, and Plaza Catalunya.
From: €88 per night/ 80m2/ License : HUTB-012425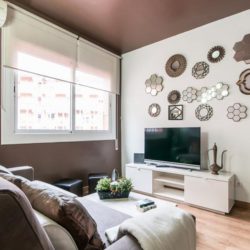 APARTMENT TO RENT NEAR LAS RAMBLAS
Spacious apartment with a simple and elegant design available in the theater district of Barcelona. The apartment boasts 2 lovely bedrooms – one with a large double bed , and another with 2 comfortable single beds. This charming home is located in the Poble Sec neighborhood. During your stay you will be within walking distance of the Columbus Monument, Magic Fountain and historical district. The nearby Paraŀlel metro station will provide you with easy access to Passeig de Gracia shopping street, Plaza Catalunya and the Gothic quarter.
From: €88 per night/ 55m2/ License : HUTB-002624
Are you looking for a great accommodation in Barcelona? Look no further, we have what's right for you!