Are you in Barcelona and looking for extraordinary one-day festivals? Or maybe are you simply interested in the fun-packed nightlife of Barcelona?
Whether you want to experience, alone or with your friends or family, here in Barcelona you can. This magical city has always something special to offer to you, thanks to its endless and limitless possibilities. Let's have a look at what this city has prepared for you next weekend.
Friday, January 18th, 2019
#Clubs
What is attractive the most about nightlife in Barcelona is its variety of course. People who go crazy for this kind of entertainment have the opportunity to experience several different nightclubs in this city.
Come and join the trendiest party in Barcelona! This Friday, you have the perfect change to enjoy classic house music in Eclipse with "The Circle". Join the North room with house classic or South room with tech house, both with your favourite drink in hand! Come and join us on the dance floor! You can´t lose this opportunity! Prepare your senses, your mind and your body to joint he most chilled Friday party in Barcelona! Sutton club offers more fancy party called A La Mode, the trendiest mparty is Barcelona. DJ´s Carlos Ramos and Alberto Martin will take care about the best beats during the night. Last but not least, this Friday we invivte you to Loyalty in Opium Barcelona to enjoy electro dance music by Alemany and Danny Cardenas. Opium is one of the trendiest clubs in Barcelona, hosted well known names in music branch.



Don't forget that you can sign up for the guest list HERE to get a free access to those clubs!
#Tintin and the Moon Exhibition
It has been 50 years, since the first human being stepped on the moon in 1969. In that time, Neil Armstrong began the new capture of exploring the universe and moon, important for all of us. However, the story of the mankind on the moon started earlier, already in 1950! Belgian comics writer Hergé started to write a story about the young boy, who explores the whole world, including the moon. Until now, 24 comics albums have been published, more than 200 milions of copies have been sold and the sotry has been translated into more than 70 languages. CosmoCaixa Science Museum organizes the exhibiton about the mission in the moon, the Apollo project and scientific and technological achievements. Come and enjoy it!

Where:  CosmoCaixa Science Museum, Carrer de Isaac Newton 26, 08022 Barcelona
When: December 18st – May 26th
Price: 3 – 5 €
Saturday, January 19th, 2019
#Clubs
Do you want to hit the club again or you didn't have time on Friday? Don't worry, we have a lot more options to offer you. On Saturday,Carpe Diem Nights at Carpe Diem by shield luminious party and JEMLOS will take care about the  Deep House and Tech House session, as well as session by the most successful Djs this time. Perfect change to dance on the beats of Deep house with your friends. Do you want to dance until your feet hurts? Then you should definitely want to go to Supreme Room made by Otto Zutz and dance on the beats of Hip Hop, RNB and comercial beats. You can choose from 4 rooms with different styles. Enjoy the all night long music that will make you get crazy! Are you already convinced? We will give you one more tip, that will make you think about it. As every saturday, Pacha club organises Night Squad and you have the unique chance to dance on the different styles of the music with amazing line-up: Gerard Serra, Marshall Night, Alberto Herrera. Imagine to dance on the most vibrant music and the best hit from all kind! Do you need another reason to come? See you there!



Don't forget that you can sign up for the guest list HERE to get a free access to those clubs!
#Cheese and Wine Evening

Celebrate the World Cheese Day with cheese and wine tasting! The Fairmont Hotel want to make you enjoy the selection of the best cheese and wine in the region in the cozy and pleasant atmosphere. The best Spanish and Catalan cheese will be served, so you can compare different types of tastes from different regions. This event is just one from more events organised by the hotel this season. Check more events on their website like The World of Chinese Cuisine, Easter Pastries Workshop or Spring Kitchen Workshop.

Where: Fairmont Rey Juan Carlos, Av. Diagonal 661-671, 08028 Barcelona
When: January 19th
Price: 35€
Sunday, January 20th, 2019
#Festa Major Sant Antoni

Barcelona is very rich in its festival and events, organized regularly. This week, Sant Antoni is celebrating its annual festival and you have to be there! Visit market with traditional food or buy small souvenirs for your beloved. Participate in the interesting workshops or walk into the Sagrada Familia´s environmental rooms. A lot of activities will be held also on the streets, you will probably see also the carriages and a lot of street perfomances.
Where: Mercat de Sant Antoni, Carrer Comte D´Urgell 1, 08011  Barcelona
When: January 11th – January 20th 11:30am – 11:00pm
Price:  free
#The Publicity Boom

Maybe you are interested in marketing and advertisement ( like me 🙂 ) and this event will take care about the programme for Sunday afternoon. Explore how the advertising graphics has changed from 1890 to the mid-twentieth century. Compare the everyday products like food, wine, tobacco or cosmetics with the one from nowadays. The exhibiton will also show you how advertisement has adopted other media sorces and make it really strong marketing tool.
Where: Museum del Disseny de Barcelona, Placa de les Glories Catalanes 37, 08018 Barcelona
When: December 14th, 2018 – March 31th, 2019
Price: 3 €
Photo credit: barcelona-metropolitan.com
And Don't Forget!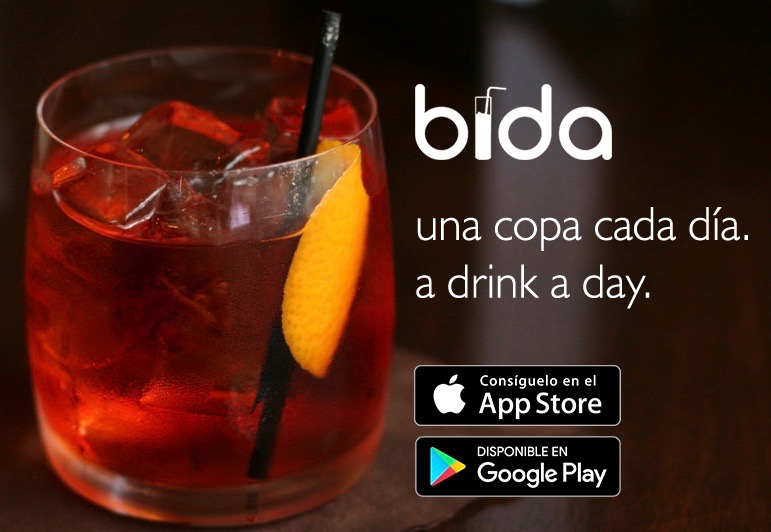 Drink-a-day is already a well-known concept in New York City and Los Angeles. It has landed in Barcelona too, where the after-work culture is a growing trend, people are really social and love to go out and enjoy a great time with friends. This new concept here in Spain is called Bida and is a subscription-based app that gives its members a FREE DRINK EVERY 3 HOURS at the bars of their choice. Bida is the perfect tool to help visitors and find the perfect place to enjoy amazing drinks. Do not hesitate and download the app today!
For all Barcelona-Home clients, we have a special offer:
When signing up, type the invite code "BCNHOME18" to get your first drink for free. After that, subscribe and get the following offers:
A 1 day VIP pass for €4.99
A 3 day VIP drink pass for €9.99
A 7 day VIP drink pass for €14.99
A 30 day VIP drink pass for €29.99
Looking for an apartment in Barcelona? Check out our SPECIAL DEALS ON APARTMENTS all over the city with Barcelona Home!