May 31, 2019
Clubs
Definitely, the most attractive thing about Barcelona's NIGHTLIFE is its variety and well-deserved reputation. You have a unique opportunity to experience several nightclubs in this city that play every kind of music you can think of. If you still don't know what to do this weekend on Friday or Saturday night, check out the list of our favorite party venues. Make the most of the weekend and explore what Barcelona has to offer!
Surround yourself with breathtaking views of Barcelona's skyline and beaches while dancing to the freshest House Classics at ECLIPSE, Barcelona's most elegant club. Get your dancing shoes ready for the Friday night spent at the top of the W Hotel in Barcelona!
Friday's Addicted party at OPIUM welcomes you with fresh beats by DJ Alemany and Dany Cardenas. Opium is one of the trendiest clubs in Barcelona, which hosted big names of the music scene such as Avicii and David Guetta.
Haven't been to SUTTON before? Then you're missing out a lot. Sutton Club is located in the famous Eixample district, right next to Avinguda Diagonal, definitely a place worth to visit. This Friday you can enjoy the trendiest party in Barcelona – A La Mode with DJ's Carlos Ramos and Alberto Martin!
 Primavera Sound Festival
This weekend you have a great opportunity to visit a well-known music festival bringing over 200 famous artists from all around the world. Every year Primavera Sound successfully presents all the latest music tendencies, all the styles and genres are fully committed to dance music, quality pop, rock, electro, and many others, so, definitely, every visitor could find a beat he is into. The 19th edition of Primavera Sound Festival is going to be held in Barcelona and Porto starting from the end of May till the beginning of June. Moreover, this festival is for true music lovers and such famous artists like Cardi B, Rosalia and Charlie XCX are going to set the stage on fire this year. Primavera Sound Festival is going to host approximately 100,000 people in the Parc del Forum – the main event venue in Barcelona. Therefore, to avoid huge lines, do not forget to buy your tickets online on the main website of the festival.
Moreover, we have great news for food lovers. Around 50 street food trucks with endless menu's will be available at the festival. During the three day festival, you can enjoy paella on the beach, having a gastronomic tour of traditional Mexican, Japanese, Indian and Italian food. Vegetarian, vegan and gluten-free options are available. Do not miss the opportunity to enjoy your favorite songs and food this weekend. Remember to book your accommodation in advance. Our company has a great variety of apartments right next to the Parc del Forum, so you can fully enjoy the music vibes of sunny Barcelona.

Parc del Forum, Sant Marti


May 30th to 1st June


 One-day ticket: 80 €, VIP one-day ticket: 170 €
 June 1, 2019
Clubs
What a better way to "Carpe Diem" a Saturday without going to the Carpe Diem Night Club and have a crazy night full of adventures with your friends? Don't forget to bring your most comfortable shoes as you'll probably be dancing all night long to the best house beats in the entire Barcelona!
You can't miss Saturday night at OAK! Dance all night to the mix of fresh music and commercial hits from the best DJs of the city until your feet hurt. See you there!
Last but not least, don't miss SHOKO dancing night this Saturday! As always, you can expect the best hip-hop and R&B music of the century. Don't forget to sign up on the Guest List for free entrance until 1.30 am!
Don't forget that you can sign up for the guest list HERE to get free access to all previously mentioned clubs!
 Rammstein Concert
Do not miss a concert of your favorite hard rock and industrial metal band Rammstein! Rammstein is known for being commercially very successful and earning lots of Number 1 albums. As well as, golden and platinum certifications in countries all around the world. The world-famous band from Berlin -with the most controversial music in the history- is going to present their 7th album released in May 2019.
It took Rammstein almost ten years to follow up the previous album "Liebe Ist Für Alle Da". Moreover, the band is playing their first ever stadium tour this year. In order to make this concert even more unforgettable, EVENTIM presale has decided to design special format personalized hard tickets with printings on both sides, so every fan could save a unique souvenir as a memory. So, do not miss an opportunity to experience unforgettable vibes of live music performance in Barcelona and get the most exclusive souvenir in the history of the band.

  RCDE Stadium, Montjuic


  June 1st – 22.00


  General Entrance Fee: 93 €, 1st Category Ticket: 102 €
 

Palo Market Fest
Palo Market Fest is also known as Palo Alto Market, it is one of the most unique markets taking place every first weekend of the month in the most extensive neighborhood of Barcelona – Poblenou. The Market offers everything you could think of and even more. It has the best street food trucks in the city, design and concept galleries, street markets and handmade goods. As well as new designs, vintage clothing is being sold by the most original designers of Catalonia.
Another reason to come to the Palo Market Fest this Saturday is live music. Dj Baby Sy, Gener, Fru Katinka, and many other artists and bands will make you dance like never before. Furthermore, creative cooking workshops will provide you with the most delicious and original recipes of the gourmet food. Do not forget to buy a ticket for this entertaining and fun event on the official website of the festival. By the way, admission is free for children under 12, people with reduced mobility or disability and their companions, along with neighbors of Diagonal Mar, Front Maritim and Poblenou neighborhoods.

  Carrer dels Pellaires 30, 08019 Barcelona


  June 1st, 11.00 – 21.00


 Entrance price: 3.5 € (online), 4.5 € (at the door).
 June 2, 2019
 
Palau Güell 
This Sunday a famous mention designed by outstanding architect Antoni Gaudi for the industrial tycoon Eusebi Güell is going to open its doors for all visitors absolutely for free. It was built between 1886 and 1888 and was completely renovated between 2004 and 2011. Palau Güell is considered the first major commission created by Antoni Gaudi right at the beginning of his exceptional career. Furthermore, the mansion is part of the UNESCO World Heritage  Site "Works of Antoni Gaudi". The mansion served as a residence for Güell-López family until they decide to move to Parc Güell.
High society guests started visiting the mansion and it serves as a magnificent example of domestic architecture. Visits to such a unique architectural work are opened for free only once a month (first Sunday of each month). Therefore, do not miss such a great opportunity to feel the true spirit of Gaudi's architecture! Also, entry is limited, because of this we highly recommended arriving before ticket distribution at 10.00.

Nou de la Rambla 3-5, 08001 Barcelona


 June 2nd, 10.00 – 20.00


Free entry
 Vermut & Classics
What a better way to enjoy Sunday afternoon in Barcelona than by spending a day at the peaceful garden of the most sophisticated hotels in the city and sipping a glass of traditional Catalan vermouth with a live classical music performance? Every Sunday at the famous Mandarin Oriental, the Mimosa Garden becomes a stage for young talents studying at the best Classic Music Conservatories in Barcelona and other European cities. Enjoy live music performance in a super unique environment and try the most traditional Catalan tapas along with a glass of aromatic vermouth. Make the most of your weekend!

Mandarin Oriental Hotel, Passeig de Grácia 38-40, 08007 Barcelona


  June 2nd, 12.00-14.00


 Entrance Fee: 18 € including a glass of vermouth & tapas
And Don't Forget!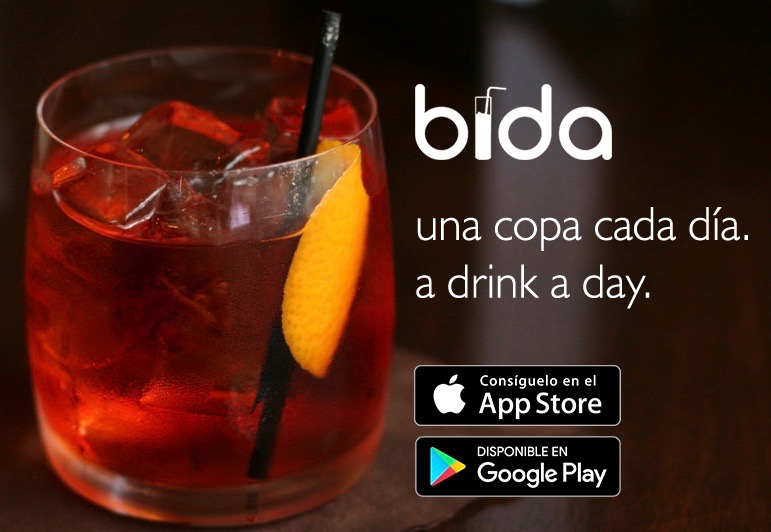 Drink-a-day is already a well-known concept in New York City and Los Angeles. It has landed in Barcelona too, where the after-work culture is a growing trend, people are social and love to go out and enjoy a great time with friends. This new concept here in Spain is called Bida and is a subscription-based app that gives its members a FREE DRINK EVERY 3 HOURS at the bars of their choice. Bida is the perfect tool to help visitors and find the ideal place to enjoy incredible drinks. Do not hesitate and download the app today!
For all Barcelona-Home clients, we have a special offer:
When signing up, use the code "BCNHOME18" to get your first drink for free. After getting subscription following offers will be available:
A 1 day VIP pass for €4.99
A 3 day VIP drink pass for €9.99
A 7 day VIP drink pass for €14.99
A 30 day VIP drink pass for €29.99